Top 10 favorite things about Writing Romantic Suspense
I'm so excited to be launching my first Romantic Suspense series with Stop at Nothing (Protect & Serve #1). I'm having a great time hanging out with the Dawson brothers and telling their stories as they try to find their way in life and in love. Here are just a few reasons why I really enjoy writing in this genre:
Action! Writing an edge-of-your-seat action scene is exhilarating. Bring it on!
Suspense, suspense, suspense. I absolutely love the process of building suspense in my stories!
Danger makes the romance more intense. Writing this kind of high-intensity romance is oh so much fun.
Battling the evil that might be lurking next door. Personally, I can handle things that go bump in the night. But the unknown and unpredictable danger that surrounds us every day scares the hell out of me.
Plots tend to be both plot-driven and character-driven simultaneously, so I can really dig deep as an author to develop both.
I'm a sucker for a complex, detestable villain.
Strong, kickass characters who are equals and rescue each other, both physically and emotionally.
The opportunity to show heroism and to celebrate the true heroes (police, military, EMTs, etc.) who put their lives on the line to help others.
A lot of the characteristics I love about Romantic Suspense are also present in action/adventure, thrillers, mysteries, etc. But with writing Romantic Suspense, I can still give my characters a happily ever after. 🙂
I love to read Romantic Suspense—now I get to write it! 🙂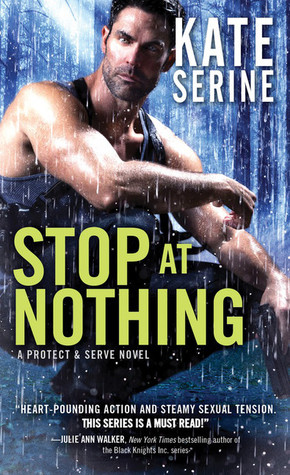 Title: Stop at Nothing
Author: Kate SeRine
Series: Protect & Serve, #1
Pubdate: November 3rd, 2015
ISBN: 9781492618348
When a high-profile investigation goes wrong, FBI Agent Kyle Dawson is transferred back home where he is forced to confront his demons…and the only woman he ever loved. Three years ago, Kyle and Abby Morrow shared a wild, passionate summer—then Abby broke his heart.

Now she needs his help

Kyle never stopped loving Abby. So when Abby uncovers evidence of a human-trafficking ring, leading to her sister's kidnapping, he swears he'll stop at nothing to bring her sister home and keep Abby safe. Caught in a lethal game of cat and mouse and blindsided by their own explosive desires, they must set aside the past before it's too late.
Kate SeRine writes award-winning romantic suspense and paranormal romance. A past recipient of an Emily Award and the National Readers Choice Award, she has also been a finalist in the Fire and Ice Contest, Finally a Bride Contest, and the Gayle Wilson Award of Excellence. She lives with her husband and two sons outside Indianapolis, Indiana. Connect with Kate at www.kateserine.com.
Buy Links:
Amazon: http://amzn.to/1M8LA5j
Apple: http://apple.co/1PJuRLM
Chapters: http://bit.ly/1GtwBXl
Indiebound: http://bit.ly/1LIHy4f
Kobo: http://bit.ly/1GXfV5k