Angel's Ink (The Asylum Tales, 1) – Jocelynn Drake 
Buyer beware . . .
Looking for a tattoo-and maybe a little something extra: a burst of good luck, a dollop of true love, or even a hex on an ex? Head to the quiet and mysterious Gage, the best skin artist in town. Using his unique potions-a blend of extraordinary ingredients and special inks-to etch the right symbol, he can fulfill any heart's desire. But in a place like Low Town, where elves, faeries, trolls, werewolves, and vampires happily walk among humanity, everything has its price.
No one knows that better than Gage. Turning his back on his own kind, he left the magical Ivory Tower where cruel witches and warlocks rule, a decision that cost him the right to practice magic. And if he disobeys, his punishment-execution-will be swift.
Though he's tried to fly under the radar, Gage can't hide from powerful warlocks who want him dead-or the secrets of his own past. But with the help of his friends, Trixie, a gorgeous elf who hides her true identity, and a hulking troll named Bronx, Gage just might make it through this enchanted world alive.
Acheteur, faites attention…
Vous cherchez un tatouage – et peut-être un petit extra en plus : une poussée de chance, une pincée d'amour, ou même une malédiction pour un ex ? Rendez-vous chez le tranquille et mystérieux Gage, le meilleur artiste sur peau de la ville. Utilisant ses potions uniques – un mélange d'ingrédients extraordinaires et une encre spéciale – pour former le bon symbole, il peut combler les désirs de chacun. Mais dans un endroit tel que Low Town, où elfes, faes, trolls, loups garous, et vampires se promènent au milieu des humains, tout a un prix.
Personne ne le sait mieux que Gage. Ayant tourné le dos aux siens, il a quitté la Tour magique d'Ivoire que de cruels sorcières et sorciers possèdent, une décision qui lui a coûté le droit d'utiliser la magie. Et s'il désobéit, sa punition – son exécution – sera ordonnée.
Bien qu'il essaie de rester hors de leur radar, Gage ne peut pas se cacher des puissant sorciers qui veulent sa mort – ou des secrets se son passé. Mais avec l'aide de ses amis, Trixie, la magnifique elfe qui cache sa véritable identité, et d'un énorme troll appelé Bronx, Gage pourrait bien rester en vie dans ce monde enchanté.
 Moonglow (Darkest London, 2) – Kristen Callihan
Once the seeds of desire are sown . . .
Finally free of her suffocating marriage, widow Daisy Ellis Craigmore is ready to embrace the pleasures of life that have long been denied her. Yet her new-found freedom is short lived. A string of unexplained murders has brought danger to Daisy's door, forcing her to turn to the most unlikely of saviors . . .

Their growing passion knows no bounds . . .
Ian Ranulf, the Marquis of Northrup, has spent lifetimes hiding his primal nature from London society. But now a vicious killer threatens to expose his secrets. Ian must step out of the shadows and protect the beautiful, fearless Daisy, who awakens in him desires he thought long dead. As their quest to unmask the villain draws them closer together, Daisy has no choice but to reveal her own startling secret, and Ian must face the undeniable truth: Losing his heart to Daisy may be the only way to save his soul.
Une fois que les graines du désir sont semées…
Finalement libérée se son mariage étouffant, la veuve Daisy Ellis Craigmore est prête à embrasser les plaisirs de la vie qui lui ont été pendant longtemps refusés. Cependant sa liberté est de courte durée. Une suite de meurtres inexpliqués ont amené le danger devant la porte de Daisy, la forçant à se tourner vers le plus improbable sauveur…
Leur passion grandissante n'a pas de limites…
Ian Ranulf, le Marquis de Northrup, a passé sa vie à cacher sa nature primaire à la société de Londres.  Mais maintenant un tueur vicieux menace d'exposer ses secrets. Ian doit sortir de l'ombre et protéger, la belle, courageuse Daisy qui a éveillé en lui un désir qu'il pensait mort depuis longtemps. Tandis que leur quête pour démasquer le vilain, les rapproche de plus en plus, Daisy n'a d'autres choix que de révéler son propre secret, et Ian doit faire face à l'indéniable vérité : donner son cœur à Daisy pourrait bien être le seul moyen de sauver son âme.
 Into the woods (The Hollows) – Kim Harrison
Fans have fallen for bounty hunter and witch Rachel Morgan. Through banishment and road trips, deadly supernatural duels and lost loves, they have avidly cheered her on, eagerly awaiting the next installment in her adventures. This collection of short works, published together in once volume for the first time, adds a whole new dimension to the Hollows saga, featuring tales involving Rachel and her coterie of friends and enemies.
Untitled
contains original works, including:
"Million Dollar Baby"-original novella about what happens when elven tycoon Trent Kalamack and Jenks the pixy team up to rescue Trent's daughter;
"Spider Web" and "Grace's Fall"-original novelettes set in brand-new fantasy worlds;
Here, too, are reprinted short stories, including:
"Undead in The Garden of Good and Evil"-an Ivy novella from Dates from Hell
"Dirty Magic"-a Mia the banshee short story from Hotter Than Hell
"The Bridges of Eden Park"-a Kisten/Rachel short from the mass market edition of For a Few Demons More
"Two Ghosts for Sister Rachel"-a Robbie/Rachel/Pierce novella from Holidays from Hell
"The Bespelled"-a Ceri/Al short story from the mass market edition of The Outlaw Demon Wails
"Ley Line Drifter"-a Bis/Jenks novella from Unbound
Blooded (Jessica McClain novella) – Amanda Carlson
Jessica McClain was born the only female in an all male race. The only problem is-she's no wolf. Called a curse, a witch and the Daughter of Evil by the superstitious wolves, Jessica decides to fight for her freedom, at age nineteen, the only way she can-in the ring.

When she's brutally attacked right after her fight, is it enough to finally earn her freedom off Compound, or will she be forced to endure the hatred even longer . . .
Jessica McClain est née la seule femelle dans une race où tous sont mâles. Le seul problème–elle n'est pas un loup. Appelée une malédiction, une sorcière et La fille du Démon par les loups superstitieux, Jessica décide de se battre pour sa liberté, à l'âge de dix-neuf ans, par le seul moyen qu'elle connaisse – sur un ring.
Puis, elle est brutalement attaquée juste après son combat, est-ce assez pour finalement mériter sa liberté hors du clan, ou sera-t-elle forcée à endurer cette haine pendant encore longtemps…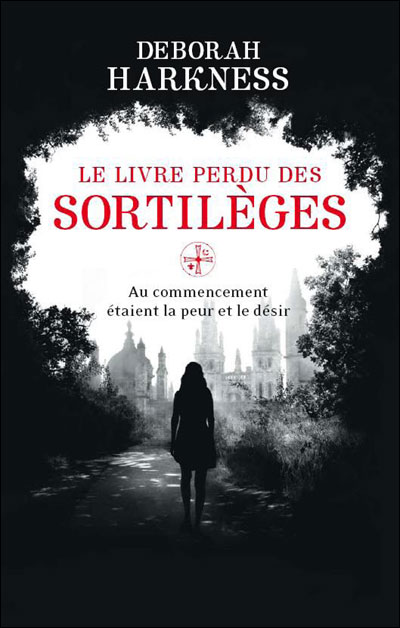 Le livre perdu des sortilèges/A discovery of witches (All Souls trilogy, 1) – Deborah Harkness
When historian Diana Bishop opens a bewitched alchemical manuscript in Oxford's Bodleian Library it represents an unwelcome intrusion of magic into her carefully ordinary life. Though descended from a long line of witches, she is determined to remain untouched by her family's legacy. She banishes the manuscript to the stacks, but Diana finds it impossible to hold the world of magic at bay any longer.
For witches are not the only otherworldly creatures living alongside humans. There are also creative, destructive daemons and long-lived vampires who become interested in the witch's discovery. They believe that the manuscript contains important clues about the past and the future, and want to know how Diana Bishop has been able to get her hands on the elusive volume.
Chief among the creatures who gather around Diana is vampire Matthew Clairmont, a geneticist with a passion for Darwin. Together, Diana and Matthew embark on a journey to understand the manuscript's secrets. But the relationship that develops between the ages-old vampire and the spellbound witch threatens to unravel the fragile peace that has long existed between creatures and humans—and will certainly transform Diana's world as well.
Entre science et fiction. Dernière représentante d'une lignée de sorcières, Diana mène une vie ordinaire… qui va connaître un chaos intégral après qu'elle ait emprunté un manuscrit qui contiendrait tous les secrets de la création. Une aventure magique et envoûtante reprenant les codes du genre, doublée d'une très instructive réflexion historique et scientifique sur l'évolution de l'homme.