Stacking the Shelves is a meme hosted by Tynga's Reviews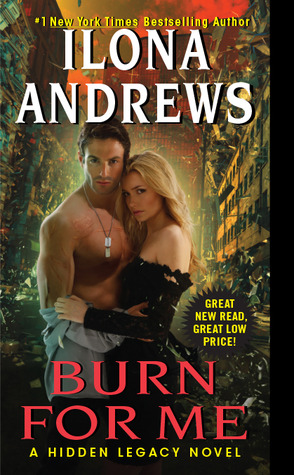 Burn for Me (Hidden Legacy, 1) – Ilona Andrews
#1 New York Times bestselling author Ilona Andrews launches a brand new Hidden Legacy series, in which one woman must place her trust in a seductive, dangerous man who sets off an even more dangerous desire…
Nevada Baylor is faced with the most challenging case of her detective career—a suicide mission to bring in a suspect in a volatile case. Nevada isn't sure she has the chops. Her quarry is a Prime, the highest rank of magic user, who can set anyone and anything on fire.
Then she's kidnapped by Connor "Mad" Rogan—a darkly tempting billionaire with equally devastating powers. Torn between wanting to run or surrender to their overwhelming attraction, Nevada must join forces with Rogan to stay alive.
Rogan's after the same target, so he needs Nevada. But she's getting under his skin, making him care about someone other than himself for a change. And, as Rogan has learned, love can be as perilous as death, especially in the magic world.
The Golden City (The Golden City, 1) – J. Kathleen Cheney
For two years, Oriana Paredes has been a spy among the social elite of the Golden City, reporting back to her people, the sereia, sea folk banned from the city's shores….
When her employer and only confidante decides to elope, Oriana agrees to accompany her to Paris. But before they can depart, the two women are abducted and left to drown. Trapped beneath the waves, Oriana's heritage allows her to survive while she is forced to watch her only friend die.
Vowing vengeance, Oriana crosses paths with Duilio Ferreira—a police consultant who has been investigating the disappearance of a string of servants from the city's wealthiest homes. Duilio also has a secret: He is a seer and his gifts have led him to Oriana.
Bound by their secrets, not trusting each other completely yet having no choice but to work together, Oriana and Duilio must expose a twisted plot of magic so dark that it could cause the very fabric of history to come undone….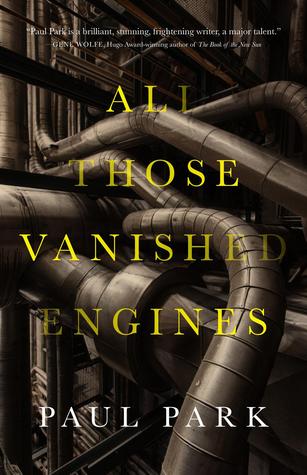 All Thoses vanished Engines – Paul Park
In All Those Vanished Engines, Paul Park returns to science fiction after a decade spent on the impressive four-volume A Princess of Roumania fantasy, with an extraordinary, intense, compressed SF novel in three parts, each set in its own alternate-history universe. The sections are all rooted in Virginia and the Battle of the Crater, and are also grounded in the real history of the Park family, from differing points of view. They are all gorgeously imaginative and carefully constructed, and reverberate richly with one another.
The first section is set in the aftermath of the Civil War, in a world in which the Queen of the North has negotiated a two-nation settlement. The second, taking place in northwestern Massachusetts, investigates a secret project during World War II, in a time somewhat like the present. The third is set in the near-future United States, with aliens from history.
Broken – Traci L. Slatton
Power is pornographic
Can love sustain light when the forces of evil close in?
Paris, 1939-1942. A fallen angel is trapped in the web of German Occupation. The deadly noose of Nazi control grows ever tighter, ensnaring her and two of her lovers, a bullfighter and a musician working in the fledgling Resistance. Can she save them and the Jewish widow and her child that she has come to love, or will betrayal take them all?