Stacking the Shelves is a meme hosted by Tynga's Reviews
Frisson de Lumière (Merry Gentry, 9) – Laurell K. Hamilton
« Depuis que la nouvelle de ma grossesse s'est répandue, tous les nobles de la Féerie se précipitent à ma cour dans l'espoir que je fasse des miracles pour vaincre leur stérilité. Pourtant, entre la recherche de subsides et l'arrivée imminente des jumeaux, j'ai comme qui dirait d'autres préoccupations.
L'une d'elles porte le nom de Taranis : non content d'avoir abusé de moi, le Roi de la Lumière et de l'Illusion revendique haut et fort la paternité de l'un des enfants. Bien que je sois sûre qu'il se trompe, il va falloir que je trouve un moyen de l'empêcher de nuire. Définitivement. »
L'Esclave (Prince Captif, 1) – C.S Pacat
Damen est un héros pour son peuple et le légitime héritier du trône d'Akielos. Mais lorsque son demi-frère s'empare du pouvoir, Damen est capturé, dépouillé de son identité et offert comme esclave de plaisirs au prince d'un royaume ennemi. Beau, manipulateur et létal, son nouveau maître, le prince Laurent, incarne ce qui se fait de pire à la cour de Vere. Mais dans la toile mortelle de la politique Vérétienne, les apparences sont trompeuses, et lorsque Damen se retrouve pris dans un jeu de pouvoir pour le trône, il doit s'allier à Laurent afin de survivre et sauver son royaume. Sans jamais oublier une règle vitale : cacher sa véritable identité à tout prix. Car l'homme dont il a besoin est celui qui a le plus de raisons de le haïr…
The Doll Collection
The Doll Collection is exactly what it sounds like: a treasured toy box of all-original dark stories about dolls of all types, including everything from puppets and poppets to mannequins and baby dolls. Featuring everything from life-sized clockwork dolls to all-too-human Betsy Wetsy-type baby dolls, these stories play into the true creepiness of the doll trope, but avoid the clichés that often show up in stories of this type.Master anthologist Ellen Datlow has assembled a list of beautiful and terrifying stories from bestselling and critically acclaimed authors such as Joyce Carol Oates, Seanan McGuire, Carrie Vaughn, Pat Cadigan, Tim Lebbon, Richard Kadrey, Genevieve Valentine, and Jeffrey Ford. The collection is illustrated with photographs of dolls taken by Datlow and other devoted doll collectors from the science fiction and fantasy field. The result is a star-studded collection exploring one of the most primal fears of readers of dark fiction everywhere, and one that every reader will want to add to their own collection.
I, Ripper – Stephen hunter
The electrifying new thriller from New York Times bestseller Stephen Hunter takes you deep inside the mind of the most notorious serial killer of all time: Jack the Ripper.
In the fall of 1888, Jack the Ripper slaughtered five prostitutes in London's seamy Whitechapel District. He did not just kill—he ripped with a butcher's glee—and then, after the particularly gruesome slaying of Mary Jane Kelly, he disappeared. For 127 years, Jack has haunted the dark corners of our imagination, the paradigm of the psychotic killer. We remember him not only for his crimes, but because, despite one of the biggest dragnets in London history, he was never caught.
I, Ripper is a vivid reimagining of Jack's personal story entwined with that of an Irish journalist who covered the case, knew the principals, charted the investigation, and at last, stymied, went off in a bold new direction. These two men stalk each other through a city twisted in fear of the madman's blade, a cat-and-mouse game that brings to life the sounds and smells of the fleshpot tenderloin of Whitechapel and all the lurid acts that fueled the Ripper headlines.
Dripping with intrigue, atmosphere, and diabolical twists, this is a magnificent psychological thriller from perennial New York Times bestseller Stephen Hunter, who the San Francisco Examiner calls "one of the best storytellers of his generation."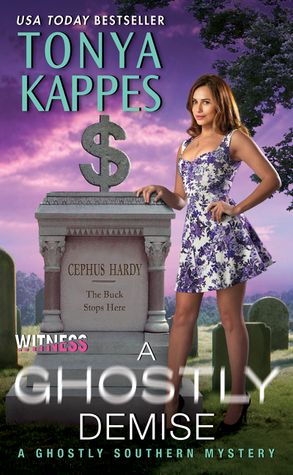 Ghostly Demise (Ghostly Southern Mystery, 3) – Tonya Kappes
The prodigal father returns-but this ghost is no holy spirit.
When she runs into her friend's deadbeat dad at the local deli, undertaker Emma Lee Raines can't wait to tell Mary Anna Hardy that he's back in Sleepy Hollow, Kentucky, after five long years. Cephus Hardy may have been the town drunk, but he didn't disappear on an epic bender like everyone thought: He was murdered. And he's heard that Emma Lee's been helping lost souls move on to that great big party in the sky.
Why do ghosts always bother Emma Lee at the worst times? Her granny's mayoral campaign is in high gear, a carnival is taking over the Town Square, and her hunky boyfriend, Sheriff Jack Henry Ross, is stuck wrestling runaway goats. Besides, Cephus has no clue whodunit… unless it was one of Mrs. Hardy's not-so-secret admirers. All roads lead Emma Lee to that carnival-and a killer who isn't clowning around.
The Witch Hunter (The Witch Hunter, 1) – Virginia Boecker
Sixteen-year-old Elizabeth Grey doesn't look dangerous. A tiny, blonde, wisp of a girl shouldn't know how to poison a wizard and make it look like an accident. Or take out ten necromancers with a single sword and a bag of salt. Or kill a man using only her thumb. But things are not always as they appear. Elizabeth is one of the best witch hunters in Anglia and a member of the king's elite guard, devoted to rooting out witchcraft and bringing those who practice it to justice. And in Anglia, the price of justice is high: death by burning.
When Elizabeth is accused of being a witch herself, she's arrested and thrown in prison. The king declares her a traitor and her life is all but forfeit. With just hours before she's to die at the stake, Elizabeth gets a visitor – Nicholas Perevil, the most powerful wizard in Anglia. He offers her a deal: he will free her from prison and save her from execution if she will track down the wizard who laid a deadly curse on him.
As Elizabeth uncovers the horrifying facts about Nicholas's curse and the unwitting role she played in its creation, she is forced to redefine the differences between right and wrong, friends and enemies, love and hate… and life and death.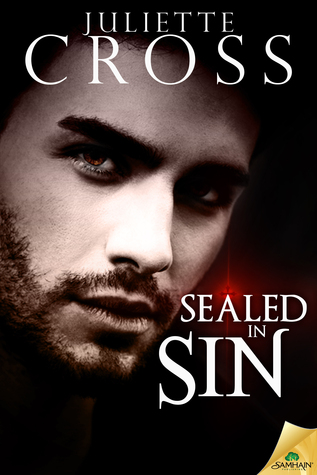 Sealed in Sin (The Vessel Trilogy, 2) – Juliette Cross
Sometimes sin looks an awful lot like heaven.
One demon prince may be festering in the bowels of the soul eater Cocytus, but Genevieve's troubles are far from over. Prince Bamal, demon lord of New York City, still wants her. But this time, he wants her alive, to control her inherent power as a Vessel of Light.
With Jude Delacroix off searching for the prophecy, Thomas—a guardian angel with sea-green eyes and an aura of winter woods—steps into the gap, offering her the power to protect herself.
Yet she hesitates, for the transfer of that power comes through a kiss. While Gen's love for Jude is true, Thomas stirs a desire where there should be none. Thomas also knows Jude's darkest secret and plans to use it, if necessary, to win Gen for his own.
While her Vessel power grows and more demon spawn creep from every dark corner of the world, one thing is certain—the Great War between the angels and demons is quickly approaching. And Gen is in a race against time to awaken her full power before the storm breaks.
Warning: Contains a demon hunter with dark secrets, a sexy angel with ulterior motives, and demonic creatures running amok.
Thanks to Sullivan McPig:
Pure (Pure, 1) – Julianna Baggott
We know you are here, our brothers and sisters . . .
Pressia barely remembers the Detonations or much about life during the Before. In her sleeping cabinet behind the rubble of an old barbershop where she lives with her grandfather, she thinks about what is lost-how the world went from amusement parks, movie theaters, birthday parties, fathers and mothers . . . to ash and dust, scars, permanent burns, and fused, damaged bodies. And now, at an age when everyone is required to turn themselves over to the militia to either be trained as a soldier or, if they are too damaged and weak, to be used as live targets, Pressia can no longer pretend to be small. Pressia is on the run.
Burn a Pure and Breathe the Ash . . .
There are those who escaped the apocalypse unmarked. Pures. They are tucked safely inside the Dome that protects their healthy, superior bodies. Yet Partridge, whose father is one of the most influential men in the Dome, feels isolated and lonely. Different. He thinks about loss-maybe just because his family is broken; his father is emotionally distant; his brother killed himself; and his mother never made it inside their shelter. Or maybe it's his claustrophobia: his feeling that this Dome has become a swaddling of intensely rigid order. So when a slipped phrase suggests his mother might still be alive, Partridge risks his life to leave the Dome to find her.
When Pressia meets Partridge, their worlds shatter all over again.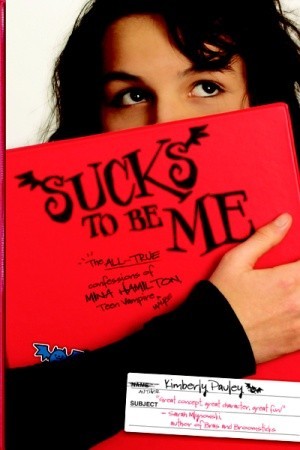 Sucks to be Me: The All-True Confessions of Mina Hamilton, Teen Vampire (maybe) (Sucks to Be Me, 1) – Kimberly Pauley
Mina Hamilton's parents want her dead. (Or undead to be precise.) They're vampires, and like it or not, Mina must decide whether to become a vampire herself. But Mina's more interested in hanging out with best friend Serena and trying to catch the eye of the too-hot-for-high-school Nathan Able than in the vampire training classes she's being forced to take. How's a girl supposed to find the perfect prom date and pass third-year French when her mom and dad are breathing down her neck–literally?
Still Sucks to Be Me: : More All-True Confessions of Mina Hamilton Smith, Teen Vampire  – Kimberly Pauley
With vampire boyfriend George and best friend Serena by her side, Mina thought she had her whole life—or rather afterlife—ahead of her. But then Mina's parents drop a bomb. They're moving. To Louisiana. And not somewhere cool like New Orleans, but some teeny, tiny town where cheerleaders and jocks rule the school. Mina has to fake her death, change her name, and leave everything behind, including George and Serena. Not even the Vampire Council's shape-shifting classes can cheer her up. Then Serena shows up on Mina's doorstep with some news that sends Mina reeling. Mina may look a lot better with fangs, but her afterlife isn't any less complicated!
In this eagerly awaited sequel to the popular Sucks to Be Me, Kimberly Pauley addresses many of her fans' most pressing questions (Will Serena become a vampire? What happened to Raven? What's next for Mina and George?) with signature humor and breezy bloodsucking style.