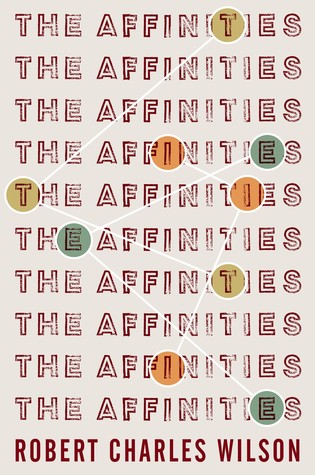 Synopsis: In our rapidly changing world of social media, everyday people are more and more able to sort themselves into social groups based on finer and finer criteria. In the near future of Robert Charles Wilson's The Affinities, this process is supercharged by new analytic technologies: genetic, brain-mapping, behavioral. To join one of the twenty-two Affinities is to change one's life. It's like family, and more than family. Your fellow members aren't just like you, and they aren't just people who are likely to like you. They're also the people with whom you can best cooperate in all areas of life, creative, interpersonal, even financial.

At loose ends both professional and personal, young Adam Fisk takes the suite of tests to see whether he qualifies for any of the Affinities and finds that he's a match for one of the largest, the one called Tau. It's utopian–at first. His problems resolve themselves as he becomes part of a global network of people dedicated to helping one another, to helping him, but as the differing Affinities put their new powers to the test, they begin to rapidly chip away at the power of governments, of global corporations, and of all the institutions of the old world; then, with dreadful inevitability, the different Affinities begin to go to war with one another.
Review: When I saw the summary of the novel, I admit that I was immediately very attracted. I did not really have the opportunity to read a story highlighting social networks but I admit that I was intrigued by the idea. Moreover, even if the author goes far in his ideas, to things that do not yet exist, there is a possibility of this to happen one day, especially when we see what internet is gradually becoming.
We discover a world as we know it but where a company has created a program that seems to become more and more important. Indeed, there are 22 different groups or Affinities where we can classify people by tests so they can bind and create a network while being around people alike. Yet it is not open to everyone to enter into a category and only some lucky ones are among the most popular Affinities. It is in this environment that our hero Adam Fisk decides to experiment and eventually ends up being part of  the larger Affinity: Tau. For some, this program looks like a cult, for others it is liberation and a great opportunity. I think that at the end it's a bit of a mixture of both. Each class is very elitist and does not mix with the others, while trying to make their members important.
Adam will then end up around people who will completely change his life but will also give him a new purpose. Alas, nothing is ever very rosy and people are always in search of power regardless of the Affinity in which they exist. But in addition to this, our hero finds himself in the heart of conspiracies and must make choices that are becoming increasingly difficult.
It's pretty easy to understand Adam, his need for this circle, because of the loneliness he feels and his feelings mainly when he realizes he just found some people who appreciate him and are there for him like family. Besides, I enjoyed discovering his family too, they are all so different but his autistic brother really touched me and I loved him a lot and I was curious to see what he became over the years.
I do not know the exact feelings I had after my reading but I had in any case a good time with the whole story. In fact, the novel is sometimes a bit complicated at times but the whole is still very interesting.