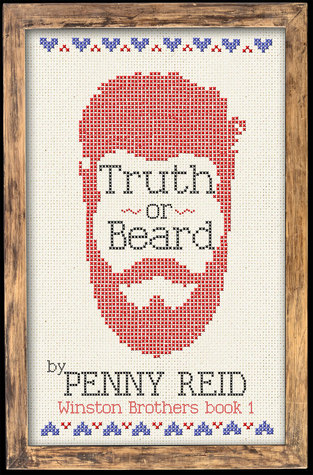 Winston Brothers, Book 1
Synopsis: Beards, brothers, and bikers! Oh my!
Identical twins Beau and Duane Winston might share the same devastatingly handsome face, but where Beau is outgoing and sociable, Duane is broody and reserved. This is why Jessica James, recent college graduate and perpetual level headed good girl, has been in naïve and unhealthy infatuation with Beau Winston for most of her life. His friendly smiles make her tongue-tied and weak-kneed, and she's never been able to move beyond her childhood crush. Whereas Duane and Jessica have always been adversaries. She can't stand him, and she's pretty sure he can't stand the sight of her…
But after a case of mistaken identity, Jessica finds herself in a massive confusion kerfuffle. Jessica James has spent her whole life paralyzed by the fantasy of Beau and her assumptions of Duane's disdain; therefore she's unprepared for the reality that is Duane's insatiable interest, as well as his hot hands and hot mouth and hotter looks. Not helping Jessica's muddled mind and good girl sensibilities, Duane seems to have gotten himself in trouble with the local biker gang.
Certainly, Beau's magic spell is broken. Yet when Jessica finds herself drawn to the man who was always her adversary, now more dangerous than ever, how much of her level-headed heart is she willing to risk?

Series Description:
Everyone in Green Valley, Tennessee knows that the six bearded Winston brothers have been imbued with an unfair share of charm and charisma… and are prone to mischief.
Truth or Beard is book #1 in the Winston Brother's series. Each book is a standalone, full length (120k words), contemporary romantic comedy novel, and follows the romantic exploits and adventures of one of the six Winston Brothers.
Review: In the Winston family we have 6 brothers, red bearded and very attractive. The one that interests us is Duane who is in love with Jessica since she launched her swimsuit in a tree. Jessica James, daughter of the sheriff, had a crush on Beau (Duane's twin brother) when she was younger. Beau was her hero (he saved her cat) and he was friendly while Duane was tormenting her (he threw stones on the cat).
When Jessica came back to Green Valley to teach math, she haven't seen the twins for years. On the Halloween night, she is with a twin. Beau or maybe Duane? She is not sure. Well it's Duane and she is confused because she is falling for him.
The story is told in dual POV. In one chapter you will know Duane's feelings and in the other you're inside Jessica's head.
The story is interesting, funny (I laughed so hard I scared my cat) and steamy (not graphic)! Exactly what you need to escape the reality for a time and just be happy while reading!
It's Duane and Jessica's story but there's a lot of characters you will enjoy to know about (Cletus !!!!).
One last thing: translate this book in french please! The french readers will love it!

Cass