Stacking the Shelves is a meme hosted by Tynga's Reviews
Wild Country (The World of the Others, 2) – Anne Bishop
In this powerful and exciting fantasy set in the world of the New York Times bestselling Others series, humans and the shape-shifting Others will see whether they can live side by side…without destroying one another.
There are ghost towns in the world—places where the humans were annihilated in retaliation for the slaughter of the shape-shifting Others.
One of those places is Bennett, a town at the northern end of the Elder Hills—a town surrounded by the wild country. Now efforts are being made to resettle Bennett as a community where humans and Others live and work together. A young female police officer has been hired as the deputy to a Wolfgard sheriff. A deadly type of Other wants to run a human-style saloon. And a couple with four foster children—one of whom is a blood prophet—hope to find acceptance.
But as they reopen the stores and the professional offices and start to make lives for themselves, the town of Bennett attracts the attention of other humans looking for profit. And the arrival of the Blackstone Clan, outlaws and gamblers all, will uncover secrets…or bury them.
Tempt Me With Forever (NOLA Heart, 4) – Maria Luis
Never trust a bad boy.
That's what Beauty Influencer Lizzie Danvers tells her YouTube subscribers after getting dumped on Instagram. Lizzie may have the devil's luck in choosing men, but she's determined to prove that the age-old "once a playboy, always a playboy" theory is bulletproof. All she needs is thirty days and one sexy commitment phobe to do it…
By day, Gage Harvey helps his twin at Inked on Bourbon, tattooing butterflies onto every female under the age of thirty. By night, he works for New Orleans' Special Operations Division, fulfilling a family legacy to protect his city. Relationships aren't on his radar–until the hot-as-hell woman on his tattoo table glances up at him, a butterfly half-inked on her ass, and propositions him.
Gage should say no–nothing good ever comes from entertaining crazy women. But for the sake of playboys everywhere, he'll take one for the team, and prove to Miss Lizzie Danvers that bad boys are the only men who will tempt you with forever.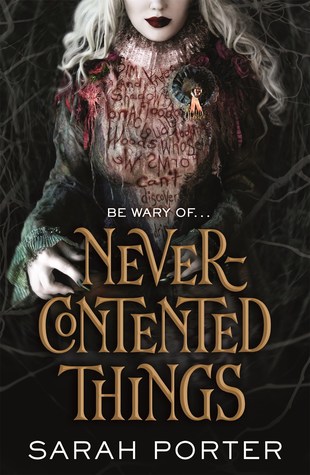 Never-Contented Things – Sarah Porter
Seductive. Cruel. Bored
Be wary of…
Prince and his fairy courtiers are staggeringly beautiful, unrelentingly cruel, and exhausted by the tedium of the centuries―until they meet foster-siblings Josh and Ksenia. Drawn in by their vivid emotions, undying love for each other, and passion for life, Prince will stop at nothing to possess them.
First seduced and then entrapped by the fairies, Josh and Ksenia learn that the fairies' otherworldly gifts come at a terrible price―and they must risk everything in order to reclaim their freedom.