Nauti Enchantress (Nauti Girl, 2) – Lora Leigh
When Dawg Mackay made his four half-sisters part of his family, he vowed that he would care for and protect them with everything he had. But what happens now that the girls are all grown up? The Mackay girls are on the loose, and Somerset County will never be the same…
Lyrica Mackay has wanted tall, handsome Marine Graham Brock for as long as she can remember. Unfortunately, Graham only sees her as his friend Dawg Mackay's "baby sister." Or so she believes. The truth is, the fiery party girl stirs something in Graham no female ever has. But Graham, like everyone in Somerset County, knows that trouble stalks the Mackays like bears track honey, and when a Mackay runs as hot as Lyrica does, someone's bound to get burned.
Then Graham discovers that Lyrica's wild side is just a cover for a frightened and vulnerable woman who needs something true and genuine, something only Graham can offer. But surrendering his heart to Lyrica exposes them both to her shocking past—and a sinister secret that, once exposed, could destroy their only chance at happiness and shake the Mackay family to its core.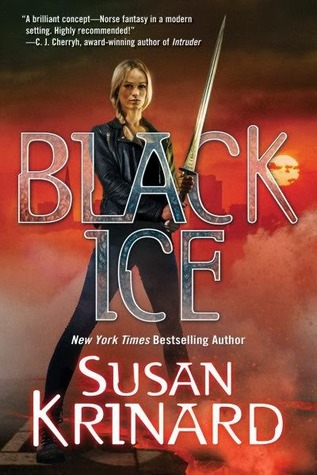 Black Ice (Midgard, 2) – Susan Krinard
New York Times bestselling author Susan Krinard continues the thrilling urban fantasy series that began with Mist in Black Ice.
Centuries ago, all was lost in the Last Battle when the Norse gods and goddesses went to war. The elves, the giants, and the gods and goddesses themselves were all destroyed, leaving the Valkyrie known as Mist one of the only survivors.
Or so she thought.
The trickster god Loki has reappeared in San Francisco, and he has big plans for modern-day Earth. With few allies and fewer resources—but the eyes of the gods and goddesses of an old world upon her—it's up to Mist to stop him before history repeats itself.
Spirited (Tidewater, 1) – Mary Behre
She's running from who she is……
All Jules Scott wants is to live a normal, quiet life—preferably one that doesn't include ghosts. Jules's talent for communicating with the dead has brought her nothing but trouble. Despite her best efforts, needy spirits always find her and draw her into their otherworldly drama. When one implicates her in a series of deadly crimes, she may need to entrust her secrets to the person least likely to believe her.…
He'll do whatever it takes to catch her.
Detective Seth English can't get distracted from the big case he's working on, not even by his alluring new neighbor. He doesn't believe that Jules had anything to do with the string of robberies-turned-murders that he's investigating, but when she keeps showing up in all the wrong places, his gut tells him she knows more than she's letting on. To solve his case, he'll need to expose what the sexy redhead is hiding—no matter how impossible the truth may be….
Sky Pirates (The Chronicles of Light and Shadow, 3) – Liesel Schwarz
Following A Conspiracy of Alchemists and A Clockwork Heart, Sky Pirates is the third book of the Chronicles of Light and Shadow series, starring the spunky dirigible pilot Elle Chance and the handsome warlock Marsh. For urban fantasy fans and readers of Gail Carriger's Changeless and Cherie Priest's Boneshaker, a fun, fast-paced, action-packed new historical fantasy adventure series starring vampires, fairies, and the unforgettable heroine, Elle Chance.
Set during the Belle Epoque, Sky Pirates is a thrilling and inventive historical fantasy novel, where the myths and legends of Old Europe live side by side with the wondrous creations of modern scientists and aviators. It's also set in a world haunted by vampires, fairies, and other supernatural creatures. And it mixes a thrill-a-minute page-turning plot with a genuinely moving love story. In Sky Pirates, Elle and Marsh escape to the jungles of Cambodia in search of a sacred temple that holds the key to erasing the barrier between Shadow and Light.
Generation 18 (Spook Saud, 2) – Keri Arthur
COUNTDOWN TO CRISIS
 
A serial killer strikes every twelve hours. A vampire takes lives at random. At first glance, these tragic incidents seem unrelated. But Special Investigations Unit agents Sam Ryan and Gabriel Stern trace them both back to a military base known as Hopeworth. Is the murder spree part of a cover-up? And are the vampire killings less by chance and more methodical?
The investigation takes an eerie, personal turn when Sam discovers a connection between herself and the victims—and a clue to her own mysterious origins. With the violence escalating and the danger drawing closer to home, the stakes are raised and the mission changes from seeking justice to ensuring Sam and Gabriel's own survival. And the one person who seems to hold all the answers—about Hopeworth, about Sam's past—is a mystery man she isn't sure she can trust. They share a psychic link through her dreams, and he once saved her life, but he may just be the greatest enemy humankind has ever known.
Divine and Dateless – Tara West
Divine and Dateless by Tara West
Good girls go to heaven. Bad girls go all the way…
What can be worse than electrocuting yourself while getting ready for your internet date? Realizing the hot stud you've been fondling is the Grim Reaper? Being chased by a sex-crazed, bloated, naked corpse?
How about an eternity of more bad hair days and horrific dates? Or lusting after the one guy in all the afterlife whose hydrophobia rivals his fear of commitment?
Yeah, that's a whole lot worse.
Halfway Hexed (Southern Witch, 3) – Kimberly Frost
Duvall, Texas.
A small town that's about to be in some big trouble.
Tammy Jo Trask is finally ready to embrace her mixed-up magic, but not everyone in town is what you'd call supportive. While a scripture-spouting posse is organized to kidnap her and "save" Duvall from witchcraft, the president of WAM—the World Association of Magic—arrives to investigate Tammy's entanglement with the off-limits and drop-dead gorgeous wizard Bryn Lyons.But when a clash between the locals and the magical visitors leads to a series of unnatural disasters, Tammy Jo will have to hope that her magical synergy with Bryn is enough to save the town from certain doom.