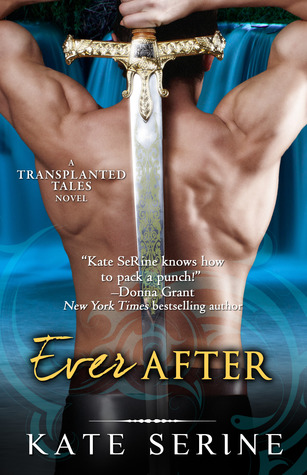 Transplanted Tales, Book 4
Synopsis: To Catch a Thief…

For centuries, Gideon Montrose has served the King of Fairies without question and, often, without mercy. So when the King orders him to apprehend a notorious thief, Gideon obeys. But when he finally gets his hands on the beautiful culprit, Gideon's in for a shock.

Arabella Locksley is none other than the spirited, unpredictable woman he knew back in Make Believe as Robin Hood — the love of his life whose tragic death destroyed his chance at Happily Ever After.

Now, he has an impossible choice. Betray the woman he once loved, or the king he's bound to serve?
Review: I love Kate Serine and her retellings are always a treat to discover. They are always full of ideas and mix all kinds of stories we know. We have a nice mix between the Arthurian story and the one of Robin Hood. Several characters we know are present again to our delight and others appear here.
We follow this time Gideon as we had the chance to meet him as a secondary character in other volumes. His history is not very easy, his lover died before his eyes and he has since become the slave of the king of the fairies. But times have changed and Gideon has befriended the king whom he helps whenever he can. However, when one day he is led to seek the thief plaguing the country, he does not expect to fall face to face with the young woman he thought dead for years. And then he discovers a new truth, the story of this young woman he thought he had lost forever and he will do anything to help her now. He will therefore team up with her to collect all the Arthurian artifacts existing in this world before anyone else does it to protect them whatever it might cost. But the woman he thought he knew is ultimately far more important than it seems and her relationship with the king is not what it appeared to be. Gideon will learn along the Chapters many things, as some stories combining characters such as Guinevere, the Lady of the Lake, Arthur and many others.
I really enjoyed reading this new novel even if it is true that I still have a preference for the first novel featuring Red. Gideon is a character we had seen many times before and I really enjoyed learning more about him. It was very touching to see him reunited with Arabella and see him fight for her. Oh yes, because of course their history will not be easy and many pitfalls are sown in their path. I confess that I had a little trouble understanding the young woman, I found it sad that she didn't try to contact him before the man she has always loved. I know that the events are not only lent but I think they would have lost a lot less time. She is also trying to protect Gideon as best as she can but she does it in a fairly clumsy way which ultimately hurts more than anything. But here too we understand the reason behind all this. In all cases the couple is really touching and I enjoyed discovering their history.
Kate Serine once again presents us with a pretty novel, leaving us with a few questions and I am very curious to find out who will be featured in the next volume and if we'll conclude some of the problems presented here.