Stacking the Shelves is a meme hosted by Tynga's Reviews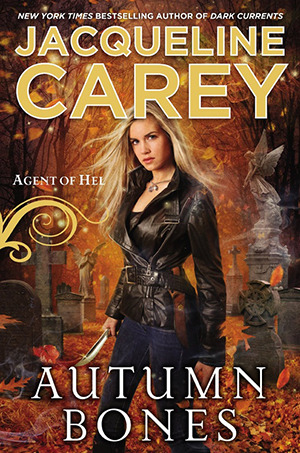 Autumn Bones (Agent of Hel, 2) – Jacqueline Carey
New York Times bestselling author Jacqueline Carey returns to the curious Midwest tourist community where normal and paranormal worlds co-exist—however tenuously—under the watchful eye of a female hellspawn……
Fathered by an incubus, raised by a mortal mother, and liaison to the Pemkowet Police Department, Daisy Johanssen pulled the community together after a summer tragedy befell the resort town she calls home. Things are back to normal—as normal as it gets for a town famous for its supernatural tourism, and presided over by the reclusive Norse goddess Hel.
Not only has Daisy now gained respect as Hel's enforcer, she's dating Sinclair Palmer, a nice, seemingly normal human guy. Not too shabby for the daughter of a demon. Unfortunately, Sinclair has a secret. And it's a big one.
He's descended from Obeah sorcerers and they want him back. If he doesn't return to Jamaica to take up his rightful role in the family, they'll unleash spirit magic that could have dire consequences for the town. It's Daisy's job to stop it, and she's going to need a lot of help. But time is running out, the dead are growing restless, and one mistake could cost Daisy everything……
The Job (Fox and O'hare, 3) – Janet Evanovich & Lee Goldberg
He's a charming con man and she's a dedicated FBI agent, and they're about to drive each other crazy . . . again!
The FBI had one demand when they secretly teamed up Special Agent Kate O'Hare with charming con man Nicolas Fox—bring down the world's most-wanted and untouchable felons. This time it's the brutal leader of a global drug-smuggling empire. The FBI doesn't know what their target looks like, where he is, or how to find him, but Nick Fox has a few tricks up his sleeve to roust this particular Knipschildt chocolate–loving drug lord.
From the streets of Nashville to the back alleys of Lisbon, from the rooftops of Istanbul to the middle of the Thames, Nick and Kate chase their mark. When they find themselves pitted against a psychopathic bodyguard and a Portuguese enforcer who gets advice from a pickled head, they decide it's time to enlist some special talent—talent like a machete-wielding Somali pirate, a self-absorbed actor, an Oscar-winning special effects artist, and Kate's father Jake, a retired Special Forces operative. Together they could help make this Fox and O'Hare's biggest win yet . . . if they survive.
Gray Bishop (Cornerstone Run Trilogy, 2) – Kelly Meade
Some people need something to fight for…
With the attacks on their homes escalating and human half-breeds seeking sanctuary among them, the loup garou are reaching their breaking point. Two, in particular.
After failing to stop his little brother's kidnapping years ago, Bishop McQueen angrily broods on his shame, though no one else blames him.
Jillian Reynolds is still dealing with a tragic accident that took everything she ever wanted from life. And her attraction to Bishop is only making things more difficult.
When word reaches them that Jillian's hometown is under attack, the Alpha takes Bishop, Jillian, and a group of enforcers to assist in the battle. And it is in this chaos that both Bishop and Jillian will have to face their pasts—and the true feelings they have for each other—if they are going to survive…
Owl and the Japanese Circus – Kristi Charish
Fans of Kim Harrison, Jim Butcher, and Linda Hamilton will flock to the kick-ass world of Owl, a modern-day "Indiana Jane" who reluctantly navigates the hidden supernatural world.
Ex-archaeology grad student turned international antiquities thief, Alix—better known now as Owl—has one rule. No supernatural jobs. Ever. Until she crosses paths with Mr. Kurosawa, a red dragon who owns and runs the Japanese Circus Casino in Las Vegas. He insists Owl retrieve an artifact stolen three thousand years ago, and makes her an offer she can't refuse: he'll get rid of a pack of vampires that want her dead. A dragon is about the only entity on the planet that can deliver on Owl's vampire problem – and let's face it, dragons are known to eat the odd thief.
Owl retraces the steps of Mr. Kurosawa's ancient thief from Japan to Bali with the help of her best friend, Nadya, and an attractive mercenary. As it turns out though, finding the scroll is the least of her worries. When she figures out one of Mr. Kurosawa's trusted advisors is orchestrating a plan to use a weapon powerful enough to wipe out a city, things go to hell in a hand basket fast…and Owl has to pick sides.