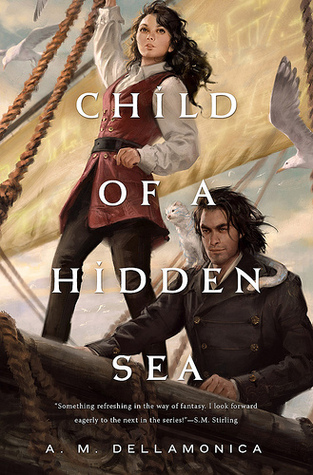 Hidden Sea Tales, Book 1
Synopsis: One minute, twenty-four-year-old Sophie Hansa is in a San Francisco alley trying to save the life of the aunt she has never known. The next, she finds herself flung into the warm and salty waters of an unfamiliar world. Glowing moths fall to the waves around her, and the sleek bodies of unseen fish glide against her submerged ankles.

The world is Stormwrack, a series of island nations with a variety of cultures and economies—and a language different from any Sophie has heard.

Sophie doesn't know it yet, but she has just stepped into the middle of a political firestorm, and a conspiracy that could destroy a world she has just discovered… her world, where everyone seems to know who she is, and where she is forbidden to stay.

But Sophie is stubborn, and smart, and refuses to be cast adrift by people who don't know her and yet wish her gone. With the help of a sister she has never known, and a ship captain who would rather she had never arrived, she must navigate the shoals of the highly charged politics of Stormwrack, and win the right to decide for herself whether she stays in this wondrous world . . . or is doomed to exile
Review: Ah, this book … I admit that I had seen it on several blogs but I was not sure that it was for me but I have to admit that I made ​​a mistake because I had a very good time with the story and I can not wait to read the second volume now.
Sophie is a young girl who is in search of her past. Abandoned at birth, she has always wanted to find out who her real parents were, but nothing could have prepared her to discover such origins. Oh no, because after being snubbed by her supposed mother, she saves her assumed aunt from a knife attack to get together thrown with her body in the deep water of a world she does not know anything about. There she quickly understands that everything is different from what she knows and even though she dreams of discovering more about this fabulous place, it seems that everyone wants her far away. Yet with the sister she meets, she'll be able to return to find herself in a complicated political history. Oh yes because she will end up in the middle of a power struggle in a nation that is not hers and leading a murder investigation she is determined to solve even if this is far from her job. But as the story unfolds, more complications arise to be put in her way.
I had a lot of fun with this book while discovering the confrontation between two completely different cultures, characters from our world and a fantasy one. It was fascinating then to understand the different countries, nations, the magic that resides there and the opportunities this world has to offer.
Sophie is a character I loved too. We can well understand her desire for truth, understand who they are and to discover the history of her origins. Yet she does not understand why everyone refuses her this and it is true that we will have to wait much of the novel to find out that there is a real reason behind it, and even a very good one. It was interesting to see that even if she could have it all, she knows how to act in the best and do not expect more than she deserves. I understand the doubts that her sister had about her and it was nice to see that everyone was wrong and that Sophie was clever than anyone thought.
Of course, there are other characters like Parrish, this sexy boat captain but who is irritating as hell! He hides a lot to Sophie and at the same time, he is always there for her. I'm really curious to see what will happen to the two thereafter. Many things are indeed initiated at all levels and I hope soon to find out more! It was a good end and we have all the answers about the origins of our heroine.