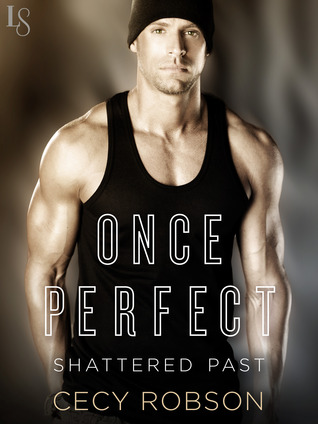 Shattered Past, Book 1
Synopsis: His life was never easy. Hers wasn't supposed to be this hard. They come from different worlds, but fate lures them together in a way neither expected in Cecy Robson's raw, steamy New Adult debut—perfect for fans of Monica Murphy and J. Lynn.

Evelyn Preston's future once looked perfect—until her wealthy father was caught in an embezzlement scandal and took his own life. Alone and struggling to pay her college tuition and bills, Evelyn finds a job as a waitress at the ultra-hip nightclub Excess, where she used to have more in common with the privileged private-school clientele than her fellow staff members. But something attracts her to the sexy six-foot-four bouncer and underground MMA fighter Mateo Tres Santos. Although they've led different lives, their troubled pasts bonds them in both survival and love.

Mateo is ex-army who wound up in prison for assaulting the man who harmed his sister. Now he's feeling the same protective impulse for this petite blond waitress. When Evelyn experiences a panic attack at the club, Mateo comes to her rescue. And when Mateo is wounded shielding her from a brawl, Evelyn returns the favor and comes to his aid.

As their attraction intensifies, Mateo is determined to find out what nightmares are lurking in Evelyn's past—even if that means tackling his own to save her.
Review: I'm not the biggest fan of NA and it's true that I do not read much either so I may not be objective about this one. Yet when I found this novel by Cecy Robson, I knew that I had to try it. I must admit that nothing really appealed to me, but I have never been disappointed by the author, so I had to get into it. Have you read her Weird Girls series? I love it! But I can tell you something! I was not disappointed this time either. This is another genre that the author presents here and I think I can say that I was satisfied.
Mateo and Evelyn are two wounded souls by their past, even if we do not know about their story from the beginning, both bears a difficult burden. They both come from two different worlds but they end up in the same environment. Mateo is a nice boy, brave, willing to do anything for his family that has never had a real chance. But even trying to do the best, life has not been kind to him, and is still difficult in fact. It's very touching to get to know and understand him. It is difficult to follow and accept all his choices, but at the same time we understand why he chose to do so. Sometimes there is no option to do otherwise. And then there is Evelyn … The two have worked together for several months, but an event will change their relationship and how they both see each other. It was very touching to see that they both had found someone, a person who shall be present for the other, and a natural person, full of goodness. No, their story is not easy, but they will do everything to get through the trials together. I was very touched by the history of two people wounded by life but they will try to rebuild something together.
I will talk a little more about Evelyn. Oh yes, this girl is a great character to explore. It is very difficult for her to get involved with someone but we'll learn why and learn more about her… She has been through so much in her life and we find out a little more about her each time. Poor Evie … I can tell you that her story and Mateo's shook my throat several times, made me tears to my eyes, but it was a great discovery for me. Cecy Robson has perfectly shared the characters' feelings with her readers and I was really blown away by the whole story. The meeting of two broken souls who will tame to try to become something more and create something they never had.
So yes it is true that I am very happy to have had the opportunity to discover this novel and I hope the author will continue in this register because I am curious to read more. It was a great discovery for me.