Stacking the Shelves is a meme hosted by Tynga's Reviews
Reckoning (Fallen Siren, 2) – S. J. Harper
Join Agents Emma Monroe and Zack Armstrong.
She's sacrificed. He's suffered. They've both been betrayed.
Now it's time for a reckoning.
Special Agent Emma Monroe has a secret. She's a Fallen Siren, cursed by the gods and banished to Earth for her failure to prevent the kidnapping of Persephone. As an FBI agent she saves the lives of others believing redemption could be one rescue away.
Her partner Zack is a werewolf and former Black Ops sniper who once carried out a string of questionable assignments. Now he's determined to atone for his past. Ironically, there's a portion of his past Zack doesn't remember—an affair with Emma. Giving into their attraction for one another almost led to their undoing. Now it's back to business as usual.
While trying to unravel the mystery behind a series of kidnappings in Southern California, Emma and Zack become entangled with political tensions in the vampire and Were worlds. Not to mention the struggles they face in their relationship with one another. With so much uncertainty, they come to realize the only thing they can really count on is one another…or can they?
Wold at the Door (Novels of the Others, 9) – Christine Warren
Sullivan Quinn didn't travel 3,000 miles from his native Ireland and his wolf pack just to chase rabidly after the most delectable quarry he's ever seen. Quinn is in America on a mission–to warn his Other brethren of a shadowy group willing to use murder and mayhem to bring them down. But one whiff of this Foxwoman's delicious honeysuckle fragrance and he knows that she is more than a colleague or a conquest…she is his mate.
Anthropologist Cassidy Poe is a world-renowned authority on social interaction, but the overpowering desire she feels around Quinn defies every ounce of her expertise. Working by his side to uncover The Others' enemies poses risks she never expected–to her own safety, to those she loves, and to her heart, as every encounter with Quinn proves more blissfully erotic than the last…
Now, with no one to trust but each other, Quinn and Cassidy face a foe that's edging closer every day, threatening to destroy the life they've always known, and the passion they've just discovered…
Shifting Dreams (Cambio Springs, 1) – Elizabeth Hunter
Somedays, Jena Crowe just can't get a break. Work at her diner never ends, her two boys are bundles of energy, and she's pretty sure her oldest is about to shift into something furry or feathery. Added to that, changes seem to be coming to the tiny town of Cambio Springs—big changes that not everyone in the isolated town of shapeshifters is thrilled about.
Caleb Gilbert was looking for change, and the quiet desert town seemed just the ticket for a more peaceful life. He never counted on violence finding him, nor could he have predicted just how crazy his new life would become.
When murder rocks their small community, Caleb and Jena will have to work together. And when the new Chief of Police isn't put off by any of her usual defenses, Jena may be faced with the most frightening change of all: lowering the defenses around her carefully guarded heart.
Razorhurst – Justine Labarletier
In the vein of The Diviners and The Petal and the White, Razorhurst reimagines the notorious history of a mob-controlled Sydney—with a paranormal twist.
Sydney's deadly Razorhurst neighborhood, 1932. Gloriana Nelson and Mr. Davidson, two ruthless mob bosses, have reached a fragile peace—one maintained by "razor men." Kelpie, orphaned and living on the street, is blessed and cursed with the ability to see Razorhurst's many ghosts, and she sees the cracks already forming in their truce. Then Kelpie meets Dymphna Campbell.
Dymphna is a legendary beauty and prized moll of Gloriana Nelson. She's earned the nickname "Angel of Death" for the trail of beaus who have died trying to protect her from Mr. Davidson's assassins. Unbeknownst to Kelpie, Dymphna can see ghosts, too, and as Gloriana's hold crumbles one burly henchman at a time, the girls will need one another more than ever.
As loyalties shift and betrayal threatens at every turn, Dymphna is determined to not only survive, but to rise to the top with Kelpie at her side.
Damned and Desirable (Eternally Yours, 2) – Tara West
**Warning, this book contains scenes of dead people having sex, only really sexy dead people, not zombies or sparkly vampires. Rest assured, no body parts fell off during the making of these sex scenes, just bras and undies, and no fangs or hammers were used during foreplay.**
What could be worse than getting tricked by a demon and sucked into the fiery pit of doom? Discovering that the demon who captured your soul is also the devastatingly sexy twin of the man who still has your heart.
The only fate worse than eternal damnation is eternal temptation. Someone please get me some water. It's getting hot in here.
Pale Demon (The Hollows, 9) – Kim Harrison
Condemned and shunned for black magic,Rachel Morgan has three days to get to the annual witches' conference and clear her name, or be trapped in the demonic ever-after . . . forever after.
But a witch, an elf, a living vampire, and a pixy in one car going across the country? Talk about a recipe for certain disaster, even without being the targets for assassination.
For after centuries of torment, a fearsome demon walks in the sunlight—freed at last to slay the innocent and devour their souls. But his ultimate goal is Rachel Morgan, and in the fight for survival that follows, even embracing her own demonic nature may not be enough to save her.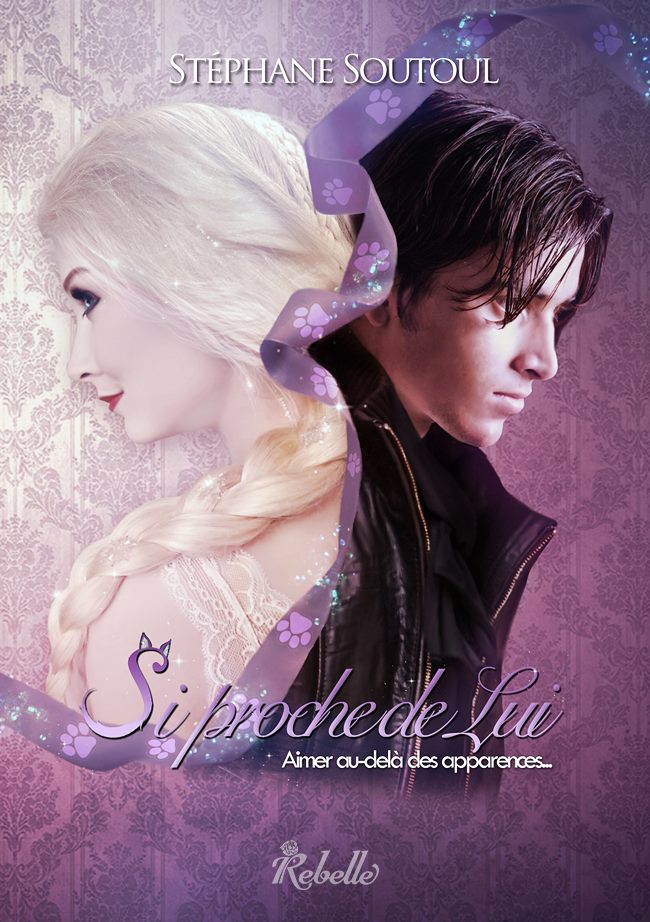 Proche de Lui – Stephane Soutoul
Parfois, il vaudrait mieux réfléchir à deux fois avant d'agir à la légère…
Moi c'est Sonia Moonstar, apprentie sorcière et adepte des galères en tout genre. Suite à une rupture douloureuse, j'ai utilisé la magie pour me transformer en chat. Jolie boulette : une heure sous forme féline aura suffi à faire de moi la victime des pires infortunes ! La bonne nouvelle, c'est qu'un jeune homme est venu m'arracher aux griffes de la rue. La mauvaise, c'est que mon preux chevalier en baskets ne fait qu'un avec le garçon infréquentable que j'ai éconduit au lycée.
Coincée dans la peau d'un chat durant ma convalescence, me voilà contrainte de partager le quotidien de mon hôte qui ignore l'identité réelle de sa nouvelle et malicieuse pensionnaire. Manque de bol, je découvre par la même occasion les dangers qui le guettent…
Et si l'ange gardien de Benjamin avait troqué ses plumes contre une fourrure angora ?
Derrière le Voile (Fille d'Avalon, 1) – Jenna Black
Je m'appelle Dana et j'ai seize ans, pourtant je suis adulte depuis très longtemps – aussi longtemps que ma mère est alcoolique.
Son arrivée complètement saoule à mon récital de chant a mis le feu aux poudres : j'ai décidé d'aller retrouver mon père, un elfe très puissant (et peut-être dangereux, mais qu'importe) à Avalon.
Je croyais alors que la vie que pourrait m'offrir l'Elferie serait meilleure et plus normale que celle que je menais actuellement.
Jamais de toute ma vie je ne m'étais autant fourvoyée…