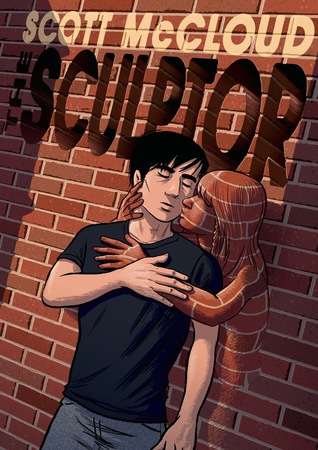 Synopsis: David Smith is giving his life for his art—literally. Thanks to a deal with Death, the young sculptor gets his childhood wish: to sculpt anything he can imagine with his bare hands. But now that he only has 200 days to live, deciding  what  to create is harder than he thought, and discovering the love of his life at the 11th hour isn't making it any easier!

This is a story of desire taken to the edge of reason and beyond; of the frantic, clumsy dance steps of young love; and a gorgeous, street-level portrait of the world's greatest city. It's about the small, warm, human moments of everyday life…and the great surging forces that lie just under the surface. Scott McCloud wrote the book on how comics work; now he vaults into great fiction with a breathtaking, funny, and unforgettable new work.
Review: I do not read a lot of comics, it is true, but that's why it's always interesting to get into a new story such as this one. Scott McCloud seems to have realized many novels but I confess that I did not know anything about his work. I was therefore curious to know more about it.
First of all, I was surprised enough when I got the book because it was really huge. I'm used to thin comics and I did not know that we could find such novels. It is not at all problematic and it is even more intriguing because it allows us to discover more about the life of our hero and to admire many more beautiful illustrations all along the story. But back a little more about the story.
David Smith is a failed artist. He has no family, he has no girlfriend, he is broke and unable to sell his structures. But well for that he first must produce a structure… But when one day, in the process of self-pity, his dead uncle comes to him, explaining him the possibilities of his future life: Finding a wife, starting a family but never making a breakthrough in art. Yet David does not care about all this, his sculptures are all his life and he wants to make a name with them. A covenant with death will be able to realize his dream. Yes, David will only have 200 days before dying but during that time he will have the ability to shape any material to create what he desires. An interesting gift is not it? But his works needs to be worth some money and marketable and it's finally quite complicated. David will have to think about what he wants to do without externalize his past. But a surprise is waiting on this quest, the appearance of the love of his life, a girl who liked him without loving him and he is determined to make her succumb. But is it a good idea to create something with a fragile girl when he knows that his days are countered?
I admit that the plot was really interesting and I was curious to see where this would lead our hero. Some illustrations have no words but they allow us to learn more about this whole environment and about our out of the ordinary heroes. By cons I confess that I'm not sure I really understood the end of the story but I'm glad I discovered the whole story.