Stacking the Shelves is a meme hosted by Tynga's Reviews
Casually Cursed (Southern Witch, 5) – Kimberly Frost
Tammy Jo rarely sets a toe outside Texas, but when she learns her mother is in trouble, Tammy is determined to save her—even if it means going to hell and back…
Fresh off her engagement to wizard Bryn Lyons, Tammy Jo is surprised to make another new family connection when she meets the twin sister she never knew she had. After being spirited away to the fae kingdom of Never as an infant, Kismet has finally escaped, and arrived in Duvall, Texas, with some terrible news:  their mother, Marlee, is a prisoner of the Seelie fae.
Crossing the ocean to battle the fae isn't Tammy Jo's idea of a romantic getaway, but Bryn refuses to let her go alone—as do her aunt Edie and her ex-husband Zach. Unfortunately, their plot to free Marlee is foiled when they are caught by the fae queen. And the only chance the queen gives them to save Marlee's life may be an impossible quest…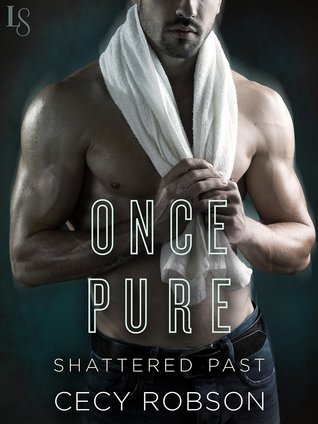 Once Pure (Shattered Past, 3) – Cecy Robson
She bears the scars of the past. He blames himself for things he can't control. Their defenses are up, but in Cecy Robson's latest Shattered Past novel—perfect for fans of Monica Murphy and J. Lynn—true love lands a knockout punch.
Sofia Tres Santos remembers a time before her life went sour, before her innocence was ripped away, before she began punishing herself with risky behaviors and unworthy men. Now, at twenty, she just hopes she's ready to rebuild some of what she lost. One way or another, it always comes back to her childhood friend and longtime crush, Killian O'Brien.
As strong as Killian is, Sofia has always been his one weakness. He knows Sofia has suffered and wants to ensure she's never hurt again—not like before, and definitely not under his watch. When Sofia agrees to work at his mixed martial arts gym, Killian seizes the opportunity to help and protect the sweet girl he's always cared for. And yet, as he trains Sofia to defend herself using his hard-hitting MMA techniques, he's drawn to the vulnerable beauty in ways he never expected.
As Sofia grows stronger, she also grows brave enough to open herself up to love. And along the way, she challenges everything Killian believes to be true, showing him that no matter how much he dominates in the ring, the real battle is fought in the heart.
Must Love Ghosts – Jennifer Savalli
Tia McGarry believes love is nothing more than a biochemical cocktail, and she'll havethe research to prove it—as soon as she and her calm, stable, almost-fiancé land a researchgrant.Her biggest mistake, bad boy ex-boyfriend Dec Mancini, is firmly in her past. Butwhen the ghost of her long-dead great-uncle moves into her living room, Dec is the onlyparanormal investigator with the skills to get rid of him.Dec is used to scorn and ridicule, but he never quite got over Tia's refusal to believe.With irrefutable proof that ghosts exist manifesting in her house, he can finally earn respectfor his profession—and maybe find common ground for himself and Tia to rebuild on.Tia can't deny their crazy, chaotic chemistry is strong as ever, but as the ghost's pranksthreaten to put her grant out of reach, she must decide which is the greater risk: letting aghost jeopardize her career, or falling in love with the man who could destroy her safe,stable life.Warning: Contains lovesick ghosts wreaking havoc, an absent-minded professor witha repressed wild side, and a hunky paranormal investigator who's decided the best place tostart rebuilding is in the friend zone.
Shadow of Fate (Shadow Born, 1) – Angela Dennis
Redemption lies beyond the veil between truth and lies.
After witnessing her husband's brutal murder, Brenna Baudouin lost control of her Shadow Bearer powers and wreaked havoc on her home world. Her penance: one hundred years policing hordes of supernatural misfits that spilled onto the Earthly plane after a cataclysmic war.
She's on a routine exorcism run when she learns she's been assigned a new partner. But there's something about this Shadow Bearer that sparks her suspicions. Particularly when people closest to her start turning up as piles of ash.
Gray Warlow holds tight to the glamour that allows him to get close to the woman on whom he plans to wreak vengeance for betraying his people. Yet as he skillfully manipulates his way past her distrust, he begins to see her not as the heartless monster he was led to believe, but a strong, vulnerable woman.
As they work to put together the pieces of a killer's macabre puzzle, an attraction deeper than blood and bone flares between them. And they must reveal their deepest secrets to avoid becoming the final targets,
Product Warnings
A thrill ride of supernatural proportions. Contains violent battle scenes, nail-biting suspense, crazy hot sexual tension, and enough twists and turns to make your head spin.