Stacking the Shelves is a meme hosted by Tynga's Reviews
Giveaway/Concours
Steampunk Brooch / Broche Steampunk (INT)
Shadow (pendulum, 2) – Will Elliott
Eric Albright was a luckless journalist living in London. He had a so-so life…until the day he opened a battered red door that appeared on the graffiti-covered wall of a local bridge, and entered Levaal, a magical world between worlds. A place populated by power damaged mages, stone giants, pit devils—and dragons, Levaal's possible creators, who are imprisoned in a sky prison. It is also where the mad Lord Vous rules with an iron fist and is busy working on a scheme to turn himself into a god. Vous has been defeated so far because Levaal has been contained by the great Wall at World's End.
But the Wall at World's End has been brought down, war is coming to the land, and Eric and his newfound friends are caught in the thick of it. They are forced to flee from the Tormentors, dreadful creatures that have poured through the breach, and there are rumors that one of the great dragons has escaped its sky prison.
Worse yet, Vous's journey to godhood is almost complete, and a mysterious being called Shadow (who is not but looks remarkably like Eric) is wandering Levaal with great power but no purpose it yet understands.
The end might be coming faster than anyone thinks.
Dark Alchemy – Laura Bickle
Geologist Petra Dee arrives in Wyoming looking for clues to her father's disappearance years before. What she finds instead is Temperance, a dying Western town with a gold rush past and a meth-infested present. But under the town's dust and quiet, an old power is shifting. When bodies start turning up – desiccated and twisted skeletons that Petra can't scientifically explain – her investigations land her in the middle of a covert war between the town's most powerful interests. Petra's father wasn't the only one searching for the alchemical secrets of Temperance, and those still looking are now ready to kill. Armed with nothing but shaky alliances, a pair of antique guns, and a relic she doesn't understand, the only thing Petra knows for sure is that she and her coyote sidekick are going to have to move fast, or die next.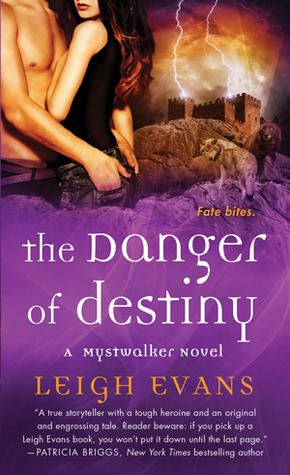 The Danger of Destiny (Mystwalker, 4) – Leigh Evans
WHY WHISTLE IN THE DARK…
There are very few days off when you're on an epic quest. Believe me, I know. I'm Hedi Peacock—one half Fae, the other Were—and if being a half-breed with one foot in each world isn't tough enough to manage, there are the four chambers of my heart to consider. The one who holds the strings? Robson Trowbridge, the Alpha of Creemore. If I had my way, he and I would be locked in a bedroom, for eternity, but a pressing family matter needs my attention. It's true what they say: A woman's work is never done.
WHEN YOU CAN HOWL AT THE MOON?
My twin brother is being held captive by the Old Mage in another realm. Lo and behold, as soon as Trowbridge and I arrive in Merenwyn, we're separated in spectacular, dramatic fashion—and I'm left to figure out how to maintain the fragile balance between my Fae magic and my wolf's blood in a realm that cries to both. Not easy, particularly when I'm keeping an iron-grip on my temper so as not to dispatch with extreme prejudice the odd wizard or smart-mouthed mutt servant who crosses my path. My mama never told me there'd be days like these, but I'm not going down without a fight…or my mate.
City of Fae – Pippa DaCosta
From the moment Alina touches London's hottest fae superstar, breaking one of the laws founded to protect all of her kind, her fate – and the fae – close in.
Below ground, the fae High Queen plots to claim the city as her own and places her pawns, ready for the battle to come. A battle she cannot lose, but for one small problem – Alina. There are four ancient keepers powerful enough to keep the queen in her prison. Three are dead. One remains … And to fight back, Alina risks sacrificing everything she has come to love.
This New Adult urban fantasy is packed with action and suspense and will have you yearning for more forbidden fae romance.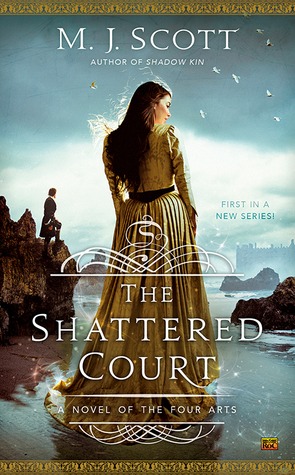 Shattered Court (A Novel of the Four Arts, 1) – M.J. Scott
Entangled in a court ruled by tradition and intrigue, a young witch must come to terms with newfound power and desire—and a choice between loyalty and survival.…
The royal witches of Anglion have bowed to tradition for centuries. If a woman of royal blood manifests powers, she is immediately bound by rites of marriage. She will serve her lord by practicing the tamer magics of the earth—ensuring good harvests and predicting the weather. Any magic more dangerous is forbidden.
Lady Sophia Kendall, thirty-second in line to the throne, is only days away from finding out if she will be blessed—or perhaps cursed—with magic. When a vicious attack by Anglion's ancient enemies leaves the kingdom in chaos, Sophia is forced to flee the court. Her protector by happenstance is Lieutenant Cameron Mackenzie, a member of the royal guard, raised all his life to be fiercely loyal to the Crown.
Then Sophia's powers manifest stronger than she ever imagined they would, and Cameron and she are inextricably linked in the process. As a witch unbound by marriage rites, Sophia is not only a threat to the established order of her country, but is also a weapon for those who seek to destroy it. Faced with old secrets and new truths, she must decide if she will fight for her country or succumb to the delicious temptation of power.…
Cold Burn of Magic (Black Blade, 1) – Jennifer Estep
There Be Monsters Here. . .
It's not as great as you'd think, living in a tourist town that's known as "the most magical place in America." Same boring high school, just twice as many monsters under the bridges and rival Families killing each other for power.
I try to keep out of it. I've got my mom's bloodiron sword and my slightly illegal home in the basement of the municipal library. And a couple of Talents I try to keep quiet, including very light fingers and a way with a lock pick.
But then some nasty characters bring their Family feud into my friend's pawn shop, and I have to make a call–get involved, or watch a cute guy die because I didn't. I guess I made the wrong choice, because now I'm stuck putting everything on the line for Devon Sinclair. My mom was murdered because of the Families, and it looks like I'm going to end up just like her. . .