Nous sommes très heureuses d'accueillir aujourd'hui l'auteure : Emma Jane Holloway. Son roman, Etude en Soie, le premier tome de la série Baskerville, sort ce Février en Français chez Bragelonne. Notre avis du tome 1 peut être trouvé ici. Merci à elle pour ses réponses.
———-
We're very happy to welcome Emma Jane Holloways on the blog today. The first book Study in Silk, al well as the other following books are already out. Our review for the first book can be found here. Thanks to her for her answers.

———-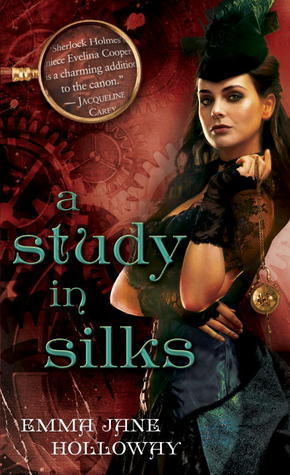 Welcome on Between Dreams and Reality, can you present you in a few words?
I'm a writer of all sorts of fantasy. I like cats, ghosts, shortbread, most kinds of music, the scent of old books, and impractical shoes.
How would you describe the Baskerville Affair series?
The Baskerville Affair combines steampunk, mystery, and adventure. It begins in 1888 London, which is dominated by an industrial cabal called the Steam Council. They have outlawed magic and stripped much of the power from the aristocracy, including the royal family. Our main characters include Evelina Cooper, who has the power of illegal magic as well as her uncle Sherlock Holmes's taste for solving murders. Add a circus, mysterious automatons, a ne'er-do-well rake with a mechanical octopus, and a talking mouse, and you get the picture.
How did you come up with the idea of a steampunk book?
I began writing the story before I knew what steampunk was. I had all of these elements I wanted to combine—Victorian high adventure, mad science, magic and Sherlock Holmes. Someone pointed out to me there was this thing called steampunk, and I was hooked.
So Evelina, where'd she come from?
I wanted to tell a Holmes story from a female point of view, just to see how that might change the perception of Holmes. I think he could be quite annoying to a self-possessed and opinionated young woman! I had originally thought it would be a story for young adults, but Evelina grew up between the first concept and the final story and, as it turned out, Holmes was a great mentor to her.
Can you tell us a little more about the first novel for the ones who don't know about it yet?
The story begins in the fashionable ballrooms of Mayfair with my heroine, Evelina Cooper, an orphan on the brink of her first Season. Her family history has left her caught between social worlds. Her father's people are circus performers and magic users and her mother was the sister of Sherlock and Mycroft Holmes. Evelina has inherited the Cooper talent for magic—highly illegal and punishable by death—as well as an aptitude for science and mechanics—highly inappropriate for young ladies of quality. Fortunately, Evelina is smart enough to keep her cards close and her inventions closer.
From page one, events just get more and more complicated. Evil magic is afoot. Romantic suitors are underfoot. Almost at once there is a murder, so Evelina dives in to investigate.
List 5 characters from A Study in Silk and do word associations.
Evelina – a brilliant crystal
Imogen – loyal
Tobias – uncertain
Nick – hot steel
Lord Bancroft – a sealed box
What's the hardest scene for you to write?
Silks had some technically challenging parts to it. I used an old technique for telling mysteries where several characters tell events from their own point of view. If the reader pays attention, they'll spot the differences and figure out the clues. Keeping the details straight—especially the timelines—meant staying alert.
Did you need to do a lot of researches for your books?
I did, both in terms of history because I kept much of the social and political history of the period intact, and also the science behind some of the steampunk gear. I also went to Britain to see some of the sights and artefacts and soak up the atmosphere. I found a lot of unexpected details I was able to use in the books.
What would you most like potential readers to know about you and/or your book?
I just want readers to leave their preconceptions at the door and enjoy the book as much as I loved writing it.
Who are some of your influences?
For this series, the Sherlock Holmes stories (of course), Wilkie Collins, and the wealth of amazing steampunk authors out there.
What challenges do you face in the writing process and how do you overcome them?
Writing a long trilogy in a short period of time is grueling, both physically and mentally. Keeping to a schedule is the only way I got through it. I owe a lot to friends and family who encouraged me, brought me chocolate and tea, and emailed me silly jokes.
Which of your characters is most like you?
Probably Evelina, although she's far more good with mechanics than I am. And acrobatics!
Who is your favorite fictional character?
That changes depending on my mood. Some days it's Milady de Winter, others it's Elizabeth Bennet. It just depends on who I need to invoke to get things done—a crafty villainess or a witty, wise and gentle personality.
Study in Silk is going to be released in France, do you see yourself
meeting your French fans one day?
It's one of my dreams to visit France, so I certainly hope I have the opportunity to travel there. Even better if there are friendly faces to greet me!
Are there any other projects you're working on or thinking about starting in the near future?
I'm always working on new projects, but none are far enough along to share details yet.
—————–
Bienvenue sur Between Dreams and Reality, pouvez-vous vous présenter en quelques mots?
Je suis un écrivain de toutes sortes de fantasy. J'aime les chats, les fantômes, les sablés, la plupart des types de musique, l'odeur des vieux livres, et les chaussures impraticables.
Comment décririez-vous la série Baskerville Affair?
Baskerville Affair combine steampunk, mystère et aventure. Elle commence en 1888 à Londres, qui est dominé par une cabale industrielle appelée le Steam Concil. Ils ont interdit la magie et dépouillé une grande partie de la puissance de l'aristocratie, y compris la famille royale. Nos personnages principaux comprennent Evelina Cooper, qui a le pouvoir de la magie illégale ainsi que le goût de son oncle Sherlock Holmes pour résoudre des meurtres. Ajouter un cirque, des automates, des mystères, un libertin bon à rien avec une pieuvre mécanique, et une souris parlante, et vous voyez l'image.
Comment vous est venue l'idée d'un livre steampunk?
J'ai commencé à écrire l'histoire avant de connaitre le steampunk. J'avais tous ces éléments que je voulais combiner – l'époque victorienne, une grande aventure, la science, la magie et Sherlock Holmes. Quelqu'un m'a fait remarquer qu'il y avait cette chose appelée steampunk, et j'ai adoré.
Donc, Evelina, d'où vient-elle?
Je voulais raconter une histoire d'Holmes d'un point de vue féminin, juste pour voir comment cela pourrait changer la perception d'Holmes. Je pense qu'il pourrait être assez ennuyeux et opiniâtre pour une jeune femme! J'avais initialement pensé que ce serait une histoire pour les jeunes adultes, mais Evelina a grandi entre le premier concept et l'histoire finale et, comme il s'est avéré, Holmes était un excellent mentor pour elle.
Pouvez-vous nous en dire un peu plus sur le premier roman pour ceux qui ne le connaissent pas encore?
L'histoire commence dans les salles de bal à la mode de Mayfair avec mon héroïne, Evelina Cooper, une orpheline prête à faire sa première saison. L'histoire de sa famille l'a laissée prise entre deux mondes sociaux. Le peuple de son père fait parti des artistes de cirque et sont des utilisateurs de magie et sa mère était la sœur de Sherlock et Mycroft Holmes. Evelina a hérité du talent pour la magie des Cooper – hautement illégal et punissable par la mort, ainsi que des aptitudes pour la science et la mécanique hautement inappropriée pour les jeunes femmes de qualité. Heureusement, Evelina est assez intelligente pour garder ses cartes proches et ses inventions plus près.
De la première page, les événements deviennent de plus en plus compliqués. La magie noire est en route. Des prétendants romantiques sont à ses pieds. Presque aussitôt, il y a un meurtre, et Evelina est prête à tout pour enquêter.
Liste 5 caractères d'une étude en soie et faire des associations de mots.
Evelina – un cristal brillant
Imogen – fidèle
Tobias – incertain
Nick – acier chaud
Seigneur Bancroft – une boîte scellée
Quelle est la scène la plus difficile à écrire?
Etude en Soie possède certaines parties techniquement difficiles. J'ai utilisé une vieille technique pour raconter les mystères où plusieurs personnages racontent les événements de leur propre point de vue. Si le lecteur est attentif, ils vont repérer les différences et découvrir des indices. Garder les détails en tête – en particulier les temps – signifie rester alerte.
Avez-vous besoin de faire beaucoup de recherches pour vos livres?
C'est le cas, à la fois en termes d'histoire parce que j'ai gardé une grande partie de l'histoire sociale et politique de l'époque intacte, et aussi la science derrière certains des engins steampunk. Je suis aussi allée en Grande-Bretagne pour voir quelques uns des sites et objets, ainsi que pour m'imprégner de l'atmosphère. J'ai trouvé beaucoup de détails inattendus que j'ai pu utiliser dans les livres.
Que voudriez-vous que vos lecteurs potentiels sachent sur vous et / ou votre livre?
Je veux juste que lecteurs laissent leurs préjugés derrière eux et profitent du livre autant que j'ai aimé l'écrire.
Qui sont vos influences?
Pour cette série, les histoires de Sherlock Holmes (bien sûr), Wilkie Collins, et la richesse des étonnants auteurs de steampunk.
Quels défis rencontrez-vous dans le processus d'écriture et comment les avez-vous surmontés?
Écrire une longue trilogie dans un court laps de temps est épuisant, tant physiquement que mentalement. Garder un planning est la seule façon que j'ai eue pour passer au travers. Je dois beaucoup à mes amis et ma famille qui m'ont encouragés, m'ont amenés du chocolat et du thé, ainsi que plusieurs blagues stupides.
Lequel de vos personnages est le plus comme vous?
Probablement Evelina, même si elle est beaucoup plus dans la mécanique que ce que je ne le suis. Et plus acrobatique !
Qui est votre personnage de fiction préféré?
Cela change selon mon humeur. Certains jours, C'est Milady de Winter, d'autres c'est Elizabeth Bennet. Cela dépend de la personne que je dois invoquer pour obtenir des choses -une méchante rusée ou une personnalité spirituelle, sage et douce.
Une Étude en soie va être publié en France, vous voyez-vous rencontrer vos fans français un jour?
C'est un de mes rêves de visiter la France, donc j'espère bien avoir l'occasion d'y voyager. Encore mieux s'il ya des visages amicaux pour me saluer!
Y a t-il d'autres projets sur lesquels vous travaillez ou pensez commencer dans un proche avenir?
Je travaille toujours sur de nouveaux projets, mais aucun n'est assez loin pour que je puisse en partager les détails.
——
Site de l'auteure: http://www.emmajaneholloway.com/
Résumé:Evelina Cooper, la nièce de Sherlock Holmes, s'apprête à vivre sa première saison dans la haute société londonienne. Mais quand de terribles meurtres secouent le manoir de son amie et hôte, la jeune femme se retrouve plongée au cœur d'un complot remettant en question le monopole des barons de la vapeur sur la ville. Une enquête à hauts risques. D'autant qu'Evelina cache un dangereux secret et qu'elle ignore auquel de ses compagnons elle peut vraiment se fier : le beau et brillant aristocrate débauché qui fait battre son cœur ou son meilleur ami forain, qui ferait n'importe quoi pour elle.
—————–
 GIVEAWAY/CONCOURS