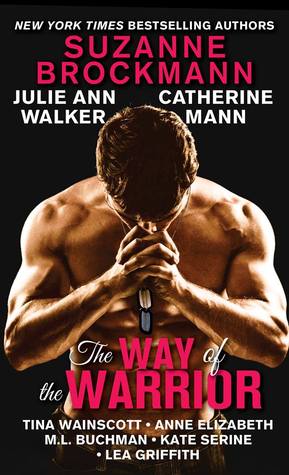 Synopsis: EIGHT PASSIONATE LOVE STORIES ABOUT AMAZING MILITARY HEROES BY BESTSELLING AUTHORS:
Suzanne Brockmann, Julie Ann Walker, Catherine Mann, Tina Wainscott, Anne Elizabeth, M.L. Buchman, Kate SeRine, Lea Griffith

To honor and empower those who've served, all author and publisher proceeds go to the Wounded Warrior Project.

The Wounded Warrior Project was founded in 2002 and provides a wide range of programs and services to veterans and service members who have survived physical or mental injury during their brave service to our nation. Get involved or register for programs and benefits for yourself and your family online at www.woundedwarriorproject.org.
Review:
Hot as Hell (A Deep Six Novella) – Julie Ann Walker
I have heard a lot about the author and her books and I admit that I was curious to discover one of her writings. Finally, I can say that I spent a great time with this novella. We see the relationship between two people, francs towards each other about their desires and feelings. The set really made me want to discover more and to read an entire novel from the author. A good discovery with a military background. 4/5
In Plain Sight (An Elite Forte Novella) – Catherine Mann
I did not know about Catherine Mann but it's true that I was really carried away by her novella here. We discover two childhood friends who find themselves in some rather difficult conditions. One came back and left the Special Forces while the other is trying to escape her past and a former violent and obsessed husband. I really liked to discover more about our duo, although I find that the end may be a little too fast relative to their relationship, especially after so much time away. But the author has highlighted problems for our hero that I had not yet had the opportunity to read. A good story again. 4/5
Torn (A Novella Protect and Serve) – Kate Serine
I do not think that I had a chance to read something other than paranormal romance for Kate Serine, so I was curious to discover another genre there. We also find here a kind of youthful love that finally never really continued. Yet now the young woman receives some very strange and obsessive attention brands and our man is determined to help and protect her. It was a rather nice reading and I really enjoyed it all. 4/5
War Games (An Endgame Ops Novella) – Lea Griffith
A little disappointed by this story … Yes, this novella presents everything that usually bothers me although the idea is good. A mixture of plots, all with a former soldier accused wrongly and a young woman, a good hacker decides to save him as he saved her brother. Yet the next insta-love bothered me a bit and therefore the evolution of the relationship was a bit unrealistic. Moreover, there is no resolution of the story and we could have more. It is more an introduction than a new complete story. 3/5
Beauty and The Marine – Tina Wainscott
Here we find two people who have more injuries than what they think. A supermodel who is harassed by a man who hires a former special forces to protect her. While a romance develops between them, the two may well realize that the threat is really present. Their story is quite fast without really taking too much importance. An interesting novella although I expected maybe a little more. 3.5 / 5
NSDQ (A Night Stalkers Romance) – M. L. Buchman
Unlike the other stories, it is a woman who will see her life change here. By losing a leg, she will realize what she lost and must now confront her nightmares to finally move forward. Yet this episode will also make her face a man who will be a great support in this difficult time. I enjoyed seeing a woman as a heroine here and although I was a little less carried away some of the stories, it was interesting to discover everything. 3/5
Sealed with Passion – Anne Elizabeth
We do not have this time a wounded person by life, but rather a man and a woman who meet after a time of absence and a big misunderstanding between them. Something they will also have to manage before moving forward. It was a nice little story that the author has here, but I found that everything was really too fast in their relationship. 3.5 / 5
Home Fire Inferno (Burn, Baby, Burn!) – Suzanne Brockmann
This is the last story and a new good discovery. We alternately follow a couple, both soldiers. The pregnant woman needs to deliver her baby in quite difficult conditions and her husband is kept in secret because he is on a mission or in any case it's like that until he understands that something strange is happening. I loved the idea this time. 3.5 / 5