Guest Post:
5 Things To Remember When Writing About the Victorian Era
I'm delighted to introduce A Talent for Trickery, the first book in my new Victorian-set "Thief-takers" series. Our hero, Private Investigator Owen Renderwell, is on the hunt for a thief and murderer. And he knows just how to catch his man. All he needs is a little help from our heroine, Miss Charlotte Walker-Bales. The daughter of an infamous confidence man, Lottie is in a unique position to offer insight into the mind and motives of a hardened criminal. There's just one flaw in Owen's otherwise excellent plan. Lottie hasn't spoken to him in eight years. She has no interest in working alongside a man of the law, and certainly not the one who betrayed her trust, endangered her family, and broke her heart.
To celebrate A Talent for Trickery's time period, I've compiled a list of five things to remember while writing about the Victorian era.
1. It spanned about 64 years and was a time of constant change. Even a year or two can mean the difference between bathing your characters in candlelight, gaslight, or electricity. Or dressing your heroine in petticoats, hoop skirt, crinolette, or bustle.
2. And on the topic of lady's fashion…"Tight-lacing," or the practice of cinching one's corset to produce a 16 inch waist à la Scarlett O'Hara was rare. Most women did not go to such extreme lengths to gain an hourglass figure.
3. Some of the newest innovations, amenities and improvements were a long time coming for those in rural areas. London established a dedicated police force in 1829. It took decades more, however, for many country villages to expand their police force beyond a single, often underpaid and ill-qualified constable.
4. It was a time of great social upheaval. Power and wealth began to shift away from landowners to industrialists, and the middle-class started to thrive. A duke was still a duke, of course, but by the latter half of the 19th century, he had a lot less money and weight to throw around.
5. Morality was everything. In a lot of ways, the Victorian era was a backlash for some of the excesses of the regency era. At least on the surface. Men and women still cavorted and caroused (STDs were, sadly, rampant) but folks did their best to keep even the hint of naughtiness under wraps.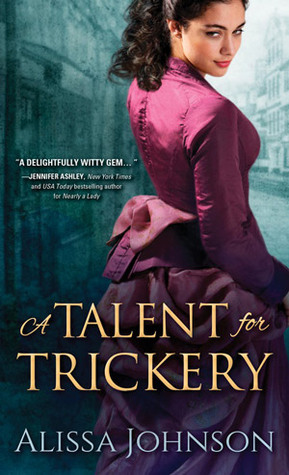 A Talent for Trickery
Author: Alissa Johnson
Release Date: November 3, 2015
Publisher: Sourcebooks Casablanca
Genre: Historical Romance
Series: The Thief-takers, Book 1
Synopsis: The Lady is a Thief

Years ago, Owen Renderwell earned acclaim-and a title-for the dashing rescue of a kidnapped duchess. But only a select few knew that Scotland Yard's most famous detective was working alongside London's most infamous thief…and his criminally brilliant daughter, Charlotte Walker.

Lottie was like no other woman in Victorian England. She challenged him. She dazzled him. She questioned everything he believed and everything he was, and he has never wanted anyone more. And then he lost her.

Now a private detective on the trail of a murderer, Owen has stormed back into Lottie's life. She knows that no matter what they may pretend, he will always be a man of the law and she a criminal. Yet whenever he's near, Owen has a way of making things complicated…and long for a future that can never be theirs.

 
Buy Links
Amazon: http://bit.ly/AmazonTalentTrickery
Barnes and Noble: http://bit.ly/BNTalentTrickery
Sourcebooks: http://www.sourcebooks.com/store/talent-for-trickery.html