Stacking the Shelves is a meme hosted by Tynga's Reviews
Fire Touched (Mercy Thompson, 9) – Patricia Briggs
Mercy Thompson has been hailed as "a heroine who continues to grow and yet always remains true to herself."* Now she's back, and she'll soon discover that when the fae stalk the human world, it's the children who suffer…
Tensions between the fae and humans are coming to a head. And when coyote shapeshifter Mercy and her Alpha werewolf mate, Adam, are called upon to stop a rampaging troll, they find themselves with something that could be used to make the fae back down and forestall out-and-out war: a human child stolen long ago by the fae.
Defying the most powerful werewolf in the country, the humans, and the fae, Mercy, Adam, and their pack choose to protect the boy no matter what the cost. But who will protect them from a boy who is fire touched?
Bands of Mourning (Mistborn, 6) – Brandon Sanderson
With The Alloy of Law and Shadows of Self, Brandon Sanderson surprised readers with a New York Times bestselling spinoff of his Mistborn books, set after the action of the trilogy, in a period corresponding to late 19th-century America.
Now, with The Bands of Mourning, Sanderson continues the story. The Bands of Mourning are the mythical metalminds owned by the Lord Ruler, said to grant anyone who wears them the powers that the Lord Ruler had at his command. Hardly anyone thinks they really exist. A kandra researcher has returned to Elendel with images that seem to depict the Bands, as well as writings in a language that no one can read. Waxillium Ladrian is recruited to travel south to the city of New Seran to investigate. Along the way he discovers hints that point to the true goals of his uncle Edwarn and the shadowy organization known as The Set.
Thanks to the wonderful Carien for christmas :
Dark Oracle (Oracle, 1) – Alayna Williams
TARA SHERIDAN HAS A GIFT . . . AND IT ALMOST KILLED HER.
As a criminal profiler, Tara used science and her intuitive skill at Tarot card divination to track down the dangerous and depraved, including the serial killer who left her scarred from head to toe. Since that savage attack, Tara has been a recluse. But now an ancient secret society known as Delphi's Daughters has asked for her help in locating missing scientist Lowell Magnusson. And Tara, armed with her Tarot deck, her .38, and a stack of misgivings, agrees to try.
Tara immediately senses there is far more at stake than one man's life. At his government lab in the New Mexico desert, Magnusson had developed groundbreaking technology with terrifying potential. Working alongside the brusque but charismatic agent Harry Li, Tara discovers that Magnusson's daughter, Cassie, has knowledge that makes her a target too. The more Tara sees into the future, the more there is to fear. She knows she has to protect Cassie. But there may be no way to protect herself—from the enemies circling around her, or from the long-buried powers stirring to life within. . . .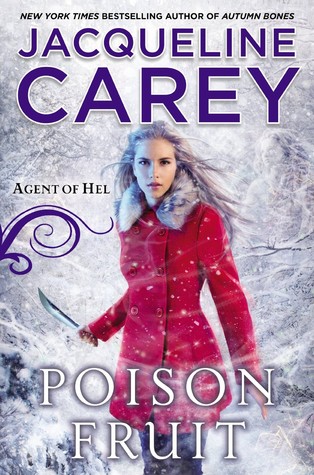 Poison Fruit (Agent of Hel, 3) – Jacqueline Carey
The Pemkowet Visitors Bureau has always promoted paranormal tourism—even if it has downplayed the risks (hobgoblins are unpredictable). It helps that the town is presided over by Daisy Johanssen, who as Hel's liaison is authorized by the Norse goddess of the dead to keep Pemkowet under control. Normally, that's easier to do in the winter, when bracing temperatures keep folks indoors.
But a new predator is on the prowl, and this one thrives on nightmares. Daisy is on her trail and working intimately with her partner and sometime lover from the Pemkowet PD, sexy yet unavailable werewolf Cody Fairfax. But even as the creature is racking up innocent victims, a greater danger looms on Pewkowet's horizon.
As a result of a recent ghost uprising, an unknown adversary—represented by a hell-spawn lawyer with fiery powers of persuasion—has instigated a lawsuit against the town. If Pemkowet loses, Hel's sovereignty will be jeopardized, and the fate of the eldritch community will be at stake. The only one who can prevent it is Daisy—but she's going to have to confront her own worst nightmare to do it.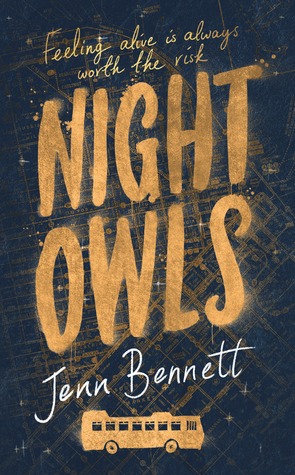 Night Owls – Jenn Bennett
Feeling alive is always worth the risk.
Meeting Jack on the Owl—San Francisco's night bus—turns Beatrix's world upside down. Jack is charming, wildly attractive…and possibly one of San Francisco's most notorious graffiti artists.
But Jack is hiding a piece of himself. On midnight rides and city rooftops, Beatrix begins to see who this enigmatic boy really is.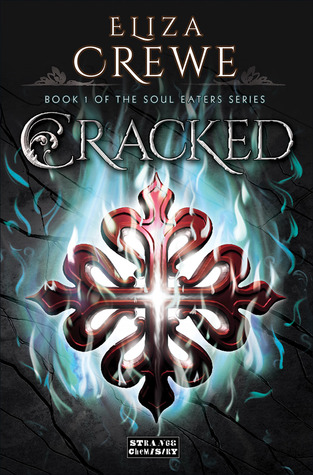 Cracked (Soul Eaters, 1) – ELiza Crewe
Meet Meda. She eats people.
Well, technically, she eats their soul. But she totally promises to only go for people who deserve it. She's special. It's not her fault she enjoys it. She can't help being a bad guy. Besides, what else can she do? Her mother was killed and it's not like there are any other "soul-eaters" around to show her how to be different. That is, until the three men in suits show up.
They can do what she can do. They're like her. Meda might finally have a chance to figure out what she is. The problem? They kind of want to kill her. Before they get the chance Meda is rescued by crusaders, members of an elite group dedicated to wiping out Meda's kind. This is her chance! Play along with the "good guys" and she'll finally figure out what, exactly, her 'kind' is.
Be careful what you wish for. Playing capture the flag with her mortal enemies, babysitting a teenage boy with a hero complex, and trying to keep one step ahead of a too-clever girl are bad enough. But the Hunger is gaining on her.
The more she learns, the worse it gets. And when Meda uncovers a shocking secret about her mother, her past, and her destiny… she may finally give into it.
—————-
Petite Rose (Côté Face, 3) – Anne Denier
La colère, la rage, la violence jusqu'au dernier souffle de vie. Je n'ai pas choisi cette guerre, je n'ai pas voulu cette souffrance qui me garde éveillé la nuit et obscurcit mes jours. Je n'étais que leur jouet à tous. Et moi ? Qui me sauvera ?