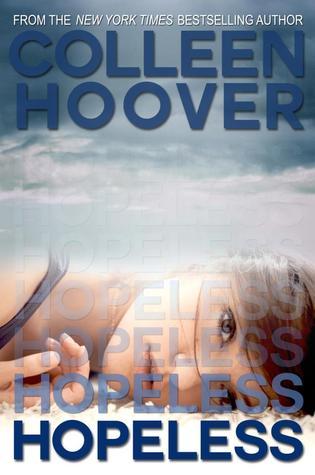 Hopeless, Book 1
Synopsis: Sometimes discovering the truth can leave you more hopeless than believing the lies…

That's what seventeen-year-old Sky realizes after she meets Dean Holder. A guy with a reputation that rivals her own and an uncanny ability to invoke feelings in her she's never had before. He terrifies her and captivates her all in the span of just one encounter, and something about the way he makes her feel sparks buried memories from a past that she wishes could just stay buried.

Sky struggles to keep him at a distance knowing he's nothing but trouble, but Holder insists on learning everything about her. After finally caving to his unwavering pursuit, Sky soon finds that Holder isn't at all who he's been claiming to be. When the secrets he's been keeping are finally revealed, every single facet of Sky's life will change forever.
Review:I didn't know what to expect by starting this book. I had already read two novels by Colleen Hoover, Ugly Love and Maybe Someday which were some great ones. When Celine gave me Hopeless for my birthday and was curious about my feeling, I did not wait too long to immerse myself in the history. I confess that I did not expect that at all, and it's true that this is a novel that takes us to the heart.
We discover Sky, an 18 years old girl who lives, unlike many girls, away from technology. No computer for her, no phones, tablets and other things like that. Besides, she was homeschooled since then, making her lonelier than some. But then, one day she manages to convince her mother to let her go study in a public institution (not sure she would have accepted if she had realized the difficulty). But it is in this context that she meets with her new best friend, and of course Holder… Ah Holder … what a difficult boy understand. The first time he sees her, he takes her for another person and by being close to her little by little, his mood changes are quite incomprehensible. Moreover we understand the difficulty of the girl to know what to do with him. Together they will face the world, their present and past which is following them.
I enjoyed the story and it's true that I loved discovering the complexity of the characters. As I said I did not expect at the outset that the novel would cover such points. The themes are not really easy and even if we understand little by little the reason, I could not help but shed my little tear. I will not tell you more because it is an important aspect of the story and I would spoil the story but it's true that everything is finally revealed in the end and we can understand everything happened until now. It is an intense novel that will tighten our heart and show us that sometimes it's hard to argue right and that we need to find some alternatives.
It's pretty hard not to tell more so I'll stop there, but it was a great discovery, a poignant story we don't expect but that marks us.