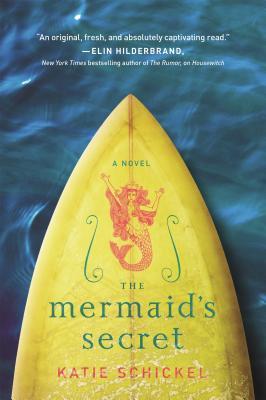 Synopsis: Life on land is suffocating for Jess Creary, who wastes her summers flipping burgers for tourists on a fishing boat off her quaint resort island home off the coast of Maine. After all, her older sister Kay died in a boating accident two years ago, her mother has disappeared, and her father isn't exactly dealing with things so well. Surfing and the handsome Captain Matthew are about the only bright spots in her life.

Then, on her twenty-third birthday, Jess catches the perfect wave–a wave that transforms her into a mermaid. Under the sea, a startlingly beautiful, dark place, Jess is reborn into a confident, powerful predator with superhuman strength –finally she is someone to be reckoned with. Meanwhile, back on land, Jess's relationship with Captain Matthew heats up, and so does her search for justice for Kay.

Jess has thirty days to choose between land and sea; legs and fins; her humanity and her freedom. Who could ignore the freedom of the sea? Yet, the ocean is a dark, wild, lonely place. Is this a gift or a curse? Will Jess choose family and love, forgiveness and truth, or will she be seduced by the wild call of the sparkling sea forever?
Review: I did not know about the author when I discovered the novel but it's true that the only mention of mermaids always manages to attract me. It is, indeed, always interesting to see what a writer has in mind in terms of these ideas.
Firstly I must say that we can read the novel quickly and it was a pleasure to discover this story. So, we discover Jess, a 23 years old girl, trying to understand her place in the world. She lives on a small island where everyone knows each other and where the future opportunities are rather limited but where she feels at home. Yet she must also deal with other more personal issues including the death of her sister, six months ago, or the disappearance of her mother after this event … Yes, some quite heavy topics that affect Jess life who now wants a way out. Thus she discovers one day while surfing a wave something that will change everything, one that will transform her into a mermaid. Jess has 30 days to decide if she wishes to go into the ocean or to live on earth forever.
When we meet the heroine, we quickly realize the difficulties she had and that she must go through. This opportunity presented is really appealing as it also provides her the opportunity to escape and to forget all events. Yet the choice is not as easy as her father remains as well as Matthew, the boy she likes. Alas, there is also the boy who left her sister to die without intervening … We follow Jess and her history, her choices, her transformation when she decides gradually to become what she wants to but also her achievements. I found that despite the context a bit surreal, the author really managed to show us a nice moral to this story, one that shows us that we must not give up and that we must fight if we don't want to lose ourselves.
It was an interesting book, different from what I expected but a quite unique discovery.