Stacking the Shelves is a meme hosted by Tynga's Reviews
Rituals (Cainsville, 5) – Kelley Armstrong
Olivia Jones must make a choice.
Caught between two rival supernatural forces, Liv has been given a brief period in which to make her decision. Now that time has run out.
Whichever side she chooses, someone she loves will pay. Her lover, Ricky. Gabriel Walsh – the man she knows she cannot, must not love. Her parents – already trapped in prison.
And now there is a new, terrifying power rising – one that doesn't distinguish between good and evil intentions. It feeds on chaos and destroys without mercy. Unless Liv acts fast, no one will survive.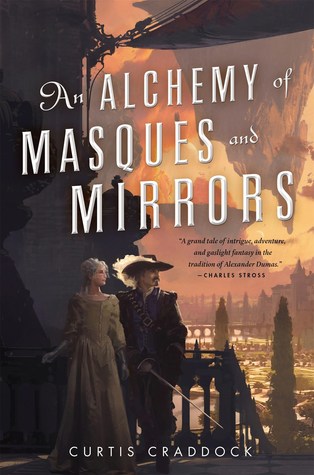 An Alchemy of Masques and Mirrors (The Risen Kingdoms, 1) – Curtis Craddock
A polymath princess and her faithful musketeer must unravel the plot of a thousand-year-old madman in order to save an a foreign kingdom from a disastrous civil war.
Caelum is an uninhabitable gas giant like Jupiter. High above it are the Risen Kingdoms, occupying flying continents called cratons. Remnants of a shattered world, these vast disks of soaring stone may be a thousand miles across. Suspended by magic, they float in the upper layers of Caelum's clouds.
Born with a deformed hand and utter lack of the family's blood magic, Isabelle is despised by her cruel father. She is happy to be neglected so she can secretly pursue her illicit passion for math and science. Then, a surprising offer of an arranged royal marriage blows her life wide open and launches her and Jeane-Claude on an adventure that will take them from the Isle des Zephyrs in l'Empire Céleste to the very different Kingdom of Aragoth, where magic deals not with blood, but with mirrors.
Of Flame and Fate (Weird Girls, 8) – Cecy Robson
Taran Wird, who commands the power to wield fire and lightning, is an oddity in the supernatural world. But neither Taran nor her unique sisters compare to the bizarre entity known as Destiny. And Taran is assigned to protect her.
Born of two witches, Destiny is revered among the supernatural elite for her acute ability to predict the future. Her biggest prophecy involves Taran's sister, Celia, whom Destiny decreed will bear children strong enough to take on the evil that's rising. Yet Destiny is not alone in her predictions, or individuality.
When Johnny Fate, a rock star among humans and a male version of Destiny is discovered, his powers and Destiny's clash, triggering the start of Destiny's demise and altering the fate of Celia's unborn children.
Taran, her werewolf lover Gemini, and their allies must determine if it's Fate who will decide what will become of Celia's children, or if their lives and the world will perish with Destiny.
Terminal Alliance (Janitors of the Post-Apoalypse, 1) – Jim C. Hines
The Krakau came to Earth to invite humanity into a growing alliance of sentient species. However, they happened to arrive after a mutated plague wiped out half the planet, turned the rest into shambling, near-unstoppable animals, and basically destroyed human civilization. You know—your standard apocalypse.
The Krakau's first impulse was to turn around and go home. (After all, it's hard to have diplomatic relations with mindless savages who eat your diplomats.) Their second impulse was to try to fix us. Now, a century later, human beings might not be what they once were, but at least they're no longer trying to eat everyone. Mostly.
Marion "Mops" Adamopoulos is surprisingly bright (for a human). As a Lieutenant on the Earth Mercenary Corps Ship Pufferfish, she's in charge of the Shipboard Hygiene and Sanitation team. When a bioweapon attack wipes out the Krakau command crew and reverts the rest of the humans to their feral state, only Mops and her team are left with their minds intact.
Escaping the attacking aliens—not to mention her shambling crewmates—is only the beginning. Sure, Mops and her team of space janitors and plumbers can clean the ship as well as anyone, but flying the damn thing is another matter.
As they struggle to keep the Pufferfish functioning and find a cure for their crew, they stumble onto a conspiracy that could threaten the entire alliance… a conspiracy born from the truth of what happened on Earth all those years ago.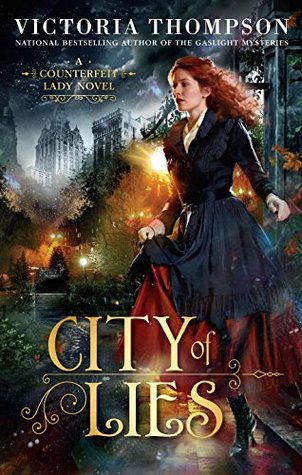 City of Lies (Counterfeit Lady, 1) – Victoria Thompson
Elizabeth Miles scours 1920's Washington, D.C. for a killer in the first Counterfeit Lady novel from the author of the New York Times bestselling Gaslight mysteries.
Every woman plays a part—but some are more dangerous than others…
Like most women, Elizabeth Miles assumes many roles; unlike most, hers have made her a woman on the run. Living on the edge of society, Elizabeth uses her guile to relieve so-called respectable men of their ill-gotten gains. But brutal and greedy entrepreneur Oscar Thornton is out for blood. He's lost a great deal of money and is not going to forgive a woman for outwitting him. With his thugs hot on her trail, Elizabeth seizes the moment to blend in with a group of women who have an agenda of their own.
She never expects to like or understand these privileged women, but she soon comes to respect their intentions, forming an unlikely bond with the wealthy matriarch of the group whose son Gabriel is the rarest of species—an honest man in a dishonest world. She knows she's playing a risky game, and her deception could be revealed at any moment, possibly even by sharp-eyed Gabriel. Nor has she been forgotten by Thornton, who's biding his time within this gilded orbit, waiting to strike. Elizabeth must draw on her wits and every last ounce of courage she possesses to keep her new life from being cut short by this vicious shadow from her past.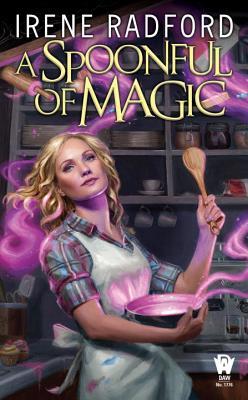 A Spoonful of Magic – Irene Radford
A delightful new urban fantasy about a kitchen witch and her magical family
Daphne "Daffy" Rose Wallace Deschants has an ideal suburban life–three wonderful and talented children; a coffee shop and bakery, owned and run with her best friend; a nearly perfect husband, Gabriel, or "G" to his friends and family. Life could hardly be better.
But G's perfection hides dangerous secrets. When Daffy uncovers evidence of his infidelity, her perfect life seems to be in ruins. On their wedding anniversary, Daffy prepares to confront him, only to be stopped in her tracks when he foils a mugging attempt using wizard-level magic.
Suddenly, Daphne is part of a world she never imagined–where her husband is not a traveling troubleshooter for a software company, but the sheriff of the International Guild of Wizards, and her brilliant children are also budding magicians. Even she herself is not just a great baker and barista–she's actually a kitchen witch. And her discovery of her powers is only just beginnning.
But even the midst of her chaotic new life, another problem is brewing. G's ex-wife, a dangerous witch, has escaped from her magical prison. Revenge-bent and blind, she needs the eyes of her son to restore her sight–the son Daffy has raised as her own since he was a year old. Now Daphne must find a way to harness her new powers and protect her family–or risk losing everything she holds dear.
Won:
Thrill Ride (Black Knights Inc., 4) – Julie Ann Walker
He's Gone Rogue
Ex-Navy SEAL Rock Babineaux's job is to get information, and he's one of the best in the business. Until something goes horribly wrong and he's being hunted by his own government. Even his best friends at the covert special-ops organization Black Knights Inc. aren't sure they can trust him. He thinks he can outrun them all, but his former partner—a curvy bombshell who knows just how to drive him wild—refuses to cut him loose.
She Won't Back Down
Vanessa Cordova hasn't been the team's communication specialist very long, but she knows how to read people—no way is Rock guilty of murder. And she'll go to hell and back to help him prove it. Sure, the sexy Cajun has his secrets, but there's no one in the world she'd rather have by her side in a tight spot. Which is good, because they're about to get very tight…
Too Hard to Handle (Black Knights Inc., 8) – Julie Ann Walker
"The Man" is back.
Dan "The Man" Currington is back in fighting form with a mission that takes him four thousand miles south of BKI headquarters, high in the Andes Mountains of Peru. He's hot on the trail of a rogue CIA agent selling classified government secrets to the highest bidder, when Penni DePaul arrives on the scene. Suddenly the stakes are higher, and keeping Penni safe becomes Dan's number one priority.
And this time she's ready.
A lot has changed since former Secret Service Agent Penni DePaul last saw Dan. Now a civilian, she's excited about what the future might hold. But before she can grab onto that future with both hands, she has to tie up some loose ends-namely, Dan Currington, the man she just can't forget. And a secret that's going to change both their lives-if they can stay alive, that is.
Hot Target (Ballistic Cowboys, 2) – Elle James
Delta Fierce!
On loan for a local assignment, Max "Caveman" Decker already feels at home in the backcountry of Wyoming. Protecting one womaneven petite spitfire Grace Saundersis a vacation to the Delta Force warrior. But Grace thinks something darker is at work than the murder she witnessed. It wasn't a case of the wrong place at the wrong timeit was her "curse." Every man she gets close to dies. Now she's saddled with Decker, her sworn protector, who won't leave her side. Any hope for a simple assignment will change once they're living under the same roof, where Grace's curse will be just as inescapable as the crosshairs of a killer.
The Duke's Guide to Correct Behavior (Dukes Behaving Badly, 1) – Megan Frampton
All of London knows the Duke of Rutherford has position and wealth. They also whisper that he's dissolute, devilish, and determinedly unwed. So why, everyone is asking, has he hired a governess?
When Miss Lily Russell crosses the threshold of the Duke of Rutherford's stylish townhouse, she knows she has come face to face with sensual danger. For this is no doting papa. Rather, his behavior is scandalous, and his reputation rightly earned. And his pursuit of her is nearly irresistible—but resist she must for the sake of her pupil.
As for the duke himself, it was bad enough when his unknown child landed on his doorstep. Now Lily, with her unassuming beauty, has aroused his most wicked fantasies—and, shockingly, his desire to change his wanton ways. He's determined to become worthy of her, and so he asks for her help in correcting his behavior.
But Lily has a secret, one that, if it becomes known, could change everything…
The Ghost (Highland Guard, 12) – Monica McCarthy
An undercover warrior and her sworn enemy play a seductive game of cat-and-mouse in New York Times bestselling author Monica McCarty's sexy new Highland Guard novel.
Joan Comyn swore allegiance to Robert the Bruce the day she witnessed England's barbarous king torturing her famous mother, Scot patriot Bella MacDuff. Now the mysterious beauty slips into men's hearts like a specter and entices England's most illustrious barons to unwittingly divulge their secrets, then shares them with her king. Known only as the Ghost even among her Highland Guard brethren, Joan has become the most wanted traitor in England.
The man determined to uncover her identity poses her biggest threat yet. Alex Seton once stood with Bruce but now fights for the enemy. Though Joan knows she must avoid the handsome warrior or risk discovery, his knightly chivalry touches a place in her long since buried. When his suspicions grow apparent, Joan realizes she must do everything in her power to stop Alex from revealing her mission and convince the powerful fighter to join forces with the Highland Guard once more. But as the ultimate battle in the great war approaches, will Alex choose love or honor?
For my birthday, thanks to Sullivan McPig:
The Pages of the Mind (The Uncharted Realms, 1) – Jeffe Kennedy
An Orphan's Throne
Magic has broken free over the Twelve Kingdoms. The population is beset by shapeshifters and portents, landscapes that migrate, uncanny allies who are not quite human…and enemies eager to take advantage of the chaos.
Dafne Mailloux is no adventurer–she's a librarian. But the High Queen trusts Dafne's ability with languages, her way of winnowing the useful facts from a dusty scroll, and even more important, the subtlety and guile that three decades under the thumb of a tyrant taught her.
Dafne never thought to need those skills again. But she accepts her duty. Until her journey drops her into the arms of a barbarian king. He speaks no tongue she knows but that of power, yet he recognizes his captive as a valuable pawn. Dafne must submit to a wedding of alliance, becoming a prisoner-queen in a court she does not understand. If she is to save herself and her country, she will have to learn to read the heart of a wild stranger. And there are more secrets written there than even Dafne could suspect…
Ill Wind (Weather Warden, 1) – Rachel Caine
Joanne Baldwin is a Weather Warden – waves her hand to tame the most violent weather. Now she races against accusations of corruption and murder. Her only hope is Lewis, the most powerful warden known. Because he stole three bottles of Djinn, he is now the most wanted criminal on earth. Can she find him before the bad weather closes in?
The Missing Ink (Tattoo Shop Mystery, 1) – Karen E. Olson
Murder leaves a mark
Brett Kavanaugh is a tattoo artist and owner of an elite tattoo parlor in Las Vegas. When a girl makes an appointment for a tattoo of the name of her fiancé embedded in a heart, Brett takes the job but the girl never shows. The next thing Brett knows, the police are looking for her client, and the name she wanted on the tattoo isn't her fiancé's…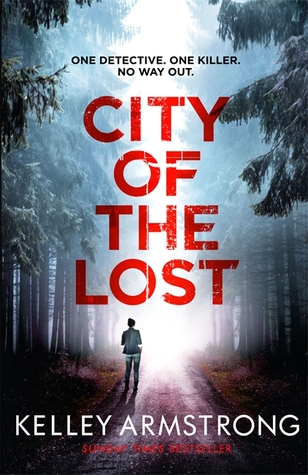 City of the Lost (Casey Duncan, 1) – Kelley Armstrong
Casey Duncan is a homicide detective with a secret: when she was in college, she killed a man. She was never caught, but he was the grandson of a mobster and she knows that someday this crime will catch up to her. Casey's best friend, Diana, is on the run from a violent, abusive ex-husband. When Diana's husband finds her, and Casey herself is attacked shortly after, Casey knows it's time for the two of them to disappear again.
Diana has heard of a town made for people like her, a town that takes in people on the run who want to shed their old lives. You must apply to live in Rockton and if you're accepted, it means walking away entirely from your old life, and living off the grid in the wilds of Canada: no cell phones, no Internet, no mail, no computers, very little electricity, and no way of getting in or out without the town council's approval. As a murderer, Casey isn't a good candidate, but she has something they want: She's a homicide detective, and Rockton has just had its first real murder. She and Diana are in. However, soon after arriving, Casey realizes that the identity of a murderer isn't the only secret Rockton is hiding—in fact, she starts to wonder if she and Diana might be in even more danger in Rockton than they were in their old lives.