Stacking the Shelves is a meme hosted by Tynga's Reviews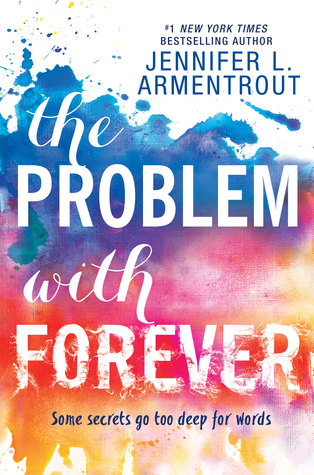 The Problem with Forever – Jennifer L. Armentrout
A story about friendship, survival and finding your voice
Growing up, Mallory Dodge learned that the best way to survive was to say nothing. And even though it's been four years since her nightmare ended, she's beginning to worry that the fear that holds her back will last a lifetime. Now, after years of homeschooling, Mallory must face a new milestone—spending her senior year at a public high school. But she never imagined she'd run into Rider Stark, the friend and protector she hasn't seen since childhood, on her very first day.
It doesn't take long for Mallory to realize that the connection she shared with Rider never really faded. Yet soon it becomes apparent that she's not the only one grappling with lingering scars from the past. And as she watches Rider's life spiral out of control, Mallory must make a choice between staying silent and speaking out—for the people she loves, the life she wants and the truths that need to be heard.
Bitter Frost (Mythos Academy: Colorado, 1) – Jennifer Estep
New school year, same old problems . . .
At Mythos Academy, everyone knows exactly who I am: Rory Forseti, Spartan girl and the daughter of Reapers.
Even though I fought alongside my cousin Gwen Frost to save the mythological world from Loki and his evil Reapers of Chaos, I'm still the most hated girl at the academy because of all the horrible things my parents did. I had hoped that this school year would be different, but the other kids just won't let me forget about my parents.
But something strange is going on at the Colorado academy. First, I run into a Viking guy who dislikes me more than most. Then I notice some odd artifacts in the Library of Antiquities. And worst of all, I start hearing rumors about a new group of Reapers who can summon mythological monsters.
I might be the most hated girl at Mythos Academy, but I'm also the only one who can save it . . .