Stacking the Shelves is a meme hosted by Tynga's Reviews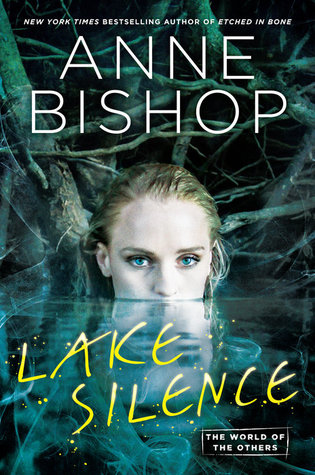 Lake Silence (The Others, 6) – Anne Bishop
In this thrilling and suspenseful fantasy, set in the world of the New York Times bestselling Others series, Vicki DeVine and her lodger, the shapeshifter Aggie Crowe, stumble onto a dead body . . . and find themselves enmeshed in danger and dark secrets.
Human laws do not apply in the territory controlled by the Others–vampires, shapeshifters, and paranormal beings even more deadly. And this is a fact that humans should never, ever forget . . .
After her divorce, Vicki DeVine took over a rustic resort near Lake Silence, in a human town that is not human controlled. Towns like Vicki's have no distance from the Others, the dominant predators that rule most of the land and all of the water throughout the world. And when a place has no boundaries, you never really know what's out there watching you.
Vicki was hoping to find a new career and a new life. But when her lodger, Aggie Crowe–one of the shapeshifting Others–discovers a dead body, Vicki finds trouble instead. The detectives want to pin the man's death on her, despite the evidence that nothing human could have killed the victim. As Vicki and her friends search for answers, things get dangerous–and it'll take everything they have to stay alive.
Tricks for Free (Incryptid, 7) – Seanan McGuire
Penance, noun:
1. Punishment for past actions.
2. An attempt to pay for what can't be bought.
3. See also "exile."
Antimony Price is on the run. With the Covenant on her tail and her family still in danger, she needs to get far, far away from anyone who might recognize her—including her own mice. For the first time in a long time, a Price is flying without a safety net. Where do you go when you need to disappear into a crowd without worrying about attracting attention? An amusement park, of course.
Some people would call Lowryland the amusement park. It's one of the largest in Florida, the keystone of the Lowry entertainment empire…but for Annie, it's a place to hide. She's just trying to keep her head down long enough to come up with a plan that will get her home without getting anyone killed. No small order when she's rooming with gorgons and sylphs, trying to placate frustrated ghosts, and rushing to get to work on time.
Then the accidents begin. The discovery of a dead man brings Annie to the attention of the secret cabal of magic users running Lowryland from behind the scenes. They want the fire that sleeps in her fingers. They want her on their side. They want to help her—although their help, like everything else, comes with a price.
No plan. Minimal backup. No way out. Annie's about to get a crash course in the reality behind the pretty facade. If she's lucky, she'll survive the experience.
Standing Sideways – J. Lynn Bailey
When Livia Stone suddenly loses her twin brother, Jasper, she must learn to navigate her new life alone. As she faces tragedy and starts down a road toward
self-destruction, Daniel enters Livia's life—at a moment when she needs it most.
Standing Sideways is a poignant, relevant, and touching story of survival, courage, and compassion that will have readers crying, laughing, and most of all, debating the issues affecting the lives of parents and teens alike on a journey of hope and forgiveness.