Stacking the Shelves is a meme hosted by Tynga's Reviews
The Girl in the Green Silk Gown (Ghost Roads, 2) – Seanan Mcguire
The second book in the Ghost Roads series returns to the highways of America, where hitchhiking ghost Rose Marshall continues her battle with her killer–the immortal Bobby Cross.
For Rose Marshall, life began when it ended. She has friends, a home, and a purpose in the strange twilight where she spends her afterlife. Sure, she's an urban legend who didn't live to see her eighteenth birthday, but she's had time to adapt, and while things could be better, she's pretty happy with her lot in death.
At least until Bobby Cross–the man who killed her in the first place–plays his ultimate card in the hole, resulting in her untimely, unwanted resurrection. Suddenly breathing and worse, suddenly mortal, Rose must find a way to solve the riddle she never wanted to contend with: how does a living dead girl make it back to the ghostroads without actually dying?
Her quest will make allies out of enemies and enemies out of allies as she runs from the lands of the living to the lands of the dead, trying to find a way safely home…and safely back to her grave.
Sous nos yeux (D.I. Adam Fawley, 1) – Cara Hunter
Quelqu'un a enlevé Daisy. Quelqu'un que vous connaissez.
Hier soir, la petite Daisy, âgée 8 ans, a disparu lors d'une fête donnée dans le jardin de ses parents. Mais personne n'a rien vu – du moins, c'est ce que tout le monde prétend.
L'inspecteur principal Adam Fawley sait d'expérience que, neuf fois sur dix, c'est un proche qui a fait le coup. Les Mason savent donc probablement qui a enlevé leur fille. Mais ils réagissent de façon étrange : la mère sauve les apparences, le père est campé sur la défensive et le petit frère ne dit pas un mot. Choc, déni ou faux-semblants ?
The Wedding Hoax (The Hoaw series, 1) – Heather Thurmeier
Meet the bride…
Wedding dress designer Daisy Willows always imagined marrying the man of her dreams. The fantasy did not include a fake engagement or a fake wedding. Or that her ex, Cole Benton, would be the groom. But as her mom's medical bills pile up, Daisy can't refuse the help of a well-known bridal show expo owner…or his plan for the fake wedding of the century.
Meet the groom…
Cole Benton's bridal magazine is on the verge of capsizing, taking Cole's dream of an outdoor lifestyle magazine with it. So Cole agrees to the publicity stunt and becomes "engaged" to Daisy. But despite their searing-hot chemistry—both in public and in private—not everyone is buying the charade. And now the only way to save their skins and prove that their big white wedding isn't a big white lie is to say "I do…"
La cité des surhumains – Jérémy Leroyer
Lorsqu'un surhumain est extrait vers Héropolis, sa vie bascule en un instant. Mais le quotidien au sein de la cité fondée par William Jarvis ne ressemble en rien aux films de superhéros. Si ses habitants possèdent bien des pouvoirs, leurs sentiments, leurs aspirations et leurs bassesses n'en sont pas moins humains.
La cité fait face à une crise : une partie des surhumains souhaite mettre fin au traité d'Alpharetta qui condamne la population au confinement. Au même moment, une menace extérieure, tapie dans l'ombre, grandit et met en cause la sécurité d'Héropolis.
Véritable roman choral, La cité des surhumains immerge le lecteur, au travers des différentes voix qui s'expriment, dans une épopée sombre où chacun lutte pour son indépendance.
Strange the Dreamer (Strange the Dreamer, 1) – Laini Taylor
The dream chooses the dreamer, not the other way around—and Lazlo Strange, war orphan and junior librarian, has always feared that his dream chose poorly. Since he was five years old he's been obsessed with the mythic lost city of Weep, but it would take someone bolder than he to cross half the world in search of it. Then a stunning opportunity presents itself, in the person of a hero called the Godslayer and a band of legendary warriors, and he has to seize his chance or lose his dream forever.
What happened in Weep two hundred years ago to cut it off from the rest of the world? What exactly did the Godslayer slay that went by the name of god? And what is the mysterious problem he now seeks help in solving?
The answers await in Weep, but so do more mysteries—including the blue-skinned goddess who appears in Lazlo's dreams. How did he dream her before he knew she existed? And if all the gods are dead, why does she seem so real?
Welcome to Weep.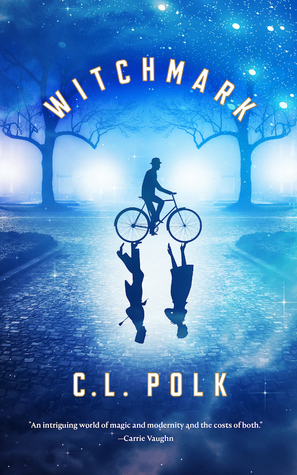 Witchmark (Witchmark, 1) – C.L. Polk
In an original world reminiscent of Edwardian England in the shadow of a World War, cabals of noble families use their unique magical gifts to control the fates of nations, while one young man seeks only to live a life of his own.
Magic marked Miles Singer for suffering the day he was born, doomed either to be enslaved to his family's interest or to be committed to a witches' asylum. He went to war to escape his destiny and came home a different man, but he couldn't leave his past behind. The war between Aeland and Laneer leaves men changed, strangers to their friends and family, but even after faking his own death and reinventing himself as a doctor at a cash-strapped veterans' hospital, Miles can't hide what he truly is.
When a fatally poisoned patient exposes Miles' healing gift and his witchmark, he must put his anonymity and freedom at risk to investigate his patient's murder. To find the truth he'll need to rely on the family he despises, and on the kindness of the most gorgeous man he's ever seen.
City of Lies (Poison Wars, 1) – Sam Hawke
I was seven years old the first time my uncle poisoned me… Outwardly, Jovan is the lifelong friend of the Chancellor's charming, irresponsible Heir. Quiet. Forgettable. In secret, he's a master of poisons and chemicals, trained to protect the Chancellor's family from treachery. When the Chancellor succumbs to an unknown poison and an army lays siege to the city, Jovan and his sister Kalina must protect the Heir and save their city-state.
But treachery lurks in every corner, and the ancient spirits of the land are rising…and angry.
Love & Darkness – Oly TL
Elle est sa drogue. Il est son obscurité.
Une romance sombre, qui ne vous laissera pas indemne
Tatoueur écorché, Jayden oublie son lourd passé les week- ends, lorsqu'il gomme ses limites avec ses frères de cœur, les BadASS. Bohème lumineuse et peintre, Milly n'oublie jamais cette vérité : l'existence est éphémère, alors autant éviter les complications. Les chemins si différents de ces deux artistes finissent cependant par se croiser. Entre ombre et lumière, secrets et blessures, réussiront-ils à s'aimer ?
La Clef (Zel L'Ange Mercenaire, 1) – Kalypso Caldin
EN ÉQUILIBRE ENTRE LE BIEN ET LE MAL, QUELLE VOIE CHOISIRA-T-IL ?
Depuis sa naissance, Kendra dispose de pouvoirs surnaturels : elle voit les fantômes et est capable de lire les auras de ceux qui l'entourent. Elle essaye malgré tout de vivre une vie normale de lycéenne…
Une ambition simple, mais qui devient un véritable défi quand le mystérieux Zel entre dans sa vie… avec la ferme intention de l'assassiner.
Qui est-il réellement ? Pourquoi veut-il éliminer Kendra ? Et surtout, d'où viennent les phénomènes surnaturels qui perturbent de plus en plus la paix de la petite ville de Raven Hill ?