Stacking the Shelves is a meme hosted by Tynga's Reviews
The Kingdom of Copper (The Daevabad Trilogy, 2) – S.A. Chakraborty
Nahri's life changed forever the moment she accidentally summoned Dara, a formidable, mysterious djinn, during one of her schemes. Whisked from her home in Cairo, she was thrust into the dazzling royal court of Daevabad and quickly discovered she would need all her grifter instincts to survive there.
Now, with Daevabad entrenched in the dark aftermath of the battle that saw Dara slain at Prince Ali's hand, Nahri must forge a new path for herself, without the protection of the guardian who stole her heart or the counsel of the prince she considered a friend. But even as she embraces her heritage and the power it holds, she knows she's been trapped in a gilded cage, watched by a king who rules from the throne that once belonged to her family and one misstep will doom her tribe.
Meanwhile, Ali has been exiled for daring to defy his father. Hunted by assassins, adrift on the unforgiving copper sands of his ancestral land, he is forced to rely on the frightening abilities the marid-the unpredictable water spirits-have gifted him. But in doing so, he threatens to unearth a terrible secret his family has long kept buried.
And as a new century approaches and the djinn gather within Daevabad's towering brass walls for celebrations, a threat brews unseen in the desolate north. It's a force that would bring a storm of fire straight to the city's gates . . . and one that seeks the aid of a warrior trapped between worlds, torn between a violent duty he can never escape and a peace he fears he will never deserve.
Fall (VIP, 3) – Kristen Callihan
The first time I met Jax Blackwood things went a little sideways.
In my defense, I didn't know he was Jax Blackwood—who expects a legendary rock star to be shopping for groceries? More importantly, a blizzard was coming and he was about to grab the last carton of mint-chocolate chip.
Still, I might have walked away, but then he smugly dared me to try and take the coveted ice cream. So I kissed him. And distracted that mint-chip right out of his hands.
Okay, it was a dirty move, but desperate times and all that. Besides, I never expected he'd be my new neighbor.
An annoying neighbor who takes great pleasure in reminding me that I owe him ice cream but would happily accept more kisses as payment. An irresistible neighbor who keeps me up while playing guitar naked–spectacularly naked–in his living room.
Clearly, avoidance is key. Except nothing about Jax is easy to ignore—not the way he makes me laugh, or that his particular brand of darkness matches mine, or how one look from him melts me faster than butter under a hot sun.
Neither of us believes in love or forever. Yet we're quickly becoming each other's addiction. But we could be more. We could be everything.
All we have to do is trust enough to fall.
Diamond Fire (Hidden Legacy, 3.5) – Ilona Andrews
Nevada Frida Baylor and Connor Ander Rogan cordially invite you to join their wedding celebration. Summoning, weather manipulation, and other magical activities strictly forbidden.
Catalina Baylor is looking forward to wearing her maid of honor dress and watching her older sister walk down the aisle. Then the wedding planner gets escorted off the premises, the bride's priceless tiara disappears, and Rogan's extensive family overruns his mother's home. Someone is cheating, someone is lying, and someone is plotting murder.
To make this wedding happen, Catalina will have to do the thing she fears most: use her magic. But she's a Baylor and there's nothing she wouldn't do for her sister's happiness. Nevada will have her fairy tale wedding, even if Catalina has to tear the mansion apart brick by brick to get it done.
Quand la fainéantise rime avec magie (Ivy Wilde, 1) – Helen Harper
Bon, soyons clairs : Ivy Wilde n'est pas une héroïne. C'est même la dernière personne que vous contacteriez si vous aviez besoin d'une aide magique, malgré ses talents.
Si ça ne tenait qu'à elle, Ivy passerait ses journées affalée dans le canapé, devant la télé, paquets de chips en main, à papoter avec son familier félin jusqu'à ce que mort s'en suive.
Mais quand elle se retrouve victime d'une erreur d'identité, elle est embarquée malgré elle à la Branche Arcane, le département d'investigation de l'Ordre Hermétique du Crépuscule d'Or.
Les problèmes se multiplient quand un objet de valeur est volé au nez et à la barbe des représentants de l'Ordre ; et le fait d'être liée magiquement à l'Adeptus Exemptus Raphaël Winter ne fait qu'empirer la situation. Il a peut-être un regard couleur saphir et le corps d'un mannequin maillot de bain, mais pour Ivy, il représente tout ce qu'il y a de soporifique dans le boulot de sorcier.
Et s'il l'oblige à retourner à la salle de sport, juré, elle le transforme en crapaud.
Les Reliques de l'au-delà (Enquêtes surnaturelles, 1) – Laura Spinella
Tout ce que veut Aubrey Ellis, c'est une vie normale, une vie qui n'inclut pas d'appels désespérés de défunts. Son remarquable don aide peut-être les autres à reposer en paix, mais il a également perturbé son enfance et détruit son mariage. S'accommodant finalement de son emploi de chroniqueuse immobilière pour un journal local, Aubrey dissimule son extraordinaire aptitude… jusqu'à ce que lui soit soudain confié un article relatif à un meurtre remontant à plusieurs décennies.
Ébranlée par la découverte du squelette d'une jeune femme, la ville de Surrey en Nouvelle-Angleterre veut des réponses. L'intraitable journaliste d'investigation Levi St John est déterminé à les obtenir. Aubrey n'a d'autre choix que de s'impliquer, même au risque terrifiant de déranger les esprits en lien avec le meurtre et d'éveiller par la même occasion les soupçons de son nouveau partenaire journaliste.
Tandis qu'Aubrey et Levi approfondissent le mystère, des secrets sont révélés et la passion s'enflamme. Il semble que les dons d'Aubrey soient voués à tout lui procurer, sauf une vie normale…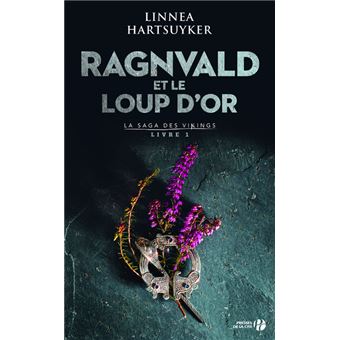 Regnvald et le loup d'or (Saga des vikings, 1) – Linnea Hartsuyker
Vengeance en terre viking
Norvège, IXe siècle après J.-C. Depuis que son père est mort, Ragnvald n'a qu'une hâte : atteindre la maturité pour pouvoir enfin gouverner les terres qui lui reviennent, placées sous l'égide de son beau-père, le cruel Olaf. Aussi, quand il échappe à une tentative d'assassinat, Ragnvald devine que c'est Olaf qui est à la manœuvre. Obtenir justice n'est pas chose aisée en pays viking, où des centaines de petits rois se disputent un lambeau de territoire, mais Ragnvald est prêt à mourir pour sauver son honneur. Quant à sa petite sœur, l'impétueuse Svanhild, elle serait capable de prendre les armes pour lui venir en aide. Jusqu'au jour où elle croise le chemin du beau Solvi, l'ennemi juré de son frère… Tandis que Ragnvald choisit de rejoindre les troupes du jeune Harald, guerrier prodige incarné dans le monde des rêves par un loup à la crinière d'or, Svanhild sera confrontée au pire des dilemmes : la famille ou la liberté.
Puisant dans un des textes fondateurs de la littérature subarctique, Linnea Hartsuyker raconte l'histoire d'un personnage historique, Ragnvald de Møre, bras droit du premier roi de Norvège, et éclaire les phénomènes à l'origine de ces royaumes scandinaves formés par la mosaïque de terre au nord des mers d'Écosse. Mais ce sont surtout les destins contrariés d'un frère et d'une sœur épris d'idéal que bâtit le premier tome de cette épopée foisonnante d'héroïsme, d'aventure et de sentiments à vif, à placer entre les mains de tous les amateurs d' Outlander ou de G ame of Thrones.
Destin de sang (La Trilogie du Tearling, 3) – Erika Johansen
La Trilogie du Tearling
En moins d'un an, Kelsea Glynn est devenue Reine du Tearling, une reine puissante et visionnaire qui a transformé le royaume. Dans sa quête de justice, et pour mettre fin à la corruption, elle s'est fait de nombreux ennemis, notamment la Reine rouge, sa rivale la plus féroce, qui lui a déclaré la guerre. Pour protéger son peuple de l'invasion, Kelsea se livre à l'adversaire avec son saphir magique, et nomme Massue, son fidèle chef des gardes, comme régent. Massue va alors tout faire pour sauver sa reine, prisonnière de Mortmesne.