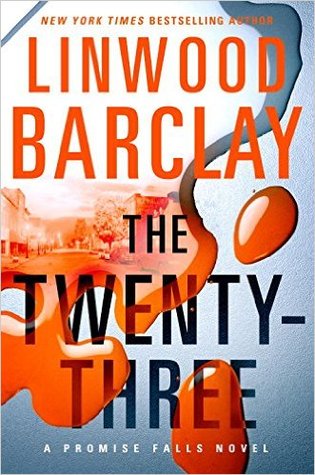 Promise Falls, Book 3
Synopsis: It's May 23, and small town Promise Falls finds itself in the midst of a full-blown catastrophe with dozens dead from a flu-like virus. Investigator Cal Weaver quickly zeros in on mass poisoning and a tainted water supply.

Meanwhile, a college student has been murdered, and Detective Barry Duckworth recognizes a killer's handiwork from the unsolved homicides of two women in town. Suddenly, the strange events from the last month start to add up….Bloody mannequins in car "23" of an abandoned Ferris wheel…a fiery, out-of-control bus with "23" on the back…"23" on the hoodie of a man accused of assault.

The motive for hurting the people of this town points to the number 23—and working out why will bring Duckworth closer to death than ever before.
Review: If I didn't read the first volume, I really appreciated the second and was curious to discover this third story. We find all the characters, and the story is in the continuity of what happened before. This time, in addition to the previous events, a very serious new problem is emerging in the city: water has been poisoned and deaths are accumulating… But when a murder also occurs, our protagonists will have to try to understand what is happening.
I always have a little trouble when there are many characters and it took me a little while to situate everyone again. Apart from that, once it was done, I loved discovering this new novel, discovering what the author had planned and I must admit that I am impressed by the intrigues that unfold throughout all the volumes and the one that is concentrated here. We have several revelations, many that I didn't see coming at all and I must say that I am really curious to see what will happen for David after the last events. There's another novel after that, so I'm very curious to see what it's going to be about now!
As I was saying, the author presents us with a story that keeps us on our toes throughout the story. We doubt the characters and we are perfectly manipulated to finally discover the truth. Once again a very good time!