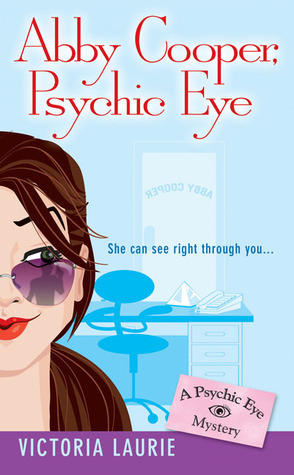 Psychic Eye Mystery, Book 1
Synopsis: Abby Cooper is a P.I., psychic intuitive. But her insight failed her when she didn't foresee the death of one of her clients-or that the lead investigator for the case is the gorgeous blind date she just met. Now, with the police suspicious of her abilities and a killer on the loose, Abby's future looks more uncertain than ever.
Review: I love the author's Ghost Hunter Mystery series, but I also heard a lot about this one. It was then with pleasure that I discovered the first volume. And what to say? It is always a pleasure to find her stories!
Abby is psychic, and even a real one! She receives the people who desire a lecture, to know more about their future. She does not see everything, does not read in thoughts, but she happens to perceive certain things, that is to say from a photograph if the person is alive or deceased or whether a person to whom she speaks lies. These are very useful gifts in this type of careers. But one evening, in a blind date, she finds herself unknowingly facing a policeman who does not believe her and she explains to him what she saw of a public affair. Passing from suspect to aid, she will allow Dutch to apprehend a culprit. But it is not over, and she will find herself embarking on another matter when one of her clients finds herself killed. Under the weight of guilt, she will do everything to understand what happened, while allying once again with Dutch and of course putting herself in grave danger …
I really liked the idea, to see that although Abby can sense a lot of things, she is not omniscient. I also appreciated the fact that she tries to hide/run away when she thinks it's too dangerous. She is a sensible woman but who puts all her soul in to help others. I loved Dutch too, who despite his roughness, tries to understand, help and learn to know our heroine. Then there is Dave and his kindness, or Cat and her freshness! Lots of very good characters and it is true that I spent a very good time with this novel.
I am now eager to read more and to find all the characters again.