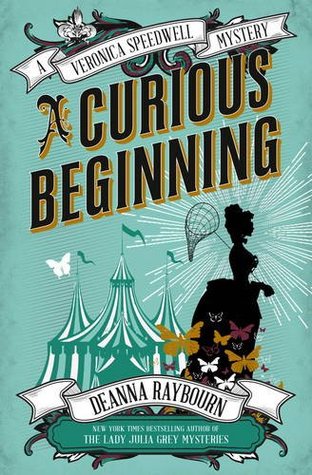 Veronica Speedwell Mystery, Book 1
Synopsis: London, 1887. As the city prepares to celebrate Queen Victoria's golden jubilee, Veronica Speedwell is marking a milestone of her own. After burying her spinster aunt, the orphaned Veronica is free to resume her world travels in pursuit of scientific inquiry—and the occasional romantic dalliance. As familiar with hunting butterflies as she is fending off admirers, Veronica wields her butterfly net and a sharpened hatpin with equal aplomb, and with her last connection to England now gone, she intends to embark upon the journey of a lifetime.

But fate has other plans, as Veronica discovers when she thwarts her own abduction with the help of an enigmatic German baron with ties to her mysterious past. Promising to reveal in time what he knows of the plot against her, the baron offers her temporary sanctuary in the care of his friend Stoker—a reclusive natural historian as intriguing as he is bad-tempered. But before the baron can deliver on his tantalizing vow to reveal the secrets he has concealed for decades, he is found murdered. Suddenly Veronica and Stoker are forced to go on the run from an elusive assailant, wary partners in search of the villainous truth.
Review: I saw a lot of praise over this first volume and I admit that the reviews made me very curious about the story. I must say that it presents everything we could want to have, from a strong heroine who does not let anyone dictate her choice, a Victorian period as we love them or a murder investigation which we try to understand the ins.
Speedwell Veronica is a character completely different from the others, especially during this period so difficult for women. I must say that she completely neglects her statut and society to evolve as an independent person. No, she is not interested in marriage or in having kids and pursues instead a scientific career as a butterfly specialist. You can imagine that this is the kind of thing that people talk about, especially when the girl travels all around the world to satisfy her growing passion. But Veronica is an orphan, a woman without a past who is now freed from her aunts whose last one has just passed away. A future full of freedom opens to her and she hopes to leave the country as soon as possible, but that's not counting the future problems.
Indeed, her home vandalized, the young woman was repatriated in London by a Baron she does not know about but who seems to know the truth about her biological parents. But before he can tell her anything, our dear noble is murdered, leaving our heroine and her new guardian, Stocker, full of questions. Teaming up together, our heroes will try to understand what is really happening, why Veronica seems to attract many parties as she doesn't own anything. Thus we will follow a circus of monsters, an intriguing investigation and of course the revelations about our protagonists about their past and possible future.
I realized soon enough the truth about Veronica but it's true that I was curious to see what would happen exactly. The young woman will be propelled into a story completely beyond her and it is true that we still admire her for her behavior in response of the events.
The story is very enjoyable to read and the author's style is a pleasure to follow. You will be carried away by the story and you'll hope at the end of the novel that we'll have more soon!