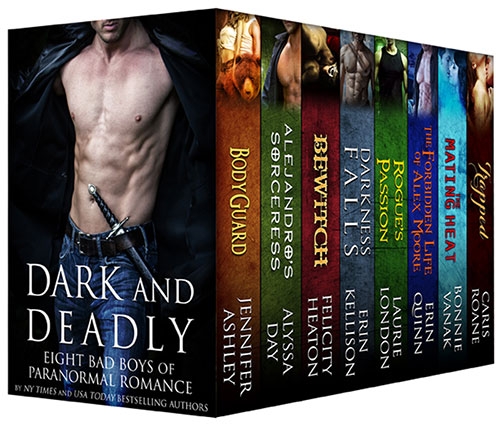 DARK AND DEADLY: Eight Bad Boys of Paranormal Romance
Jennifer Ashley, Alyssa Day, Felicity Heaton, Erin Kellison, Laurie London, Erin Quinn, Bonnie Vanak, Caris Roane
Eight hot paranormal romances by New York Times and USA Today bestselling authors. Alpha-male bad boys will fulfill your darkest, most deadliest desires in these stories about shifters, werewolves, vampires, magic, special powers and other realms. But only if you dare…
BODYGUARD by Jennifer Ashley
Elizabeth Chapman is saved from an armed attacker by a Kodiak bear who shifts into a tight-bodied, naked human male. Ronan takes Elizabeth to Shiftertown, becoming her 24/7 bodyguard. The mateless Ronan has adopted a houseful of orphaned Shifters–having grown up in foster care, Elizabeth is touched by his protectiveness. Ronan only wants to keep Elizabeth safe, but the sassy woman is triggering his long-buried need to mate.
ALEJANDRO'S SORCERESS by Alyssa Day
He's a warrior, hardened by years of protecting his town from vampire attack. She's a garden witch who sees the world in shades of sunshine and delight. Opposites don't only attract, they go supernova in this sizzling tale of magic and mayhem.
BEWITCH by Felicity Heaton
A vampire with a bloodstained past and a soul tainted with darkness, Payne is perfect in his self-control, never surrendering to his darkest desires. Now a beautiful witch in the shadowy fae underworld reawakens long denied hungers and tempts him with pleasure. When one incredible night of fulfilling their fantasies leads to more than just keeping a promise and saving a friend, will they be able to overcome the barriers that stand between them and forever?
DARKNESS FALLS by Erin Kellison
Agent Malcolm Rook is hunting for people with the rarest of talents—the ability to master dreams. He finds the undeniably gifted Jordan Lane, but she's wary of mysterious Rook and resists his pursuit as long as she can. Yet the dreamwaters they enter are too exhilarating to resist, and attraction soon ignites electric passions. Delving too deep stirs a nightmare, one they must defeat, or be forever lost to darkness.
ROGUE'S PASSION by Laurie London
Blaming himself for the death of a friend, Iron Guild warrior Asher Kane vows to bring those responsible to justice. After he's hurt on a mission and nursed back to health by a beautiful yet mysterious woman, this dangerously sexy bad-boy finds himself falling for Olivia…even as he struggles to stay away. But stalking them on the streets of New Seattle is a cruel and vengeful evil—one that threatens to destroy them both…
THE FORBIDDEN LIFE OF ALEX MOORE by Erin Quinn
Alex's mission: Kill the hellhounds that have invaded earth and return to his home in the Beyond. But from the start, things go horribly wrong. The hounds are cunning and a human female witnesses their attack—she intervenes and saves Alex's life. Now he must keep the alluring Lilly alive while fighting his desire for her. When passion flares, Alex risks all to protect her and defend the forbidden life he craves.
THE MATING HEAT by Bonnie Vanak
Werewolf Kara Mitchell fled with her brother Aiden to Montana after their alpha father punished her for kissing sexy omega werewolf Ryder Carrington. Left scarred by her father's cruelty, Kara believes no one can love her. After killing his alpha to save the pack, Ryder now rules, but needs a mate. His blood runs hot for Kara. Ryder will do anything to claim her, even risk an all-out pack war that could cost them everything…
TRAPPED by Caris Roane
Mastyr Vampire Zephyr, a one-man fighting force, struggles to save the life of a woman who despises his warrior ways. She's been a thorn in his side, but he has one goal: to keep her safe. For Alesia, however, she just wishes he'd leave her alone since she can never approve of his profession. She broke up with him months ago and wants to start a new life. The trouble is, he's still the one man who can curl her toes.
DARK AND DEADLY: Eight Bad Boys of Paranormal Romance is due for release in ebook at all major retailers on April 14th 2014 so mark your calendars for your date with these eight hot alpha bad boys and have your darkest desires fulfilled.
Add the book to your Goodreads shelf at: https://www.goodreads.com/book/show/21544659-dark-and-deadly
Be sure to join the Dark and Deadly authors during the first two weeks of release for fantastic giveaways, launch parties, and more.
Find out all the details for the events as they're posted at the eight authors' Facebook pages:
Jennifer Ashley: http://www.facebook.com/JenniferAshleyAllysonJamesAshleyGardner
Alyssa Day: http://www.facebook.com/authoralyssaday
Felicity Heaton: https://www.facebook.com/felicityheaton
Erin Kellison: http://www.facebook.com/erinkellisonauthor
Laurie London: http://www.facebook.com/LaurieLondonAuthor
Erin Quinn: http://www.facebook.com/ErinQuinnAuthor 
Bonnie Vanak: http://www.facebook.com/bonnievanakauthor
Caris Roane: https://www.facebook.com/pages/Caris-Roane/150858114985050