Stacking the Shelves is a meme hosted by Tynga's Reviews
Giveaways/Concours
Book of your choice by Jenn Bennett (INT)
Giveaway: signed copy of Iron Night by ML Brennan (US)
Giveaway: signed copy of The Stolen by Bishop O'Connell (INT)
Giveaway: One Night More – Mandy Baxter (INT)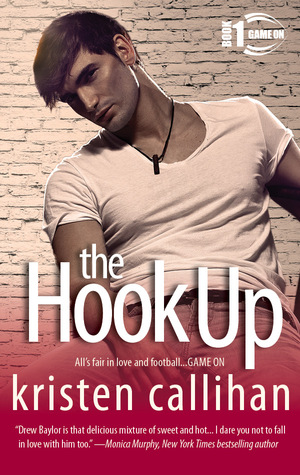 The Hook Up (Game On, 1) – Kristen Callihan
The rules: no kissing on the mouth, no staying the night, no telling anyone, and above all… No falling in love.
Anna Jones just wants to finish college and figure out her life. Falling for star quarterback Drew Baylor is certainly not on her to do list. Confident and charming, he lives in the limelight and is way too gorgeous for his own good. If only she could ignore his heated stares and stop thinking about doing hot and dirty things with him. Easy right?
Too bad he's committed to making her break every rule…
Football has been good to Drew. It's given him recognition, two National Championships, and the Heisman. But what he really craves is sexy yet prickly Anna Jones. Her cutting humor and blatant disregard for his fame turns him on like nothing else. But there's one problem: she's shut him down. Completely.
That is until a chance encounter leads to the hottest sex of their lives, along with the possibility of something great. Unfortunately, Anna wants it to remain a hook up. Now it's up to Drew to tempt her with more: more sex, more satisfaction, more time with him. Until she's truly hooked. It's a good thing Drew knows all about winning.
All's fair in love and football…Game on.
Fairy Tales & Ever After (Fairy Tales & Ever After, 1&2) – Danielle Monsch
Once upon a Time, in a Kingdom that was just a little twisted (oh yeah, and kinda far away) come find out why hanging with the Fairy Godmothers is the only way to explore Happily Ever After…
This Edition contains the first two books of the Fairy Tales & Ever Afters series
Loving a Fairy Godmother:
It ain't easy being the only Fairy Godfather in existence, especially when the Fairy Godmother of your dreams wants you kicked out of the program.
Tiernan is given his hardest assignment yet – get a girl by the name of Cinderella her HEA or lose his status as a Fairy Godfather. His supervisor for this job is none other than Reina, the one woman he's interested in and the one woman who wants nothing to do with him. Well, Reina better watch out, because Tiernan has decided Fairy Godmothers deserve to have Happily Ever Afters too.
Loving an Ugly Beast:
When a Beast gets a chance to become a Beauty, he takes it.
Benton never cared what anyone thought of him until Nissa entered his life, and to win her love he would do anything, including make a wish to a Fairy Godmother for a beast to become a beauty. Now he is everything he wasn't before – handsome, charming, and ready for his Happily Ever After. But does Nissa really prefer beauty, or will she fight to get her beast back?
Red Blooded (Jessica McClain, 4) – Amanda Carlson
Jessica is on her way to Hell. After settling a fragile truce between the vampires, werewolves and witches, the last thing Jessica wants to do is face the demons head on. But when the Prince of Hell kidnapped her brother, he set into motion a chain of events that even Jessica doesn't have the power to stop.
Now, Jessica must go into battle again. But Hell is a whole new beast… new rules, more dangerous demons, and an entirely foreign realm. And when Jessica is dropped into the Underworld too soon, without protection or the help of her friends, she must figure out just how powerful she can be… or she will never make it out alive.