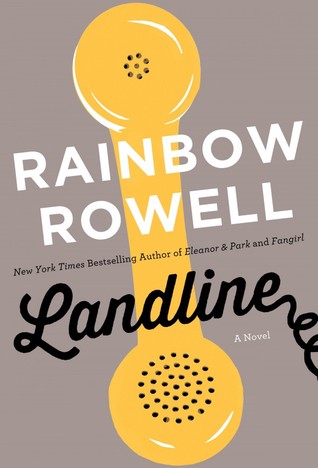 Synopsis: Georgie McCool knows her marriage is in trouble;it has been in trouble for a long time. She still loves her husband, Neal, and Neal still loves her, deeply — but that almost seems beside the point now.

Maybe that was always beside the point.

Two days before they're supposed to visit Neal's family in Omaha for Christmas, Georgie tells Neal that she can't go. She's a TV writer, and something's come up on her show; she has to stay in Los Angeles. She knows that Neal will be upset with her — Neal is always a little upset with Georgie — but she doesn't expect him to pack up the kids and go home without her.

When her husband and the kids leave for the airport, Georgie wonders if she's finally done it. If she's ruined everything.

That night, Georgie discovers a way to communicate with Neal in the past. It's not time travel, not exactly, but she feels like she's been given an opportunity to fix her marriage before it starts . . .

Is that what she's supposed to do?

Or would Georgie and Neal be better off if their marriage never happened?
Review: After reading Fangirl, I was curious to try another writing from the author. Landline is a novel that I have seen a lot of time since its release in the US and it is true that the very good reviews that I had the opportunity to discover had intrigued me a lot.
Georgie loves her husband, Neal, with all her heart and they both have two formidable little girls. Yet nothing is perfect and the work of the young woman always takes precedence over everything else. Christmas is coming and our family intended to go to Omaha to celebrate it all together but an important business meeting is added and Georgie can not go, stuck at home for the holidays. Yet Neal does not see it that well, and furious, he decides to go with the girls as intended, leaving her alone behind. But as life goes for Georgia, sad to be away from her family, everyone seems to think that Neal has left her for good … Is this the case? What is sure is that she can not contact him by phone and she only manages to speak to her daughters or her stepmother. But something amazing will happen, while staying with her mother and trying to contact her husband on an old phone of her youth, she manages to join Neal of the past, 15 years before. Is this a sign of destiny to make him understand that he will never happen to be happy with her? To make him understand that he should not marry her? But while she can not speak to her husband, the old Neal then remains present for her.
I really had a good time with this book. The history between Neal and Georgie really touched me. We understand the fear of the young woman and we understand her questions throughout the chapters. But we also understand Neal and his desire to have more, to be for once prominent in her life. The author will allow us to discover the history of our protagonists throughout the chapters, showing us some flash-back of the past. It was interesting and touching to see them grow together, to see the trials, joys and pains they went through to be together. By cons, it is true that sometimes I was a little lost between the past and the present as the author does not really separate everything. It's a shame because it is a little difficult to locate the events from all that is happening. But that is a detail because everything is still well done and I was touched and sad several times with the story. Georgia will understand, realize that something is wrong and that she is mainly the cause. I admit that I was a little disappointed that even though she realized that she could not work because of her emotional state, and that she was constantly thinking about her husband, she does not think a single second of dropping everything to go and find him. She pities rather on her life and tries to understand what is happening.
In all cases it is a very pretty story I struggled to put down and I had a great time with this new novel.