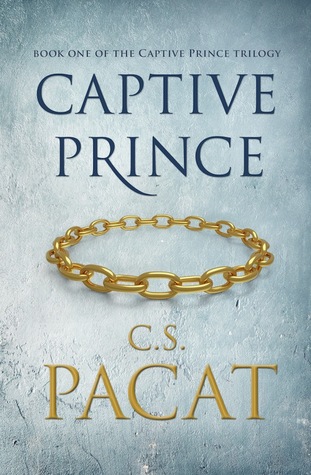 Captive Prince, Book 1
Synopsis: Damen is a warrior hero to his people, and the rightful heir to the throne of Akielos, but when his half brother seizes power, Damen is captured, stripped of his identity, and sent to serve the prince of an enemy nation as a pleasure slave.

Beautiful, manipulative and deadly, his new master Prince Laurent epitomises the worst of the decadent court at Vere. But in the lethal web of Veretian politics, nothing is as it seems, and when Damen is caught up in a dangerous play for the throne, he must form an alliance with Laurent to survive and save his country.

For Damen, there is just one rule: he must never reveal his true identity. Because the one man Damen needs is the one man who has more reason to hate him than anyone else . . .
Review: I've never really been attracted to m/m romance but it's also true that I have not really tested it until now. To be honest, I'm not sure that I'll really try this genre again (with another series) but I enjoyed this first volume and I'm quite curious to see how the second will be.
Damen is a prince, the heir to the throne of his country, but his fate will change completely during his half-brother's coup d'etat. Announced dead to the whole population, he is sold as a pleasure slave in a hostile nation. Between the need to hide his identity, to manage his brand new condition and to try to survive, Damen will discover what he never wanted to see. And while his feelings are pretty torn about his master, Laurent (the future successor to the kingdom), our hero is determined to escape at any cost. But then conspiracies and betrayals are mixed with politics and nothing will be easier for him.
I loved to discover Damen. His life is radically changing and yet he tries to keep his sense of honor whatever happens. He wants to help the slaves who were sold like him but who have not been so lucky. Of course, everyone is intrigued about him seeing his "barbaric" behavior, different from the submission that all the others present. He will face with a world that he does not know anything about, to custums he doesn't follow but that will change his life. Despite the distrust of all against him, he will happen to approach Laurent and even reach to change his opinion on certain decisions. Speaking of that, this character is also intriguing. Indeed, it is very difficult to identify and understand exactly what he wants. His mood can change in any short time, from a stubborn man without heart to someone who is worried for others. I admit that I still can not decide on him, but maybe Volume 2 will help me understanding all this.
In all cases, I loved discovering the ideas of the author in this first volume and it was nice to follow the adventures of Damen and Laurent. The world is intriguing and I'm very curious to find out more now. It was a good discovery, something different and I would read the sequel with pleasure!