Stacking the Shelves is a meme hosted by Tynga's Reviews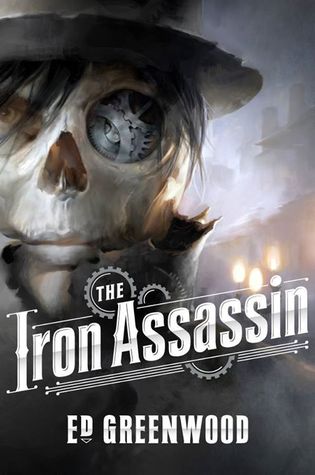 The Iron Assassin – Ed Greenwood
Hot pulp fiction: a steampunk Frankenstein is a weapon of death in an alternate 19th-century England
On an Earth that is not our own, Victoria never ascended the throne; the House of Hanover held England only briefly before being supplanted by the House of Harminster. It is a time of gaslamps and regularly scheduled airship flights, of trams and steam-driven clockwork with countless smoke-belching stacks. London, the capitol of the Empire of the Lion, is a filthy, crowded, fast-growing city where a series of shocking murders threatens the throne itself.
Energetic young inventor Jack Straker believes he has created a weapon to defend the Crown: a reanimated, clockwork-enhanced corpse he can control. He introduces "the Iron Assassin" to the highly placed Lords who will decide if Straker's invention becomes a weapon of the Lion—or something to be destroyed.
It quickly becomes apparent that the Iron Assassin is more self-willed than Straker intended, and that the zombie's past life is far more sinister than Straker thought. Has he created a runaway monster? Or the best guardian the Lion could ever hope for?
Dragon Fall (Black Dragons, 1) – Katie MacAlister
YOU FLIRT WITH FIRE…
For Aoife Dakar, seeing is believing-and she's seen some extraordinary things. It's too bad no one else believes that she witnessed a supernatural murder at an outdoor fair. Returning to the scene for proof, Aoife encounters a wise-cracking demon dog-and a gloriously naked man who can shift into a dragon and kiss like a god. Now thrust into a fantastical world that's both exhilarating and terrifying, Aoife is about to learn just how hot a dragon's fire burns.
WHEN YOU DATE A DRAGON
Kostya has no time for a human woman with endless questions, no matter how gorgeous or tempting she is. He must break the curse that has splintered the dragon clans before more of his kind die. But his powerful attraction to Aoife runs much deeper than the physical-and there may be more to her than even his sharp dragon eyes can see. To survive the coming battle for the fate of his race, he needs a mate of true heart and soul . . .
The Midnight Queen (Noctis Magicae, 1) – Sylvia Izzo Hunter
In the hallowed halls of Oxford's Merlin College, the most talented—and highest born—sons of the Kingdom of Britain are taught the intricacies of magickal theory. But what dazzles can also destroy, as Gray Marshall is about to discover…
Gray's deep talent for magick has won him a place at Merlin College. But when he accompanies four fellow students on a mysterious midnight errand that ends in disaster and death, he is sent away in disgrace—and without a trace of his power. He must spend the summer under the watchful eye of his domineering professor, Appius Callender, working in the gardens of Callender's country estate and hoping to recover his abilities. And it is there, toiling away on a summer afternoon, that he meets the professor's daughter.
Even though she has no talent of her own, Sophie Callender longs to be educated in the lore of magick. Her father has kept her isolated at the estate and forbidden her interest; everyone knows that teaching arcane magickal theory to women is the height of impropriety. But against her father's wishes, Sophie has studied his ancient volumes on the subject. And in the tall, stammering, yet oddly charming Gray, she finally finds someone who encourages her interest and awakens new ideas and feelings.
Sophie and Gray's meeting touches off a series of events that begins to unravel secrets about each of them. And after the king's closest advisor pays the professor a closed-door visit, they begin to wonder if what Gray witnessed in Oxford might be even more sinister than it seemed. They are determined to find out, no matter the cost…
Wicked Embers (Sould of Fire, 2) – Keri Arthur
Keri Arthur, New York Times bestselling author of Fireborn, presents the thrilling new Souls of Fire Novel featuring Emberly Pearson, a phoenix that can transform into a human—and is haunted by the ability to foresee death….
Crimson Death, the plague like virus spawned from a failed government experiment to isolate the enzymes that make vampires immortal, continues to spread. Emberly and her partner, Jackson Miller, are desperately seeking the stolen research for a cure before the virus becomes a pandemic.
But their mission is jeopardized by another threat uncovered in Emberly's prophetic dreams. A creature of ash and shadow has been unleashed on a murdering spree. Now Emberly must summon all her gifts and investigative knowledge to put an end to this entity's brutal rampage—even if it means placing herself in harm's way….
Possesseur (Reaper Motorcycle Club, 1) – Joanna Wylde
Marie n'a pas besoin d'une complication comme Horse dans sa vie. Ce motard couvert de tatouages et dénué de scrupules, qu'elle a croisé une fois chez son frère, n'est pas de cet avis. Il veut Marie sur sa moto et dans son lit. Pourtant, malgré les orgasmes incroyables que Horse lui procure, elle refuse d'appartenir à qui que ce soit. C'est alors que le gang de Horse, le Reapers Motorcycle Club, découvre que le frère de Marie leur a volé de l'argent. Seule la jeune femme peut le sauver – à condition de donner à Horse ce qu'il désire. Tout ce qu'il désire.
Hunter (Vampire Nation, 2) – Larissa Ione
Hunter est prêt à tout pour sauver son peuple de l'extinction. Ou d'un sort pire encore : devenir les esclaves et cobayes des humains. Mais le charismatique leader de la rébellion vampire doit pour cela affronter une épreuve face à laquelle sa force et son courage n'ont que peu de valeur. Afin de forger une alliance, il a accepté de s'unir à la fille du chef d'un clan rival. Une vampire qu'il déteste. Une vampire qui a une soeur jumelle dont il est fou amoureux. Entre le futur de son clan et l'amour véritable, Hunter devra choisir…