Stacking the Shelves is a meme hosted by Tynga's Reviews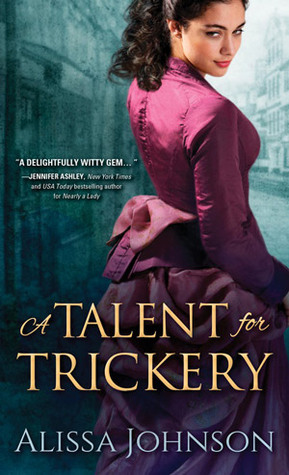 A Talent of Trickery (The Thief-Takers, 1) – Alissa Johnson
The Lady is a Thief
Years ago, Owen Renderwell earned acclaim—and a title—for the dashing rescue of a kidnapped duchess. But only a select few knew that Scotland Yard's most famous detective was working alongside London's most infamous thief…and his criminally brilliant daughter, Charlotte Walker.
Lottie was like no other woman in Victorian England. She challenged him. She dazzled him. She questioned everything he believed and everything he was, and he has never wanted anyone more. And then he lost her.
Now a private detective on the trail of a murderer, Owen has stormed back into Lottie's life. She knows that no matter what they may pretend, he will always be a man of the law and she a criminal. Yet whenever he's near, Owen has a way of making things complicated…and long for a future that can never be theirs.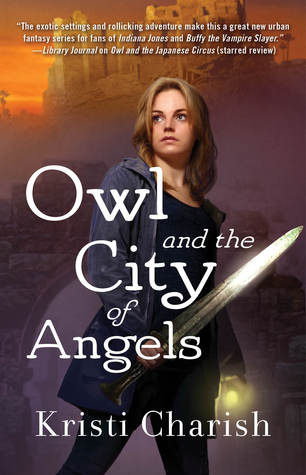 Owl and the City of Angels (The Adventures of Owl, 2) – Kristi Charish
Alix Hiboux, better known as Owl, international antiquities thief for hire, is settling into her new contract job for Vegas mogul Mr. Kurosawa, a red dragon with a penchant for ancient, supernatural artifacts. And now he has his sights set on some treasures of the mysterious Syrian City of the Dead that are sitting in a recluse's private collection.
There's just one wrinkle. To stop the resurrection of an undead army that could wreak havoc on Los Angeles, Owl must break into a heavily guarded archaeological sight in one of the most volatile regions in the world. A detour through Libya and a run-in with Somali pirates sends the clock ticking hastily toward total paranormal disaster.
Meanwhile, Alexander and the Paris vampires have stopped stalking Owl's apartment, but they have by no means forgotten their death grudge against her. To top everything off, Owl finds out the hard way that there is nothing heavenly about the City of Angels…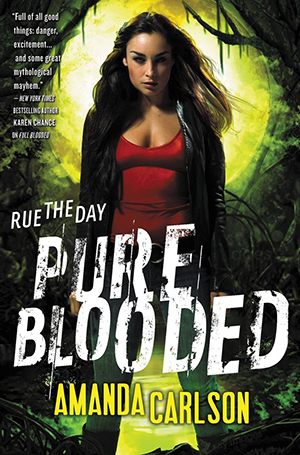 Pure Blooded (Jessica McClain, 5) – Amanda Carlson
Jessica arrives back from the Underworld to find her father embroiled in a battle against the Made wolves. She and her crew drop everything to join them.
Once she arrives, the threat is after her. Jessica is lured into danger when her adversary takes something precious from her. With help from an unlikely source, Jessica goes up against her creator in a battle that will decide the path of everyone involved. She must war against a new set of foes, ones who could not only steal her power, but could take her soul as well.
Thanks to the wonderful Sullivan for my birthday:
Ink and Bone (The Great Libray, 1) – Rachel Caine
Knowledge is power. Power corrupts.
In a world where the ancient Great Library of Alexandria was never destroyed, knowledge now rules the world: freely available, but strictly controlled. Owning private books is a crime.
Jess Brightwell is the son of a black market smuggler, sent to the Library to compete for a position as a scholar… but even as he forms friendships and finds his true gifts, he begins to unearth the dark secrets of the greatest, most revered institution in the world.
Those who control the Great Library believe that knowledge is more valuable than any human life – and soon both heretics and boooks will burn…
Maplecroft (The BOrden Dispatches, 1) – Cherie Priest
Lizzie Borden took an axe and gave her mother forty whacks; and when she saw what she had done, she gave her father forty-one….
The people of Fall River, Massachusetts, fear me. Perhaps rightfully so. I remain a suspect in the brutal deaths of my father and his second wife despite the verdict of innocence at my trial. With our inheritance, my sister, Emma, and I have taken up residence in Maplecroft, a mansion near the sea and far from gossip and scrutiny.
But it is not far enough from the affliction that possessed my parents. Their characters, their very souls, were consumed from within by something that left malevolent entities in their place. It originates from the ocean's depths, plaguing the populace with tides of nightmares and madness.
This evil cannot hide from me. No matter what guise it assumes, I will be waiting for it. With an axe.