We're happy to welcome Linda Grimes, the author of the Ciel Halligan series, thanks to her for this wonderful guest post.
—–
Nous sommes très heureuses d'accueillir Linda Grimes, l'auteure de la série Ciel Halligan, merci à elle pour ce très bon guest post.
---
Insider Info on some Favorite Characters from the Ciel Halligan Series
Ciel Halligan's world is peopled with a colorful cast of characters, all of them seen through Ciel's eyes. But they do have lives of their own, and even a few secrets. Here are some things even Ciel may not know about her fellow characters:
Billy: The reason Billy is such a good lover is that he knows exactly what it feels like to be a woman, from the many times he has projected a female aura. He's a naturally curious guy. 'Nuff said. 😉
Mark: Ciel's long-time crush was adopted by a non-adaptor family as an infant, and didn't know about adaptors until he was taken by surprise when his ability started to emerge. He didn't find out there were others like him until he accidentally caught Ciel's brother Thomas mid-adaption.
Thomas: Ciel's well-off eldest brother made the start-up money for his lucrative legal practice by taking the bar exam for otherwise decent potential lawyers who just happened to have extreme test anxiety. As them, of course, right down to their fingerprints. He wasn't bashful about charging them top dollar for it, either. And, of course, making them sign iron-clad non-disclosure agreements.
James: Ciel's non-adaptor brother has a deep-seated need to excel at everything he does, probably because he can't do the one thing he really wants to—adapt his aura. For instance, when someone gave him a yo-yo as a joke gift, he didn't rest until he mastered it. He also excels at card tricks, playing the accordion, gourmet cooking, riding a unicycle, and tying cherry stems in knots using only his mouth.
Brian: The youngest of Ciel's brothers (an indie musician) once broke up with a girl because she refused to wear headphones when she listened to Nickelback. He was fine with her liking Nickelback—tastes differ, after all—but not with her expecting him to listen, too.
Ro (Ciel's mom) and Patrick (Ciel's dad): Readers of the series know that Ciel's parents are not averse to indulging in role-playing games in the boudoir from time to time. Their current favorites are Claire and Jamie from Outlander. (Ciel, of course, does not like to think about this.)
Auntie Mo (Billy's mom): Mo knows the afghans she knits are ugly. She does it on purpose, because she's secretly amused at how everyone bends over backward not to hurt her feelings when gives them one.
Uncle Liam (Billy's dad): Liam writes excruciatingly sentimental love poems, which he reads one time only, in private, to Mo. He then burns them. He told Mo burning them is a kind of sacrifice to whatever marital gods keep their marriage happy and strong, but mostly it's because he'd be embarrassed if their kids ever found them.
Molly: Billy's youngest sister has a tremendous crush on Ciel's brother Brian, and is certain the only reason he can't seem to settle on one woman is that Fate is saving him for her when she grows up. She's already planned their wedding, and is determined to propose to him on her eighteenth birthday.
Sinead and Siobhan: Billy's other two sisters use their aura-adapting skills to "fill in" for each other at college all the time. If one hates a certain teacher, the other will go to that clavss for her. If one wants to break up with a guy, but is reluctant to hurt his feelings, the other will do it for her (on the grounds that it's easier to break someone's heart when you aren't emotionally attached). If Sinead and Siobhan both hate doing something, they flip a coin. They have an elaborate spreadsheet system to keep track of it all, so the favors remain balanced.
Are there any other characters from the series you'd like to know a secret about? Just ask, and I'll spill! J
————
Des infos sur certains personnages préférés de la série Ciel Halligan
Le monde de Ciel Halligan est rempli de personnages avec des caractères assez colorés, tous vus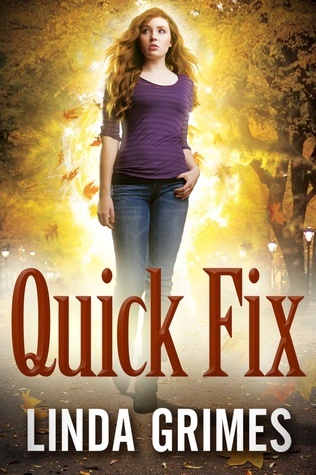 du point de vue de Ciel. Mais ils ont des vies propres, et même quelques secrets. Voici certaines choses que vous ne connaissez surement pas à leur sujet :
Billy: La raison pour laquelle Billy est un si bon amant, c'est qu'il sait exactement ce que c'est d'être une femme, à cause des multitudes de fois où il a projeté une aura de femme. C'est un gars naturellement curieux. 😉
Mark: Le coup de cœur de toujours de Ciel a été adopté par une famille non-adaptateur jusqu'à ce qu'il soit pris par surprise quand son don a commencé à émerger. Il ne savait pas qu'il y en avait d'autres comme lui jusqu'à ce qu'il soit accidentellement attrapé par le frère de Ciel, Thomas, lors d'une moitié d'adaptation.
Thomas: Le plus vieux frère de Ciel a commencé à mettre de côté de l'argent en passant l'examen du barreau pour de potentiels avocats qui sont anxieux à l'extrême. En se faisant passer pour eux, jusqu'à même utiliser leurs empreintes digitales. Il n'a pas hésité à leur demander de grosses sommes d'argent pour ça. Et, bien sûr, en leur faisant signer un contrat en béton.
James: Le frère non-adaptateur de Ciel a besoin d'exceller dans tout ce qu'il fait, probablement parce qu'il ne peut pas faire la seule chose qu'il aimerait – changer son aura. D'ailleurs, quand quelqu'un lui a donné un yoyo en guise de cadeau rigolo, il ne s'est pas reposé avant d'y arriver parfaitement. Il excelle aussi dans les jeux de cartes, quand il joue de l'accordéon, cuisine, roule avec un moncycle, et fais des noeuds avec les tiges des cerises en utilisant seulement sa bouche.
Brian: Le plus jeune frère de Ciel (un musicien) s'est séparé d'une fille parce qu'elle refusait de porter des écouteurs quand elle écoutait Nickelback. Ça ne le dérangeait pas qu'elle aime Nickelback – des gouts différents, après tout – mais pas qu'elle veuille qu'il l'écoute aussi.
Ro (la mère de Ciel) et Patrick (le père de Ciel): Les lecteurs de la série savent que les parents de Ciel ne sont pas contre l'idée d'échanger de rôles dans le privé de temps en temps. Leur préféré reste Claire et Jamie de Outlander. (Ciel, bien sûr, n'aime pas penser à ça.)
Auntie Mo (la mère de Billy): Mo sait que les afghans qu'elle tricote sont horribles. Elle le fait exprès, parce que ça l'amuse que tout le monde les porte après de peur de heurter ses sentiments quand elle les leur donne
Uncle Liam (le père de Billy): Liam écrit des poèmes sentimentaux, qu'il lit une seule fois, en privé. Ensuite, il les brule. Il a expliqué à Mo que les bruler représente une sorte de sacrifice pour les dieux du mariage qui gardent le leur heureux et fort, mais surtout parce qu'il a peur que ses enfants les trouvent.
Molly: La plus jeune sœur de Billy a un coup de cœur pour le frère de Ciel, Brian, et est certaine que s'il n'arrive pas rester avec une femme c'est que le Destin le lui garde le temps qu'elle grandisse. Elle a déjà prévu leur mariage, et est déterminée à lui proposer de l'épouser lors de ses 18 ans.
Sinead et Siobhan: Les deux autres sœurs de Billy utilisent leur don d'adaptatrices d'auras pour se remplacer l'une et l'autre au collège tout le temps. Si une déteste un certain professeur, l'autre ira en classe pour elle. Si une veut se séparer d'un garçon, mais a peur de heurter ses sentiments, l'autre le fera pour elle (c'est plus facile de briser le cœur d'une autre personne quand vous n'êtes pas émotionnellement attaché). Si Sinead and Siobhan détestent toutes les deux quelque chose, elles le font à pile ou face. Elles ont un système élaboré pour vérifier tout cela, que les faveurs restent balancées.
Y-a-t-il d'autres personnages de la série dont vous voudriez connaitre un secret ? Demandez juste et je vous le dirai! J
Website: http://www.lindagrimes.com/
Ciel Halligan, Book 1
Synopsis: The start of an original new urban fantasy series starring human chameleon Ciel HalliganSnagging a marriage proposal for her client while on an all-expenses-paid vacation should be a simple job for Ciel Halligan, aura adaptor extraordinaire. A kind of human chameleon, she's able to take on her clients' appearances and slip seamlessly into their lives, solving any sticky problems they don't want to deal with themselves. No fuss, no muss. Big paycheck.

This particular assignment is pretty enjoyable… that is, until Ciel's island resort bungalow is blown to smithereens and her client's about-to-be-fiancé is snatched by modern-day Vikings. For some reason, Ciel begins to suspect that getting the ring is going to be a tad more difficult than originally anticipated.

Going from romance to rescue requires some serious gear-shifting, as well as a little backup. Her best friend, Billy, and Mark, the CIA agent she's been crushing on for years—both skilled adaptors—step in to help, but their priority is, annoyingly, keeping her safe. Before long, Ciel is dedicating more energy to escaping their watchful eyes than she is to saving her client's intended.

Suddenly, facing down a horde of Vikings feels like the least of her problems.