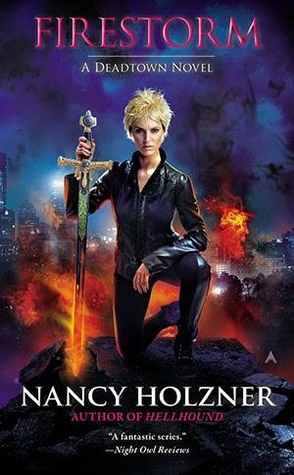 Deadtown, Book 6
Synopsis: They call it Deadtown: the city's quarantined section for its inhuman and undead residents. Most humans stay far from its borders—but Victory Vaughn, Boston's only professional demon slayer, isn't exactly human…

When Vicky allowed an ancient goddess to possess her, she had no regrets—it was the only way to protect the people she loved. But now Ceridwen, locked in a power struggle with the Hellion that long ago claimed Vicky with its mark, refuses to leave. Both beings believe controlling Vicky is the key to winning the coming war for the human realm.

Despite the forces pulling her apart, Vicky needs all her wits about her. The demons of Hell are growing bold and she can barely keep up with the attacks plaguing the city: sirens in the Mystic River, goblins snarling traffic on Storrow Drive, imps tearing the gold from the State House dome. As the signs of war multiply and Hell threatens to overrun its boundaries, Vicky finds herself torn between her duty to save the world and her desire to save something of herself…
Review: It has been years since the author did not return to her Deadtown series, since 2013 to be precise. I know that it was not simple and Nancy Holzner explains it to us in a note at the beginning of the story. A tragic story. But then, the author finally managed to get back to her novels to conclude the series for our greatest pleasure!
I admit that it has been years since I read the previous novels too and I did not remember much of the events to my dismay. Even if I thought that it would come back to me gradually by getting into the story, it is true that I didn't remember everything. So I advise you to have the story in mind if possible.
Victory is facing some new problems. Indeed, since the last events, all the creatures sow chaos in town and things become a little too big for our heroine alone. But now that Ceridwen lives in her body, nothing is really easy. Indeed, the goddess seems to want to take more and more room and it is more and more complicated for Vicky to control her. But if it was only that because the hellion also wants to recover her and he does not hesitate to fight against Vicky and Ceridwen for that.
This novel is full of action and revelations and I confess that I was finally content with this conclusion. I will not say too much but it was nice to see the relationship between Kane and Vicky changing but also to see our heroine determined in her choices whatever the consequences.
It was really a pleasure to find the characters and I am very happy to finish the series this way!


---
Thanks to the publisher you can win a copy of Deadtown (Deadtown, 1) by Nancy Holzner (US&CAN only)
Deadtown, Book 1
Synopsis: If you were undead, you'd be home by now…

They call it Deadtown: the city's quarantined section for its inhuman and undead residents. Most humans stay far from its borders-but Victory Vaughn, Boston's only professional demon slayer, isn't exactly human.