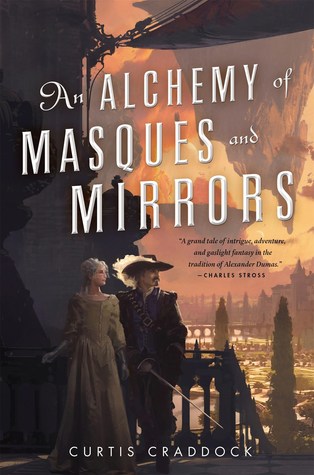 The Risen Kingdoms, Book 1
Synopsis: A polymath princess and her faithful musketeer must unravel the plot of a thousand-year-old madman in order to save an a foreign kingdom from a disastrous civil war.

Caelum is an uninhabitable gas giant like Jupiter. High above it are the Risen Kingdoms, occupying flying continents called cratons. Remnants of a shattered world, these vast disks of soaring stone may be a thousand miles across. Suspended by magic, they float in the upper layers of Caelum's clouds.

Born with a deformed hand and utter lack of the family's blood magic, Isabelle is despised by her cruel father. She is happy to be neglected so she can secretly pursue her illicit passion for math and science. Then, a surprising offer of an arranged royal marriage blows her life wide open and launches her and Jeane-Claude on an adventure that will take them from the Isle des Zephyrs in l'Empire Céleste to the very different Kingdom of Aragoth, where magic deals not with blood, but with mirrors.
Review: I confess that I was really intrigued by the story by reading the summary. Fantasy and space are often some very delicate subjects for me and I do not venture much into this type of novels, yet An Alchemy of Masques and Mirrors seemed very promising and I'm really happy about it!
In this novel we discover the story of Isabelle, a young woman who, because of her lack of magic and the deformity of her hand, finds herself in an excluded position. Fortunately for her, her maid Mary is there to accompany her in all her nonsense and Jean-Claude, the king's musketeer is always there to save her from bad situations. Her life is a perpetual routine and she hopes that her father will allow her to study science and mathematics secretly and yet … When one day a man from the neighboring kingdom comes to Isabelle to propose a marriage with their heir, she finally sees her exit door. But this new adventure will bring its share of dangers, between assassins, bombs and fires, our heroes will have to face many enemies.
I really found this novel fascinating! The author has created an original world that we take pleasure in discovering. Isabelle is an assumed young woman who tries to free herself from her father's nets, although it is far from simple. She will also attract the attention of the Great King but also of a whole new kingdom that does not want her. She will find herself in an enormous conspiracy of which she seems an important point. Gradually and with the help of Jean-Claude, they will outwit them and understand what is really going on. I admit that the author easily drags us and manipulates us with his characters to reveal us with surprise the truth at the end of the story.
Yes, I really had a great time with this novel. The story is really appealing and the characters are all very interesting to discover. A very good discovery for me and I am very curious to see what the author will propose to us afterwards!