Stacking the Shelves is a meme hosted by Tynga's Reviews
Starless – Jacqueline Carey
Jacqueline Carey is back with an amazing adventure not seen since her New York Times bestselling Kushiel's Legacy series. Lush and sensual, Starless introduces us to an epic world where exiled gods live among us, and a hero whose journey will resonate long after the last page is turned.
Let your mind be like the eye of the hawk…Destined from birth to serve as protector of the princess Zariya, Khai is trained in the arts of killing and stealth by a warrior sect in the deep desert; yet there is one profound truth that has been withheld from him.
In the court of the Sun-Blessed, Khai must learn to navigate deadly intrigue and his own conflicted identity…but in the far reaches of the western seas, the dark god Miasmus is rising, intent on nothing less than wholesale destruction.
If Khai is to keep his soul's twin Zariya alive, their only hope lies with an unlikely crew of prophecy-seekers on a journey that will take them farther beneath the starless skies than anyone can imagine.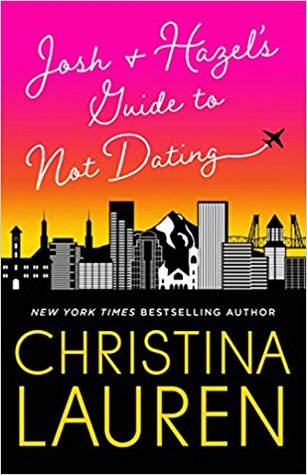 Josh and Hazel's Guide to not dating – Christina Lauren
Most men can't handle Hazel. With the energy of a toddler and the mouth of a sailor, they're often too timid to recognize her heart of gold. New York Times and #1 international bestselling author Christina Lauren (Roomies, Beautiful Bastard) tells the story of two people who are definitely not dating, no matter how often they end up in bed together.
Hazel Camille Bradford knows she's a lot to take—and frankly, most men aren't up to the challenge. If her army of pets and thrill for the absurd don't send them running, her lack of filter means she'll say exactly the wrong thing in a delicate moment. Their loss. She's a good soul in search of honest fun.
Josh Im has known Hazel since college, where her zany playfulness proved completely incompatible with his mellow restraint. From the first night they met—when she gracelessly threw up on his shoes—to when she sent him an unintelligible email while in a post-surgical haze, Josh has always thought of Hazel more as a spectacle than a peer. But now, ten years later, after a cheating girlfriend has turned his life upside down, going out with Hazel is a breath of fresh air.
A Study in Treason (The Daughter of Sherlock Holmes Mysteries, 1) – Leonard Goldberg
A seemingly impossible mystery tests the keen mind and forensic skills of Joanna Blalock, the daughter of Sherlock Holmes and the heir to his unique talent for deduction, from USA Today bestselling author Leonard Goldberg.
The following case has not previously been disclosed to the public due to the sensitive information on foreign affairs. All those involved were previously bound by the Official Secrets Act. With the passage of time and the onset of the Great War, these impediments have been removed and the story can now be safely told.
When an executed original of a secret treaty between England and France, known as the French Treaty, is stolen from the country estate of Lord Halifax, Scotland Yard asks Joanna, Dr. John Watson, Jr., and Dr. John Watson, Sr. to use their detective skills to participate in the hunt for the missing treaty. As the government becomes more restless to find the missing document and traditional investigative means fail to turn up the culprit, Joanna is forced to devise a clever plan to trap the thief and recover the missing treaty.
Told from the point of view of Dr. John Watson, Jr. in a style similar to the original Sherlock Holmes stories, A Study in Treason is based partly on facts in our world and partly on the facts left to us by Sir Arthur Conan Doyle.
This cunning locked room mystery is sure to be enjoyed by fans of Sherlock Holmes.
Night and Silence (October Daye, 12) – Seanan Mcguire
Things are not okay.
In the aftermath of Amandine's latest betrayal, October "Toby" Daye's fragile self-made family is on the verge of coming apart at the seams. Jazz can't sleep, Sylvester doesn't want to see her, and worst of all, Tybalt has withdrawn from her entirely, retreating into the Court of Cats as he tries to recover from his abduction. Toby is floundering, unable to help the people she loves most heal. She needs a distraction. She needs a quest.
What she doesn't need is the abduction of her estranged human daughter, Gillian. What she doesn't need is to be accused of kidnapping her own child by her ex-boyfriend and his new wife, who seems to be harboring secrets of her own. There's no question of whether she'll take the case. The only question is whether she's emotionally prepared to survive it.
Signs of Faerie's involvement are everywhere, and it's going to take all Toby's nerve and all her allies to get her through this web of old secrets, older hatreds, and new deceits. If she can't find Gillian before time runs out, her own child will pay the price. One question remains:
Who in Faerie remembered Gillian existed? And what do they stand to gain? No matter how this ends, Toby's life will never be the same.
Mae – Gene Ha
When her long lost sister returns, Mae Foretell gets pulled into her world of wonders and peril. After her sister disappeared without a trace 8 years ago, Mae was left to care for her ailing father. She went to school and continued on with life. On the fateful day that Abbie returns, she reveals fantastic tales filled with adventure. These stories are hard to believe – until the monsters show up…