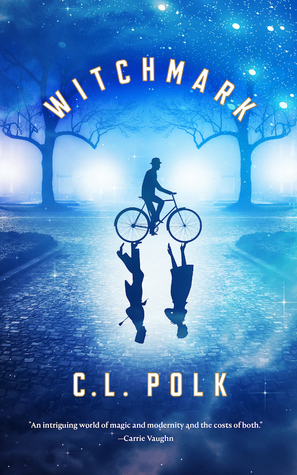 Witchmark, Book 1
Synopsis: In an original world reminiscent of Edwardian England in the shadow of a World War, cabals of noble families use their unique magical gifts to control the fates of nations, while one young man seeks only to live a life of his own.

Magic marked Miles Singer for suffering the day he was born, doomed either to be enslaved to his family's interest or to be committed to a witches' asylum. He went to war to escape his destiny and came home a different man, but he couldn't leave his past behind. The war between Aeland and Laneer leaves men changed, strangers to their friends and family, but even after faking his own death and reinventing himself as a doctor at a cash-strapped veterans' hospital, Miles can't hide what he truly is.

When a fatally poisoned patient exposes Miles' healing gift and his witchmark, he must put his anonymity and freedom at risk to investigate his patient's murder. To find the truth he'll need to rely on the family he despises, and on the kindness of the most gorgeous man he's ever seen.
Review: I must say that when I saw the cover and when I saw that this novel was staging witches, I did not look for more and I plunged into it.
The world in which Miles lives is not easy, especially when someone has powers. He has been running away from his family for a long time because he is hungry for freedom and he hopes to be able to exercise quietly as a doctor. However, his life will change radically when he crosses Hunter's road when one of his patients is poisoned. Teaming up together, they will have to understand what happened and perhaps even expose much bigger conspiracies than they thought. This research will bring Miles back to the fore and he will finally have to face his family and his destiny, but above all to make choices!
I had a little trouble getting into the novel at the beginning of the story, but finally, after a few chapters, I was easily carried away. The universe and characters are very interesting and although I still have several questions about the management of this society, I had a great time! I am not necessarily a very large reader of M / M novels, not even at all, even if I read some. However, I must say that here I liked this aspect and I found that it was touching, especially with such an end.
Full of surprises during the chapters and although I was surprised by Miles's understanding of the situation, I sometimes really wanted to put Grace (his sister) back in her place.
It was a very interesting first volume and I am curious to see what the following book will propose!