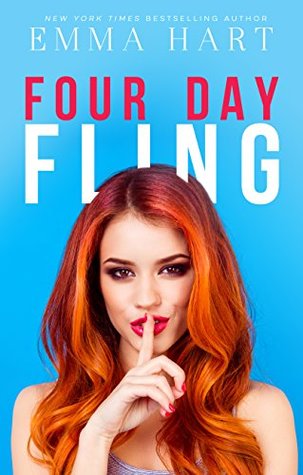 Synopsis: Imagine this. You're ready to leave after a one-night stand, and you're figuring out how to—shock horror—leave your number and ask him to be your fake boyfriend for your sister's wedding this weekend. When he wakes up. Well, that happened to me. And over coffee and omelets, I found myself a date.

Which was how I ended up arriving at the wedding with a guy I knew nothing about. I didn't know his last name, or how we met, or how long we'd been dating. I didn't know where he grew up, what he'd majored in in college, or how many siblings he had. I sure as hell didn't know he was Adam Winters, hotshot hockey player—and not only my father's favorite player, but my little nephew's freakin' idol. Which means I'm in trouble. Big, big trouble. My mother is suspicious, my sister is bridezilla on crack, and my grandpa will tell anyone who'll listen about his time in Amsterdam's Red Light District. Four days. I have to keep this up for four days, and then Adam and I can return to our regular lives, where we don't have sex whenever we're alone and my family aren't interrogating him over his intentions with me.

At least, that's the plan. And we all know what happens to those.
Review: I loved Emma Hart's previous duology and was eager to immerse myself in this new novel! How to resist a story like this? I love weddings where the main character brings a fake boyfriend and I must say that the author has managed to propose with theme often used in literature something original!
Poppy is very annoyed, that we can say! This weekend is the wedding of her sister and although she told her mother that she would not come alone, she has nobody. So when she spends one night stand with a man (yes because she does not even know what his name is), she wonders, watching him sleep how can she do to leave her number while proposing to accompany her to pose as her boyfriend. Very surprised that he accepts, she is even more astonished when everyone recognizes him at the wedding … Yes because she seems to be the only one not to know that this very sexy man is a famous hockey player. But hey, sports? It's really not her thing …
Ah Adam? How to resist this dear Adam! He is just perfect. He's handsome, funny, sexy … did I say handsome? And he takes his role very seriously! And then he manages to deal with this crazy family and that to start with the mother of Poppy, until the grandfather who likes to tell his sex life. Yes a crazy family we love to discover and that Poppy manages pretty amazingly! This marriage will be far from easy, but what a pleasure to see these four days scroll!
I loved seeing the two characters discover each other, falling in love with each other without really realizing it, yet they know that their story will end quickly, and that their lifestyle is not compatible. But anyway, we love it and we want more and I must admit that I quickly devoured the whole book!