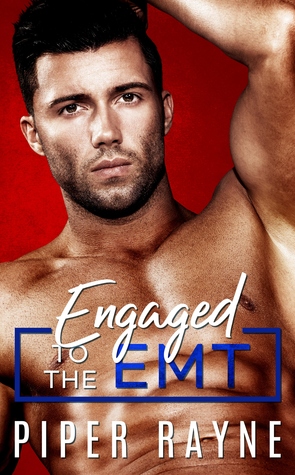 Blue Collar Brothers, Book 3
Synopsis: Luca Bianco is a jerk. There I said it.

He thinks he's so suave and sexy, walking around in his paramedic uniform stretched out by all his hard muscles and saving lives every day. I swear he thinks every woman in the world would kill for a chance to be with him.

Men like Luca are good for one thing only — a one-night stand — not commitment. I don't care if my friend did pay good money at a charity bachelor auction for me to go on a date with him, I refuse to do it.

That is until Luca offers me a deal I can't refuse, and I agree to be his pretend fiancé.

The heat that's simmered between us for a decade ignites and I'm not sure even Luca will be able to kickstart my heart after I call code blue.

What's that saying? Love is blind?

Not true. I can see this head-on collision coming a mile away.
Review: After the end of the previous volume, I admit that I was really intrigued to know how Luca and Lauren were going to evolve. It must be said that their arrival by announcing to everyone that they were getting married was more than surprising when you know the tense relationship they have!
So I was delighted to finally discover their story, to see how they would both interact. It was funny to see them turn around, lie to others and, at the same time, fall for each other. It must be said that Lauren has a very strong nature and Luca, well, he is known for his success with girls. So their duo is explosive!
I once again had a great time with this book and I was delighted to find the characters, while following the previous ones as well, and see how they continued to evolve. This trilogy was very nice and I enjoyed discovering it! I'm curious to read other authors' novels now!