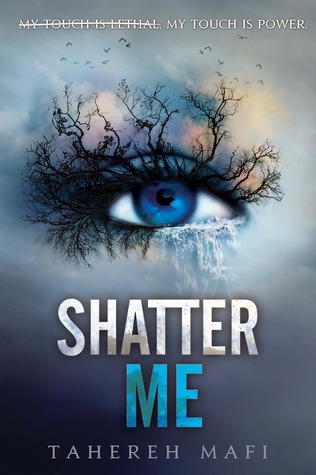 Shatter Me, Book 1
Synopsis: Juliette hasn't touched anyone in exactly 264 days.

The last time she did, it was an accident, but The Reestablishment locked her up for murder. No one knows why Juliette's touch is fatal. As long as she doesn't hurt anyone else, no one really cares. The world is too busy crumbling to pieces to pay attention to a 17-year-old girl. Diseases are destroying the population, food is hard to find, birds don't fly anymore, and the clouds are the wrong color.

The Reestablishment said their way was the only way to fix things, so they threw Juliette in a cell. Now so many people are dead that the survivors are whispering war – and The Reestablishment has changed its mind. Maybe Juliette is more than a tortured soul stuffed into a poisonous body. Maybe she's exactly what they need right now.

Juliette has to make a choice: Be a weapon. Or be a warrior.
Review: This is a novel I had heard a lot about. I had this volume for a few years and I am delighted to have finally taken it out of my TPB pile. Yes, because I had a very good time with the story.
Juliette has been living in total isolation for three years in a center that separates her from everything. Yet when a boy finally finds himself in her cell after all this time, she doesn't know what to expect. In any case, she definitely didn't expect anyone to be interested in her and her powers. But what no one knows is that Juliette hates her gift, she doesn't want to hurt anyone, no matter what.
I didn't expect a story like that at all, but I had a hard time dropping the book before I finished it. I was carried away by Juliet and her adventures, seeing her face a world she no longer knows. Everyone is interested in her and she doesn't know what to do… But fortunately for her, she will also have amazing allies!
As I was saying, I really had a good time with this story and while I was convinced that it was a trilogy, I realized that there are actually 6 volumes, and I must say that I can't wait to read the second one now! There are so many opportunities and possibilities for our heroine and I am curious to see what she will do now!