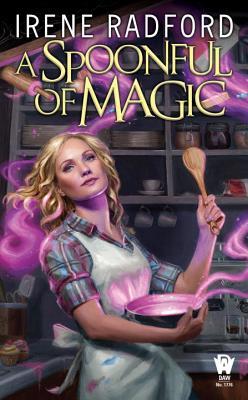 Synopsis: Daphne "Daffy" Rose Wallace Deschants has an ideal suburban life–three wonderful and talented children; a coffee shop and bakery, owned and run with her best friend; a nearly perfect husband, Gabriel, or "G" to his friends and family. Life could hardly be better.

But G's perfection hides dangerous secrets. When Daffy uncovers evidence of his infidelity, her perfect life seems to be in ruins. On their wedding anniversary, Daffy prepares to confront him, only to be stopped in her tracks when he foils a mugging attempt using wizard-level magic.

Suddenly, Daphne is part of a world she never imagined–where her husband is not a traveling troubleshooter for a software company, but the sheriff of the International Guild of Wizards, and her brilliant children are also budding magicians. Even she herself is not just a great baker and barista–she's actually a kitchen witch. And her discovery of her powers is only just beginnning.

But even the midst of her chaotic new life, another problem is brewing. G's ex-wife, a dangerous witch, has escaped from her magical prison. Revenge-bent and blind, she needs the eyes of her son to restore her sight–the son Daffy has raised as her own since he was a year old. Now Daphne must find a way to harness her new powers and protect her family–or risk losing everything she holds dear.
Review: I was very curious to discover this new story. How to resist such a cover, as well as a story of magic and wizards?
I found it very nice for once to have a woman married with children. It is not necessarily the profile that we usually find and it was very pleasant to have it here. Daffy has always had the perfect life but everything will change the day she discovers that this is just a lie. Her husband is not the one he claims to be but a wizard, as well as their children. She also discovers that he has cheated on her several times and she can not forgive him! Asking him to leave their home, Daffy will have to face a world she did not know about. On top of that, the ex-wife of "G" escaped from the prison where she was held captive and she wants to recover her son whom Daffy regards as hers. Daffy's entire family is in danger, and while she discovers that she has powers as well and that her divorce is underway, two men begin to turn around her in addition to her husband, but whom can she trust? Facing with her new life, we will discover Daffy's determination, as well as her desire to confront the lies of her husband whom she does not accept.
I had a good time with this story and I found the whole very nice to read. However, I think that the story was quite disjointed and it is true that sometimes it was a bit complicated. I had the impression of having some inconsistencies also which puts a little in withdrawal in relation to the narrative.
You'll understand, I had a good time overall though I think the story could have been much more.