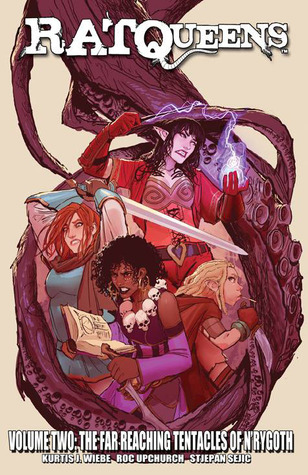 Rat Queens, Book 2
Synopsis: This booze-soaked second volume of RAT QUEENS reveals a growing menace within the very walls of Palisade. And while Dee may have run from her past, the bloated, blood-feasting sky god N'rygoth never really lets his children stray too far.

Collects RAT QUEENS #6-10
Review: I liked the first book and it's true that I was curious to see how our heroines would manage their lives now.
Despite the apparent calm, however, a new threat is accurate and remains determined to return to the front of the stage by taking part in the lives of our characters. I admit that I was curious to see what was actually going to happen and how our heroes would resolve this problem regarding the power of their enemy. It was just interesting to discover the past of some characters and to see what the others were willing to do for the persons they loved.
A new interesting volume with some very nice graphics again and I'm curious to see what we will have in the future.