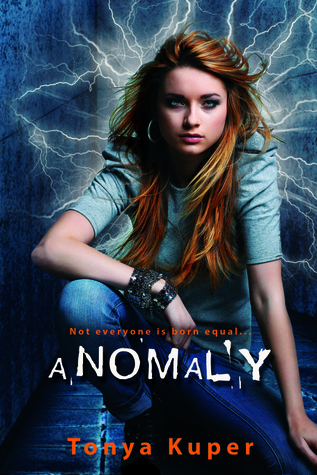 Schrodinger's Consortium, Book 1
Synopsis: Reality is only an illusion.
Except for those who can control it…

Worst. Birthday. Ever.
My first boyfriend dumped me – happy birthday, Josie!- my dad is who knows where, I have some weird virus that makes me want to hurl, and now my ex is licking another girl's tonsils. Oh, and I'm officially the same age as my brother was when he died. Yeah, today is about as fun-filled as the swamps of Dagobah. But then weird things start happening…
Like I make something materialize just by thinking about it.
When hot badass Reid Wentworth shows up on a motorcycle, everything changes. Like, everything. Who I am. My family. What really happened to my brother. Existence. I am Oculi, and I have the ability to change reality with my thoughts. Now Reid, in all his hotness, is charged with guiding and protecting me as I begin learning how to bend reality. And he's the only thing standing between me and the secret organization that wants me dead…
Review: I was immediately drawn to the summary when I read it. The novel seemed very different from what we are used to read and I must admit that the first sentence immediately reminds me of Matrix. I immediately thought of a story that would impress me, something unique like the Inception movie. In short you can imagine that I expected much of this novel. In the end I must say that it is not as unique as I thought, this is not that amazing, but I still had a good time.
Josie is a pretty normal girl, but her birthday is messing up her life. I'm not going to make the display of all the problems of the girl that day because everything is explained in the summary, but it is true that it is very far from being a good day. And on top of that, she learns that she is an Oculi, an anomaly in fact, that is to say a person who can create a reality from her mind, and she can also destroy it. This is an extraordinary talent, but it also goes for any inconvenience with it, because people of her kind become physically or mentally ill in the end. More than that, she finds herself between two clans in war. Yes, because both parties want to destroy the other and it seems that one is determined to kill her at all costs. Josie will have to quickly learn to manipulate her gifts and to fight to survive.
I was really sad with Josie compared to her relationship with her mother. It's pretty sad to see that there isn't a lot of love and the girl is left to fend for herself. The cause of the Oculi always comes first and we feel that pretty easily. Fortunately for her, Reid is here to help her and even more. However, the young man hides a lot of secrets that may well hurt her apprentice. I liked that their relationship was evolving slowly. At the same time, I admit that I felt a bit down compared to this romance. Even if it was touching, I admit that the relentless progress and setbacks in their history had left me a little disturbed. But I liked discovering this little flirtation and see it evolve.
In terms of history, we discover the world that the author created as well as the characters, we glimpse the tracks for the future. I was quite taken by the story at the beginning of the novel, but I admit that I let it go a little in the last chapters, however the author really surprised me on a character. And it's true that I'm curious to see what will happen thereafter.
In the end it was a good novel even if it is true that I was expecting something more. I had a good time and I would read the following volume with pleasure.