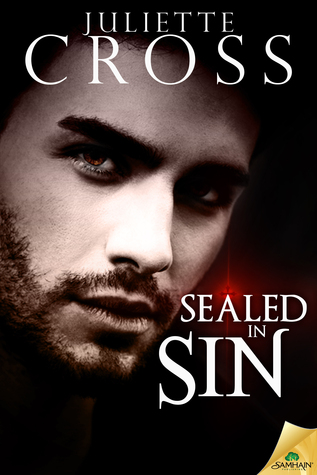 The Vessel Trilogy, Book 2
Synopsis: Sometimes sin looks an awful lot like heaven.

One demon prince may be festering in the bowels of the soul eater Cocytus, but Genevieve's troubles are far from over. Prince Bamal, demon lord of New York City, still wants her. But this time, he wants her alive, to control her inherent power as a Vessel of Light.

With Jude Delacroix off searching for the prophecy, Thomas—a guardian angel with sea-green eyes and an aura of winter woods—steps into the gap, offering her the power to protect herself.

Yet she hesitates, for the transfer of that power comes through a kiss. While Gen's love for Jude is true, Thomas stirs a desire where there should be none. Thomas also knows Jude's darkest secret and plans to use it, if necessary, to win Gen for his own.

While her Vessel power grows and more demon spawn creep from every dark corner of the world, one thing is certain—the Great War between the angels and demons is quickly approaching. And Gen is in a race against time to awaken her full power before the storm breaks.

Warning: Contains a demon hunter with dark secrets, a sexy angel with ulterior motives, and demonic creatures running amok.
Review: I was curious to read this second novel after having a good time with the first one. I must say that it is quite in line with the previous one. So yes, still a good time with that same volume even if a little something is missing for me again.
The latest Genevieve's adventure had resulted with the death of the demon prince who wanted to keep her with him. Some respite you might say after so many worries? But no, this is not the case, and our heroine has to do more complicated things this time. Indeed, the demon prince who wanted her dead, now wants to capture her and nothing seems to stand in his way. In addition to this, we also have the appearance of a new character: Thomas. Ah Thomas… what a difficult character to pin down. We understand the appeal for this guardian angel. He challenges the Gen's feelings for Jude while they are yet sincere. He offers her things that he only can provide her and it is true that the whole is very tempting. Then it must be said that with such a description, we can only be intrigued. Yet it's also pretty amazing to see that the young woman manages to trust him so quickly, although we understand that a new ally would not be refused. From this, you can imagine that the story will run for a party on the Genevieve's feelings and what she really wants. This is also what allows her to understand exactly what she wants. Added to this, the abstinence problem becomes more present in this volume, a point that is recurrent in fact.
The second part of the story focuses primarily on the research of the prophecy but also the desire of the demons. I admit that I was really curious to find out more about the second half of this lost prophecy. Through this, we also learn more about all the characters, their past, their secrets and what they haveendured. It was interesting to be able to understand some with that.
It was an interesting story and Gen evolves much in this story. She realizes what she really wants, she tries to lead her own battles, but her powers are evolving exponentially. I'm curious to see where all this will lead her especially after such a purpose!