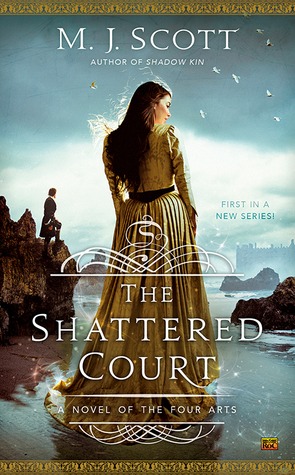 The Four Arts, Book 1
Synopsis: Entangled in a court ruled by tradition and intrigue, a young witch must come to terms with newfound power and desire—and a choice between loyalty and survival.…

The royal witches of Anglion have bowed to tradition for centuries. If a woman of royal blood manifests powers, she is immediately bound by rites of marriage. She will serve her lord by practicing the tamer magics of the earth—ensuring good harvests and predicting the weather. Any magic more dangerous is forbidden.

Lady Sophia Kendall, thirty-second in line to the throne, is only days away from finding out if she will be blessed—or perhaps cursed—with magic. When a vicious attack by Anglion's ancient enemies leaves the kingdom in chaos, Sophia is forced to flee the court. Her protector by happenstance is Lieutenant Cameron Mackenzie, a member of the royal guard, raised all his life to be fiercely loyal to the Crown.

Then Sophia's powers manifest stronger than she ever imagined they would, and Cameron and she are inextricably linked in the process. As a witch unbound by marriage rites, Sophia is not only a threat to the established order of her country, but is also a weapon for those who seek to destroy it. Faced with old secrets and new truths, she must decide if she will fight for her country or succumb to the delicious temptation of power.…
Review: I had read some novels in the paranormal romance series by MJ Scott, but when she has announced the release of a brand new series, with a different note, I admit that I was intrigued. A kind of historical mix, added to that some intrigues of the court, witches and power, a mix that we can only appreciate.
Lady Sophia is an innocent girl, frightened because about her future. She is a heir to the throne even if a far one, and she is waiting to see if her witch gifts will manifest or not … But if her powers appear, she will have to marry the man chosen to be her husband and it is not a future that many are waiting for with pleasure. Yet on the day of her birthday, everything will change … Oh yes, because while the palace was attacked by an enemy nation, our heroine is far from the place with a bodyguard of the day: Cameron. But it is also during that day that she discovers her powers and that she realizes that she is and will remain a royal witch. Unfortunately, the events taking place early in the book prevent her to being bound and soon many people will be interested in her. Her power grows and some wonder if she is not a threat to the throne, a pawn who could be not as malleable and suggestible.
I enjoyed discovering Lady Sophia. This is a young woman who evolves throughout the story, a fair person who will quickly understand that people sometimes have deceptive appearances, they soon forget friendship when power and desire come into play. It is rather sad to see how people behave when they feel threatened by someone while there were no problems at the start. Fortunately for her, her bodyguard and finally a little more than that will be there for her, to support her and help her. I loved this young man too. He is true, tries to understand what is happening and acts as best as he can in all situations. Their story is not really easy under the circumstances but I think they both form a beautiful duo. Through them, we discover the world of the author, myths she chose to explore and I confess that I found it all fascinating. She had lots of ideas here, and we remain captivated by this new world.
It was a good first volume, which perfectly lays the foundation of the history and I'm very curious now to read and learn more.