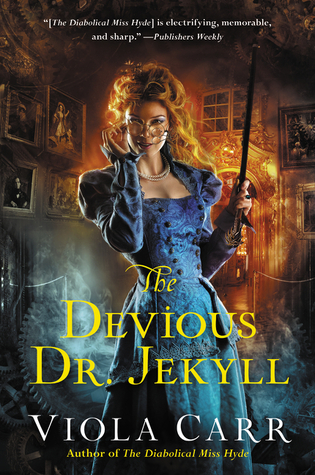 Electric Empire, Book 2
Synopsis: Solving the infamous Chopper case has helped crime scene physician Dr. Eliza Jekyll establish her fledgling career in the chauvinistic world of Victorian law enforcement. But the scrutiny that comes with her newfound fame is unwelcome for a woman with a diabolical secret. And there is the mercurial Royal Society agent and wolf man Remy Lafayette. Does he want to marry her, eat her, or burn her at the stake? Though Eliza is uncertain about Remy, her dark and jealous shadow self, Lizzie, wants to steal the magnetic and persistent agent, and usurp Eliza's life.

It's impossible to push Remy away when he tempts her with the one thing she can't resist: a bizarre crime. The search for a bloodthirsty ritual torturer dubbed the Pentacle Killer draws them into a terrifying world of spies, art thieves, and evil alchemy, where the price of immortality is madness?or damnation—and only Lizzie's dark ingenuity can help Eliza survive.

As Eliza and Remy race to thwart a foul conspiracy involving the sorcerous French, they must also overcome a sinister enemy who is all too close: the vengeful Lizzie, determined to dispose of Eliza for good.
Review: I had a great time with the first volume and I confess that I was impatient to get into the further adventures of our beloved Dr. Jekyll to know what would happen. I admit that once again, Viola Carr managed to carry me through her characters and her history.
It took me some time this time to really get into the story, it is true, but once past a few chapters, I was intrigued by all the events. Eliza has to face all the consequences of the first novel, meaning a wedding proposal of the handsome and enigmatic Remy; the return of Todd, our irresistible killer in love of the beautiful Eliza or the new status of our dear doctor who is now under the spotlight. Besides new very strange murders are committed, and it must be said that Dr. Jekyll is determined to understand what is happening. But Lizzie has also some own plans and she is determined, as Eliza, to become the only remaining entity, whatever may happen, but is it possible?
I enjoyed following our heroine here. Indeed, she faces with many difficult choices. What should she do with this wedding proposal? Will Remy sell her to his superiors? Can she trust the newcomer in town who offers Lizzie to be free? Is Todd the one responsible for all the murders and must she denounce him? Which side her soul will switch to? Many issues that she will have to answer here whatever she wants it or not. Moreover, Lizzie and Eliza will have to try to understand if they can manage to live together or not. A question much important and more dangerous.
I will not reveal more, but I loved to discover the details behind the story and the characters, see how all the events would be able to untie themselves and to solve them. The investigation is just as exciting and I was curious to learn more about the revelations. A novel to discover and that I recommend!